Dropping the spirits from your Friday night cocktail, doesn't have to mean compromising on flavour. Fortified wines deliver complexity in the same way spirits do without the alcoholic heft. Sherry in particular, with its flavour enhancing powers of umami, makes a great stand-in for gin or whisky. Try subbing 50ml of dry manzanilla for the London dry in your Negroni and you'll have a great aperitif that's easier on your head than the original. The recipes below show how you can use sherry to effectively cut a few units out of cocktail hour.
Rebujito
A popular way to beat the heat in southern Spain, the classic Rebujito is a simple highball of dry sherry and Sprite or 7up. It's a fine drink as-is, but if you take the time to juice some fresh citrus – effectively making it like a Tom Collins – then the Rebujito really comes into its own.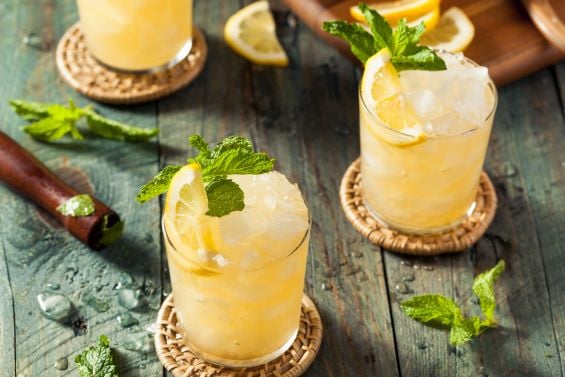 Ingredients
50ml Valdespino Fino Inocente 
10ml Lemon juice
10ml Lime Juice
20ml 1:1 simple syrup
Soda Water
6 Mint leaves
Method

Pour the sherry, citrus juice, sugar and mint leaves into a highball glass. Lightly muddle the mint leaves to wake them up a bit and then fill the glass to the brim with ice cubes. Top with soda water and enjoy. You can easily scale this recipe up and serve it by the pitcher. It makes a nice little appetite-lifter to serve pre-dinner, particularly when the weather starts to warm up.

Valdespino is a little fuller than your average Fino, with a palate of toasted almonds and salted caramel that stands up nicely to the citrus and mint. A bottle will keep for about two weeks in the fridge after opening so you don't have to finish it all in one night.

Bamboo

Fills a Martini-shaped hole without the large helping of gin. The Bamboo found its way into the cocktail canon in the late 19th century, when it began gracing the bar at the Yokohama Grand Hotel.

Ingredients

50ml La Gitana En Rama Manzanilla
50ml Carpano Bianco Vermouth
2 Dashes Regans' Orange Bitters

Method

Put a cocktail glass into the freezer ahead of time, you'll appreciate the extra few degrees you shave off when it comes time to drink. Stir all ingredients with ice until nicely chilled. Strain into your frozen cocktail glass and garnish with a lemon twist.

Any dry sherry will do the job here, but the fresh saltiness of Manzanilla lifts the botanicals in the vermouth nicely. La Gitana En Rama is unfiltered, showing lots of body and character, even when stirred down over ice. You could also use a dry, nutty Oloroso and a sweet red vermouth – but you'll wind up with more of a digestif than an aperitif.

Sherry Cobbler

The Cobbler Is one of the earliest cocktails, arriving in American barrooms with its cousin the julep in the 1820s-or-so, around the time that block ice became commercially available. Drinks historian David Wondrich suggests that the relatively low-octane Sherry Cobbler occupied a similar role to modern soft drinks and helped to popularise both ice and the drinking straw.

Ingredients

75ml Gonzalez Byass Leonor Palo Cortado
2 Orange slices
1 Lemon Slice
20ml 1:1 simple syrup

Method

Muddle your sliced citrus fruit with the sherry and simple syrup in the bottom of a shaker. Add ice cubes and shake hard. Strain into a highball glass filled with crushed ice and top with a fresh orange slice. Cobblers are supposed to be pretty, so a sprig of mint, or some more fresh fruit for garnish makes a great addition – just use whatever you have to hand.

The Gonzales Byass Palo Cortado is dry and nutty, but also has a fruity, citrusy side that shows really nicely in a cobbler. A dash of orange liqueur or Maraschino will add an extra dimension, as will a few berries or some diced pineapple in the shaker. Like many classic cocktails, the format affords plenty of room to riff and remix.

PX Flip
A serious desert cocktail, the flip takes a little booze and a whole egg and gives you a glass of silky, creamy goodness. Lighter than the lactose-laden likes of a Brandy Alexander, the PX flip satisfies in a similar way as a cream liqueur but fresher and less cloying.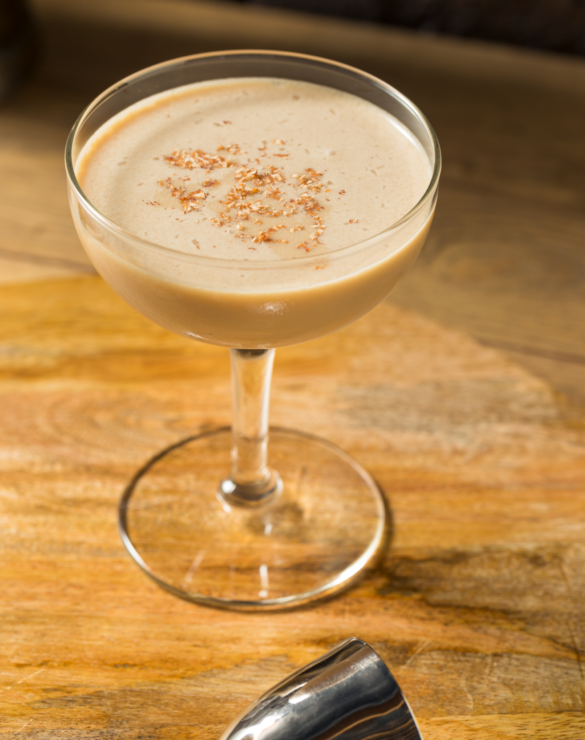 Ingredients
60ml Triana Pedro Ximenez
1 Whole egg
2 dashes Angostura bitters
Nutmeg
Method
Chill down a large cocktail glass in the freezer. Shake all ingredients as hard as you can with ice. When you're trying to whip up a whole egg you need to make sure you're shaking for at least 60 seconds. Fine strain into the chilled cocktail glass and you'll be rewarded with a light but creamy cocktail that tastes of raisins, toasted nuts and baking spices. Garnish with a little grating of nutmeg and serve.
A little slug of good dark rum will add some extra backbone if the situation demands it, as would a little Anejo Tequila if you're feeling adventurous. Such additions will start to raise the ABV, of course, but even 15ml-or-so will make a difference to the flavour.