Feis Ile, the yearly Islay Festival of Music and Malt, is a fixture of the Scotch malt whisky scene. Every year, the population of the isle of Islay doubles for a week at the end of May, as whisky fans from around the world descend on the island. Hotel bookings are made more than a year in advance and you even need to get in months early to get a pitch at one of the island's campsites. Suffice to say, it's a big thing in the whisky world.
The Islay Festival of Music and Malt
It started in the 1980s, growing out of a drama festival. At first it focused on music and local culture, but since 1990, the year of the first festival whisky tasting, Islay distilleries have become more involved and now dominate the week.
Each distillery on the island is assigned a day of the festival week, so staying from Saturday to Saturday is a must if you want to experience all of the festivities. They also each produce at least one special festival bottling, usually launched at the open day, so if you're trying to catch them all, you'll need to hang around for the whole week.
You can find full details on the Islay Festival website.
The Whisky Exchange Islay Pop-up Bar
Along with the distilleries, there are a few whisky companies who make their way up to the island. This year we are joining the throng and will be opening a pop-up bar in Port Ellen. We'll be at Ramsay Hall on Tuesday, Wednesday and Thursday nights, open from 6pm to 11pm.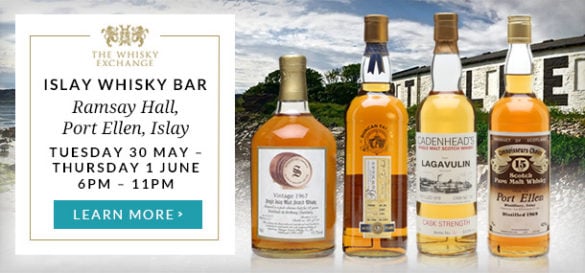 The plan is simple: we're providing a laid-back bar to escape from the hectic rush of the festival. There'll be whiskies from every distillery on Islay, both current releases and some incredible drams from their back catalogues – TWE director Sukhinder has raided his stash to find us some very special bottles. We'll be selling whisky by the 1cl measure, and prices start at £2.
You can find a list of many of the drams we'll be pouring on this page, But here are a few of Sukhinder's highlights: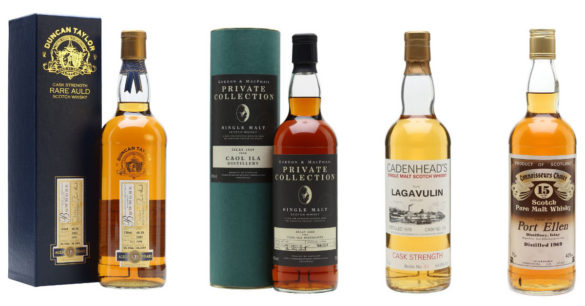 We'll also have beer from Loch Fyne, The Botanist gin from Bruichladdich, and a big bucket of ice for making highballs and G&Ts. There's no entry fee, so come along, say hello and have a relaxed evening of great drams.
Elements of Islay and Port Askaig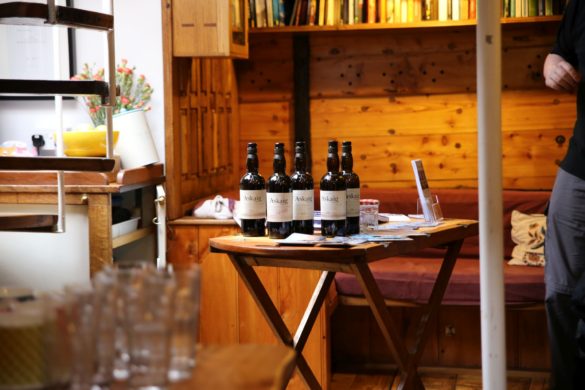 During the day, Ramsay Hall will be filled with whisky from our friends at Elixir Distillers, producer of Elements of Islay and Port Askaig. They'll be pouring samples all day, as well as running tastings throughout the week. Head over to the tickets page to book:
They're also selling bottles and merchandise, so whether you need a bottle of Port Askaig 100° Proof or an Elements of Islay T-shirt, pop in and have a dram while you wait.
Elements of Islay Ar9
And finally, there's a special festival bottling – Elements of Islay Ar9. It's a heavily sherried whisky from a cult south-coast distillery. We'll leave it as an exercise to the reader to guess which one…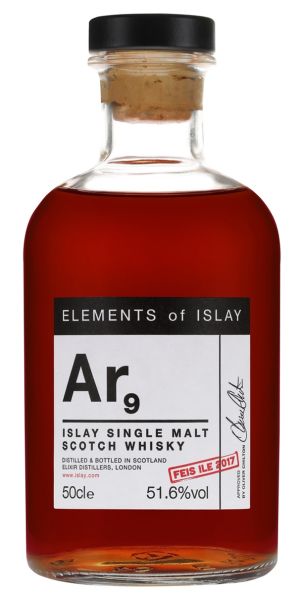 Elements of Islay Ar9. Feis Ile 2017 Release. 51.6% ABV
Nose: Dark chocolate and sappy pine lead to a core of salted caramel and treacle toffee. Spiced, stewed apples mingle with tar and creosote, with a seaside bonfire burning underneath – salt spray, burning driftwood and layers of rich, smoky peat.
Palate: Singed raisins, sweet liquorice and charcoal ash start things off, with a dive through bitter liquorice pastilles and blackcurrant wine gums into a pool of bittersweet dark chocolate for afters. Sharp mineral notes flicker around the edges before toffee apples and salted caramel burst through. Smoke is intertwined with the other flavours: burning citrus peel, sweet peat and rich wood smoke dive in and out.
Finish: A bright explosion of mint and menthol fades away, leaving earthy peat, fruity chocolate, bitter ash and touches of sweet pastry.
Comment: A monster of a dram that doesn't forget its origins. Beneath the layers of sherry-cask fruit and dark chocolate are the clear fingerprints of this cult Kildalton distillery.
It'll be exclusively available from the Elixir Distillers gang at Ramsay Hall on the Tuesday, Wednesday and Thursday of the festival. If there's any left, The Whisky Exchange has first dibs and it'll be on the website when we get back from the island. Click here to sign up to receive an email if and when it goes on sale.
Posted in

Scotch Whisky, Uncategorized, Whisky Events
Tagged

Ardbeg, Bowmore, Bruichladdich, Bunnahabhain, Caol Ila, jura, Kilchoman, Laphroaig, Port Ellen