In a month where we're all rediscovering our love of lolling about with friends in beer gardens, we wanted to highlight some of the places where you can also sip a dram or two in the sunshine. With terraces that range from super swanky to the cosy and curbside, these bars all have something great to offer whisky lovers – just make sure you get your booking in quick.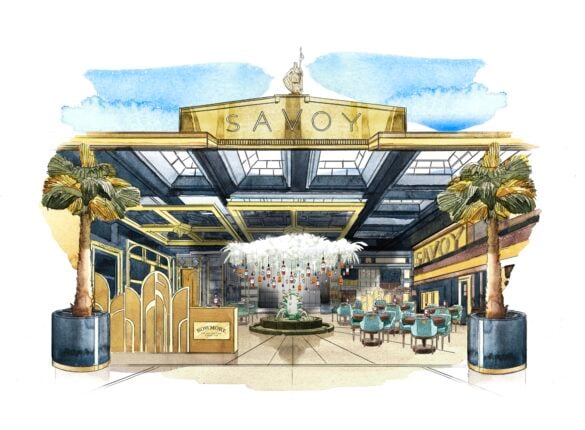 If you're a fan of Bowmore, the new pop-up bar at the Savoy Hotel might be the perfect place to treat yourself to a decadent dram. Named Solas after the Gaelic for 'light, joy and comfort' – and who doesn't need some of that right now? – the bar is designed to be a feast for the senses: illuminated by a huge chandelier from which decanters, stoppers and crystal shards are suspended, it offers a mixture of specially-designed whisky cocktails, a range of Bowmore single malts that includes the 27-year-old Timeless series, and a mouthwatering selection of fresh seafood. The three words you never knew you needed in your life? Bowmore oyster luge.
Solas is open Monday-Thursday, 4pm-10pm & Friday-Sunday, 12pm-10pm at the Savoy, WC2R 0EZ.
A firm favourite with those of us who enjoy the 'occasional' whisky and cigar, Boisdale's generously-sized terrace is equipped with heaters and snuggly blankets, making it a comfortable option whatever the weather. It's currently serving both drinks and food, with some seriously tempting happy hour offers available too. If you're a City type, their splendid Canary Wharf venue also has a large terrace with the same offering.
Boisdale Belgravia is open every day, 5pm-11pm Monday, 12pm-11pm Tuesday-Friday, 5pm-11pm Saturday and 12pm-4pm Sunday. SW1W 9LX
Not only are Bar Swift still delivering chilled, freshly-made cocktails to nearby local parks on the weekends, but their outdoor seating area is now open in Soho for both bookings and walk-ins. Sip one of their fabulous cocktails while you browse their 300-strong whisky list and wonder how you're ever going to be able to make a decision.
Bar Swift is open from 5pm Monday – Friday and from 12pm on Saturday and Sunday. W1D 4TQ.
The yin to Solas' peaty yang is perhaps the Macallan Manor House at the Rosewood London hotel. This pretty, floral terrace is decorated with heather, tartan rugs and fishing-themed accessories to fool you into thinking you're lounging by the river Spey rather than somewhat near the river Fleet. The boathouse-themed terrace serves the full Macallan core range plus some rarer drams (London Edition, anyone?), alongside food and a wide range of other drinks. Close your eyes and you'll almost hear the salmon leaping…
The Macallan Manor House is open Monday – Saturday 12pm-10pm, and Sunday, 12pm-9.30pm. WC1V 7EN
As anyone who's been there knows, both branches of Milroy's serve an unbeatable range of whiskies, including a vast range of indie bottlings, and both only have a tiny amount of outdoor space. The Soho branch, for example, only has four seats available, and neither venue accepts advance bookings. Go early, and use your elbows if necessary.
The Milroy's Soho terrace is open Tuesday-Saturday, 3pm-11pm. W1D 4NX
The Milroy's Spitalfields terrace is open Wednesday-Saturday, 12pm-8pm. E1 6LY
Based near Marble Arch, Salt offers an appealing combination of really tasty Indian food and a menu that boasts several hundred whiskies. Their roadside outdoor space was popular long before Covid and booking is essential.
Salt is open from 12pm Monday – Sunday. W2 2JB
Have we missed your favourite? Let us know in the comments.