Jim Murray knows how to surprise. Two years ago, he named Yamazaki Sherry Cask 2013 as his World Whisky of the Year, while last year saw that honour go to Canada, with Crown Royal Northern Harvest Rye taking the top gong. And now, the 2017 winner has just been announced. Jim Murray's best whisky in the world is: Booker's Rye 13 Year Old. Jim described it as having a 'brain-draining, mind-blowing' nose with a finish of 'amazing depth', adding that it is a 'staggering example of a magnificent rye showing exactly what genius in terms of whiskey actually means', scoring it 97.5/100 points.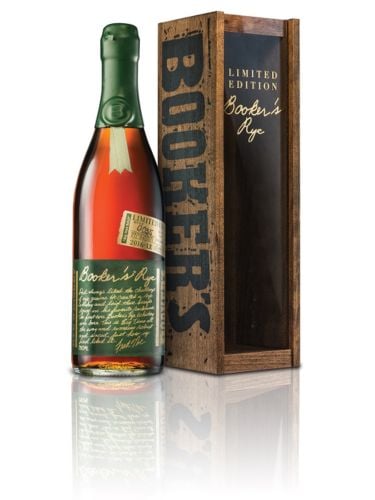 Producer's Tasting Notes
An intense flavour profile with pronounced, well-balanced notes of wood and oak from the longer ageing process. The deep amber liquid offers a complex aroma with spicy notes from the rye in the mash bill. This uncut rye has a big bold flavour, but is not overpowering. It can be enjoyed neat or on the rocks.
The other big news of the 2017 Whisky Bible is that a Scottish whisky has made Jim's World Whiskies of the Year shortlist for the first time since 2014. The runner-up is Glen Grant 18 Year Old – here is the top three:
JIM MURRAY'S 2017 WORLD WHISKIES OF THE YEAR
3. William Larue Weller Bourbon (Bot.2015)
The full winners list
Scotch Whisky
Scotch Whisky of the Year
Glen Grant 18 Year Old
Single Malt of the Year (Multiple Casks)
Glen Grant 18 Year Old
Single Malt of the Year (Single Cask)
That Boutique-y Whisky Co Macallan 25 Year Old Batch 5
Scotch Blend of the Year
The Last Drop 1971
Scotch Grain of the Year
Whiskyjace Invergordon 24 Year Old
Scotch Vatted Malt of the Year
Compass Box Flaming Heart 2015 Edition
Single Malt Scotch
No Age Statement (Multiple Casks)
Glenlivet Cipher
No Age Statement (Runner Up)
Port Askaig 100 Proof
10 Years & Under (Multiple Casks)
Glen Grant 10 Year Old
10 Years & Under (Single Cask)
Kilchoman Guze Cask Finish
11-15 Years (Multiple Casks)
Lagavulin 12 Year Old
11-15 Years (Single Cask)
The Single Cask Glentauchers 2002 14 Year Old
16-21 Years (Multiple Casks)
Glen Grant 18 Year Old
16-21 Years (Single Cask)
Scyfion Choice Mortlach 1996 19 Year Old (Berry Bros & Rudd)
22-27 Years (Multiple Casks)
Dalwhinnie 1989 25 Year Old Special Releases 2015
22-27 Years (Single Cask)
The Boutique-y Co Macallan 25 Year Old Batch 5
28-34 Years (Multiple Casks)
Port Ellen 1983 32 Year Old Special Releases 2015
28-34 Years (Single Cask)
Cadenhead Caol Ila 31 Year Old
35-40 Years (Multiple Casks)
Brora 37 Year Old Special Releases 2015
35-40 Years (Single Cask)
Cadenhead Glentauchers 38 Year Old
41 Years & Over (Multiple Casks)
Gordon & MacPhail Glen Grant 1952
41 Years & Over (Single Cask)
Gordon & MacPhail Glen Grant 1950 65 Year Old
Blended Scotch
No Age Statement (Standard)
Ballantine's Finest
No Age Statement (Premium)
Ballantine's Limited
5-12 Years
Johnnie Walker Black Label 12 Year Old
13-18 Years
Chivas Regal 18 Year Old Ultimate Cask Collection First Fill American Oak
19 – 25 Years
Royal Salute 21 Year Old
26 – 50 Years
The Last Drop 1971
IRISH WHISKEY
Irish Whiskey of the Year
Redbreast 21 Year Old
Irish Pot Still Whiskey of the Year
Redbreast 21 Year Old
Irish Single Malt of the Year
Bushmills 21 Year Old
Irish Blend of the Year
Jameson
Irish Single Cask of the Year
Teeling Single White Burgundy Cask 2004
AMERICAN WHISKEY
Bourbon of the Year
William Larue Weller 2015 Release
Rye of the Year
Booker's Rye 13 Year Old
US Micro Whisky of the Year
Garrison Brothers Cowboy Bourbon 2009
US Micro Whisky of the Year (Runner Up)
Koval Four Grain
Bourbon
No Age Statement (Multiple Barrels)
William Larue Weller 2015 Release
No Age Statement (Single Barrel)
1792 Single Barrrel Kentucky Straight Bourbon
9 Years & Under
Garrison Brothers Cowboy Bourbon 2009
10 Years & Over (Multiple Barrels)
Blade & Bow 22 Year Old
Rye
No Age Statement
Thomas H Handy 2015 Release
Up to 10 Years
Pikesville 110 Proof 6 Year Old Straight Rye
11 Years & Over
Booker's Rye 13 Year Old
Wheat
Wheat Whiskey of the Year
Bernheim Original
CANADIAN WHISKY
Canadian Whisky of the Year
Crown Royal Northern Harvest Rye
JAPANESE WHISKY
Japanese Whisky of the Year
Yamazaki Sherry Cask 2016 Release
Single Malt of the Year (Multiple Barrels)
Yamazaki Sherry Cask 2016 Release
EUROPEAN WHISKY
European Whisky of the Year (Multiple)
English Whisky Co. Chapter 14 Not Peated
European Whisky of the Year (Single)
Langatun 6 year Old Pinot Noir Cask
WORLD WHISKIES
Asian Whisky of the Year
Kavalan Solist Moscatel
Southern Hemisphere Whisky of the Year
Heartwood Any Port in a Storm