Poor old Armagnac. It's frequently in the shadows of its blingier cousin, Cognac, which outsells it by 15 bottles to one, even though Armagnac has a longer history. It's a fabulous spirit, loaded with character, and deserves a little love. And with the weather turning colder, it's the perfect time to try it.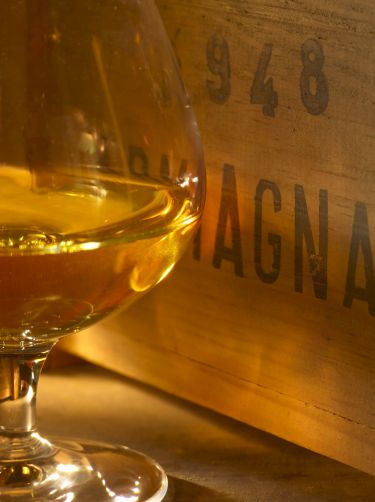 What is Armagnac?
Armagnac is wine that has been distilled and then aged in oak barrels. It must be made in the Gascony region of south-west France and is generally the work of smaller, craft producers. There are no Armagnac makers anything like the size of, say, Hennessy or Rémy Martin, but if anything, this rusticity merely adds to its charm.
How is Armagnac made?
There are several grape varieties permitted in Armagnac production, with Ugni Blanc the most widely used, followed by Colombard, Baco and Folle Blanche, with a few other varieties making up a tiny percentage. The wines are very high in acidity and not what you would choose to drink at the dinner table, but are perfect for distillation, producing an aromatic, characterful spirit. The next stage is ageing, which takes place in 400-litre oak barrels. The finished Armagnac is ready to be bottled; the length of ageing will determine how it is labelled:
• Three stars – two years
• VSOP/Réserve – five years
• XO/Napoléon/Vieille Réserve – six years
• Hors d'Age – 10 years
How to drink Armagnac
Armagnac is an incredibly versatile spirit. It can be drunk neat or on the rocks, and it also works very well in long drinks and cocktails. Armagnac makes an ideal substitute for Cognac cocktails such as the Sidecar, Sazerac and Alexander. Well-aged Armagnacs are better enjoyed on their own, slowly savoured – expect notes of prune, honey, spice and tobacco.
Armagnac vs Cognac
There are plenty of similarities between Armagnac and Cognac, in that they hail from a similar part of the world, are made with grapes, distilled and then aged in oak. However, there are a number of key differences:
• Armagnac is usually only distilled once; Cognac is distilled twice
• Armagnac is generally distilled in column stills; Cognac is distilled in onion-shaped pot stills
• Armagnac has a wider range of oak barrels it can be aged in, including Alsace and the local Monlezun oak; Cognac is restricted to Tronçais and Limousin
• Armagnac can be made with a single grape variety; this is almost unheard of in Cognac
• Single-vintage bottlings are quite common in Armagnac; vintage Cognacs are harder to find.
We have more than 150 Armagnacs to choose from at The Whisky Exchange, with some vintage bottlings going back to the 19th century, as well as bottles aged for 30, 40, even 50 years – all ideal gifts for people celebrating a landmark birthday or anniversary.