It's been more than two years since we last held a Kilchoman tasting at TWE Vinopolis, which showcased the first releases of 100% Islay and Machir Bay, along with the precursor to Loch Gorm. With the first six-year-old whiskies now released by the distillery, we were delighted to see how things are progressing.
This autumn, founder Anthony Wills's three sons embarked on a tasting tour of Europe in their new Land Rover, although as George pointed out, his younger brothers James and Peter got the better deal: 'They spent four weeks visiting eight countries in September; I got two weeks around the UK in November – it's not quite the same!' Monday 10 November was the turn for us to host one of the legs, and for one night only, Peter joined George to take charge of proceedings.
The first spirit ran off the Kilchoman stills at the end of 2005, but as with many new distilleries, most of the production in the early days was sold to private customers (at around £1,000 per cask) to generate revenue until the whisky had reached the required three years to be released. As a result, the casks used for the current core range date from 2007-8. Peter took us through the three core expressions (100% Islay, Machir Bay and Loch Gorm), along with this year's limited releases of Port Cask Matured and Original Cask Strength, to give us a real snapshot of the distillery's current offerings.
The lightest style of Kilchoman, 100% Islay is made using barley grown and malted on-site. Peated to 20-25ppm, this is aged for around five years in ex-bourbon barrels from Buffalo Trace, of which the majority are first-fill.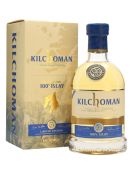 Nose: Sweet, with cream, vanilla and nutmeg joined by a hint of smoke.
Palate: Sweet and creamy with lemon and lime combining with vanilla and peat smoke towards the end.
Finish: Medium in length with the peat smoke slowly building, although staying at a low intensity.
Comment: It's been a while since I tasted this, and it's even better than I remember. The extra 4% abv (compared to the rest of the range) helps the creaminess of the spirit to shine through – an excellent example of gently peated Islay.
Machir Bay is aged in a combination of 90% ex-bourbon barrels and 10% ex-oloroso sherry casks for five to six years. Peated to 50ppm using barley from Port Ellen maltings.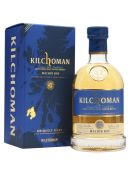 Nose: Sweet, vanilla intermingles with lemongrass and a hint of peat.
Palate: Rich and creamy, with the initial sweet vanilla turning into dark chocolate, spicy clove and peat smoke.
Finish: Medium-long, with dark chocolate, clove and peat smoke.
Comment: This displays the best of both worlds: creamy, sweet vanilla from the bourbon barrels and dark chocolate and clove from the oloroso casks. These flavours are then beautifully integrated with the peat smoke – an exceptional whisky for the price.
Aged exclusively in ex-oloroso sherry casks for five years, this is peated to 50ppm. The most sought-after whisky in the range, this annual release sells out within weeks.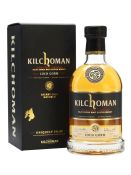 Nose: Sweet toffee and butterscotch combines with BBQ smoke and oranges.
Palate: Rich and creamy, yet also elegant, with orange, dark chocolate, sweet nutmeg spice and well-integrated peat smoke.
Finish: Medium in length, with sweet nutmeg and gentle peat.
Comment: I'm a big fan of sherry-matured smoky whiskies and this never fails to disappoint. It's hard to believe it's both only five years old and (technically speaking) so highly peated. Beautifully integrated, with all the flavour components in the right place.
One of the distillery's ongoing experiments with different cask types (they have Madeira and Sauternes casks in the warehouses, too), this sold out almost immediately after release in September. The success means a follow-up is planned, but as no-one knew if the experiment would work, you'll have to wait at least another three years.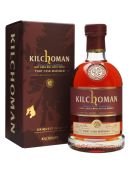 Nose: Red-fruit rich (strawberry and raspberry), with a hint of peat in the background.
Palate: Warming yet surprisingly elegant for a whisky at 55% abv. The red-fruit notes from the nose are more intense, with red cherry appearing. Again, the peat smoke is very much in the background.
Finish: Medium in length with strawberry and the light peat smoke joined by milk chocolate.
Comment: If I'd tasted this blind, I would have said it was both older and lower in alcohol. For me, Kilchoman have bottled this at the right time – matured for much longer, the wood influence would have started to become overpowering. A stunning (and rare) example of port-matured peated whisky.
A special bottling limited to just 30 bottles to be sold at each of the 13 legs of the UK tour, this is a cask-strength edition of Machir Bay (peated to 50ppm and aged in ex-bourbon barrels (90%) and ex-oloroso sherry casks (10%)). Please note this bottling is only available through our London shop and will not be sold on our website. At the time of writing, it has a few bottles left – please call 020 7403 8688 to check availability.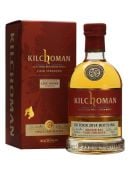 Nose: Ripe plums, with more stewed fruit appearing with time. Vanilla and clove are joined by a hint of peat smoke.
Palate: Big and bold, with notes of plum, black cherry, dark chocolate, clove and peat smoke.
Finish: Medium-long and slightly drying, with spicy clove and peat smoke.
Comment: It is easy to see the family resemblence to the standard 46% version. The flavour profile is similar, but with everything turned up a notch in intensity, although, as seems to be the distillery's trademark, it is so well integrated that the peat smoke isn't overwhelming.
Released last month, this cask-strength bottling was aged in a total of 35 ex-bourbon barrels for five years, of which most were first-fill. Peated to 50ppm, this should be the most powerful whisky of the evening.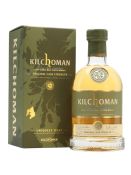 Nose: Creamy with vanilla joined by tropical fruit notes of pineapple and mango with the peat smoke, once again, in the background.
Palate: Warming, with a creamy texture and notes of sweet vanilla, honeydew melon, backed up by peat smoke and an intense maltiness.
Finish: Long, with the peat slowly building.
Comment: A great whisky for the forthcoming colder nights, this is warming, and while the peat is more pronounced than the five previous whiskies, at no stage is it overpowering.
This tasting was further evidence that Kilchoman has great potential for the coming years, and I can't wait for the first 10-year-old (or older) release, when we can compare them with similar-aged releases from their neighbours. A staple of our Islay whisky offering, it's easy to forget the oldest Kilchoman releases are just six years old. Onwards with the tour…