The past decade has seen a huge rise in the popularity of smoky whisky. This jump is one of the main reasons why we've seen prices for Islay whisky shoot through the roof in recent years, but fortunately, Islay isn't the only source for a smattering of smoke.
While Scottish islands are best known for smoke (Islay in general, Talisker from Skye, Ledaig from Mull, Highland Park from Orkney), the use of peat to dry barley was once more widespread across Scotland. While that died out with the introduction of smokeless fuels many years ago, the tradition has been revived in more recent years due to more people liking the taste of smoky malt. One mainland distillery which has been producing peated whisky for longer than most is Edradour, and it's now released something that's virtually unique in the current crop of smoky Highlanders – a heavily peated malt with an age statement: Ballechin 10 year old.
Ballechin is the name Edradour gives to itspeated whisky, in turn taking the name from one of the lost farm distilleries that sprung up around Pitlochry in the 1800s. Alfred Barnard visited Ballechin during his grand tour (documented in The Whisky Distilleries of the United Kingdom) and specifically noted that its malt kiln was 'heated principally with peat', giving some sense to the use of the distillery's name for Edradour's spirit. The original Ballechin closed in 1927, and the spirit now made under the same name first flowed around 2003, shortly after the current owners, indie bottler Signatory, took over.
Ballechin has released a variety of different bottlings over the years, but this is the first ongoing release with an age statement – the decade milestone. It's heavily peated – at least 50ppm which puts it up with the smokiest whiskies on Islay (Octomore excluded, of course) – and matured in a mix of first-fill and first-refill casks, made of European and American oak, with the emphasis on the latter. It's bottled with no colouring at 46%, and isn't chill-filtered, all things that should keep us geeks/connoisseurs happy.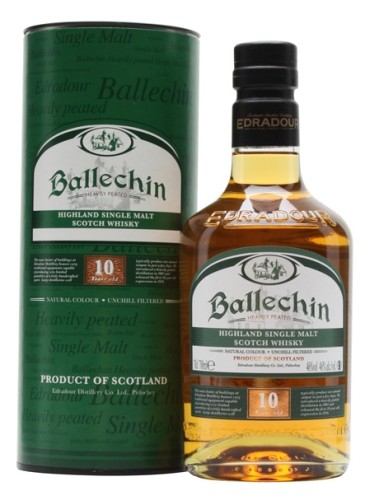 Nose: Woodsmoke, lime jam and a touch of brine – if I didn't know this was made about as far from the sea as you can get in Scotland, then I'd reckon it was from the coast. Some dark-chocolate richness sits underneath a sweet-but-sour centre, with a linseed oil and malty top coat.
Palate: Soft, rounded and sweet to start, with a pleasantly oily mouthfeel and some cinnamon spice growing over time. Chocolate limes, caramel and lemon cream make up the body, with more oak, grass and burning hay building to bonfire-like proportions.
Finish: Medium/long, with grassy peat smoke, citrus peel, dark chocolate, liquorice and lingering earthiness.
Comment: I wasn't sure what to expect, but this definitely hits the spot. Young and fresh, but with a nice weight behind from the sherry casks in the mix. Spicy, smoky and zesty.
You can find the Ballechin 10yo and the rest of the Ballechin range over on our shiny new website.