There are some dates that stick in the memory – Thursday 9 November 1989 is one of them. The day east met west, the day the Berlin Wall fell. Today marks the 25th anniversary since the border was officially reopened, and to commemorate this, I thought I'd take a look at some of my favourite hidden gems produced in modern-day Germany.
It's often said how quickly the world changes – to put it into context, here's some things that happened at the end of 1989:
North America's first commercial dial-up internet connection was launched
Walmart opened its first store
The first African-American mayor of New York City was elected
Lisa Stansfield hit the top of the UK Charts with All Around The World
David Hasselhoff famously performed his hit song (number one in Germany for eight weeks that spring) Looking For Freedom next to the wall
Even though the Germans don't get a day off work, why not sit back in front of the fire and toast them with some of their finest? Jägermeister and Asbach Uralt may be the first German brands to come to mind, but they're certainly not alone, with Germany producing a wide range of fine spirits and liqueurs. They're also dabbling in the world of whisky. At last count, we had 70 products from the country available on the site. Here is my pick of the bunch, including lesser-known alternatives, hidden gems and the offbeat:
While Jägermeister is undoubtedly the market leader in the German kräuterlikör (herbal liqueur) category, Kuemmerling has a longer history. First produced in 1921 (14 years before its more famous counterpart) in Deesbach, Thuringia, production moved in 1949 to a new site in Coburg, Bavaria, finally settling in their current home of Bodenheim, Rheinland-Palatinate in 1963. One of Germany's biggest alcohol brands, this is semi-bitter, and although the recipe is a secret, counts wormwood, liquorice, pimento and spearmint among its ingredients.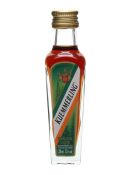 Nose: Herbaceous, with clove, menthol and liqorice the most prominent.
Palate: The spices are warming and the bitter liquorice delicately combines with sweeter nutmeg, menthol and an underlying eucalyptus note.
Finish: Medium in length with refreshing menthol at the death.
Comment: An excellent herbal digestif that's sadly overshadowed outside of its home country. Noticeably drier than Jägermeister, the bitter flavours aren't easy to combine, but I find it works well with fruit juice in a long drink – cherry and orange are two of my favourites.
Liqueur specialists Berentzen were founded way back in 1758, and today, as well as producing under their own name, the group includes the Puschkin brand, Bommerlunder Aquavit and many more. Berentzen's is the original Apfelkorn and to my mind, by far the best. Made using a wheat-based spirit and apple juice, it's been a staple of my fridge for years, and as well as the 70cl, there's a size for every need, from 2cl to 3l.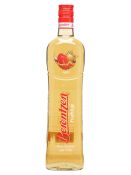 Nose: Nosing alongside a long-life carton of apple juice, it's very hard to tell which is which. There's no noticeable alcohol, just an overt fruitiness.
Palate: The alcohol is more noticebale on the palate, turning the apple juice slightly sour (not as sour as Berentzen's Sour Apple variant). A hint of pear is added to the mix.
Finish: Short to medium, with refreshing apple juice by far the most prominent flavour.
Comment: The prominent sour-apple note is in direct relation to the temperature; when served chilled (or frozen), this disappears. This can be used just as you would apple juice – on its own, in a long drink with lemonade, or with vodka in an Appletini.
Better known for high-quality brandies such as the best selling Uralt, A&A stands for 'Asbach und Auslese'. Made by combining two of Germany's finest drinks – Riesling wine of Auslese classification (grapes with a high amount of residual sugar) with Asbach Uralt brandy – this has an unrivalled pedigree, so I was looking forward to trying it.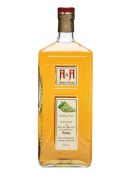 Nose: A disjointed nose. It's easy to pick out the oak and hazelnut aromas from the brandy, and the apple and pear notes of the Riesling, with no integration between the two.
Palate: Much more like it! The apple, pear and hints of petrol from the Riesling are excellently balanced with dried plum, oak and hazelnuts from the brandy.
Finish: The flavours from the two (very different) components join in a fruity and nutty, medium-long finale.
Comment: Thankfully the palate delivers where the nose fails and the integration on the mouth is certainly worth waiting for. It's enjoyable neat, but the ideal use would be added to a glass of sparkling wine.
For the last of the quartet, I thought I'd take a look an element of Germany that's often overlooked – or as I (and no doubt Henning Wehn, one of the few comics to make it on both sides of the North Sea) would say, misunderstood – the humorous side. The original Kleiner Feigling, a fig-flavoured liqueur, sells more than a million cases a year, and the company has recently branched out into other flavours, including apple and bubblegum.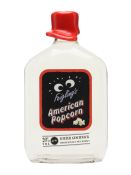 Nose: Sometimes there's a myriad of flavours you get from a glass, other times its just one. This one falls into the latter and does what it intends to, the popcorn is halfway between cinema-sweet and salty.
Palate: Sweeter than the palate would suggest, but a drier popcorn flavour is noticeable, joined by a hint of toast.
Finish: I'm not sure how they've recreated it, but it has the drying aftertaste you get after eating popcorn (but without the bits stuck in your teeth).
Comment: It has advantages over eating popcorn, but I'm not sure what you could mix this with. It is intended more as a shot, hence its availability in tiny bottles, too.
So, 25 years after the two countries reunified, Germany continues to produce an excellent range of spirits. It's not just the categories I've already mentioned – the past few months have seen the launch of Belsazar, a premium vermouth brand that's already making waves. Add to that the ever-popular and award-winning Monkey 47 Gin and the Bitter Truth range of bitters and it's easy to see why the country is well thought of by bartenders and connoisseurs alike.