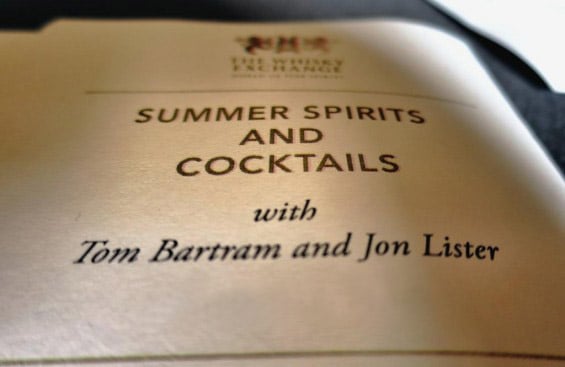 While most of the masterclasses at our London shop are focused on the world of whisky, we do like to do something a little different from time to time. With summer most definitely in the air, we were joined by Tom Bartram and Jon Lister of Speciality Brands to show us a range of drinks to keep us going until autumn.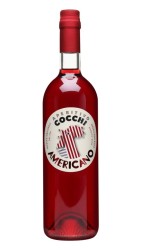 Speciality Brands has a wide-ranging portfolio, and Tom and Jon picked out a few choice selections that work well in summery drinks. We kicked off with Cocchi Americano Rosa, the follow-up to the much-praised Cocchi Americano. The regular Americano has become known as the go-to bottle for making a Vesper Martini (for details, take a look at my Cocchi post from a couple of years ago), and the new pink Rosa has started making waves of its own.
Rather than just drink it on its own, Jon and Tom put together a twist on a spritz – a Cocchi Rosa and Tonic Spritz. The classic spritz has evolved from a summery drink of water and wine in the Habsburg era to the combination of wine, bitters and fizzy water we know today. Cocchi Americano Rosa has a wine base and is made with many of the same botanicals you would find in an Italian bitters, so adding in some tonic water creates a mix that's like a regular spritz. In any case, it was served with a sprig of mint and a strawberry, amplifying the aromatic herb and berry notes of the Rosa.

For our second drink, we went for a simple serve: Konik's Tail vodka, in a glass. Konik's is the work of Pleurat Shabani, formerly a vodka brand ambassador, consultant and spirits competition judge, who struck out on his own a few years back and has been riding a wave of success ever since.
The mashbill is 95% spelt, not a usual choice in the vodka world, but it gives the spirit a nutty, smoky character. The remaining 5% is a mixture of wheat and rye, giving a soft entry on the palate and a spicy finish:
Konik's Tail Vodka, 40%. £32.45
Nose: Spicy and savoury, with a gentle balanced sweetness – flint, earthy char and sweet grass.
Palate: Lots of fresh cream and rye spice, with bitter char underneath. Butterscotch, vanilla and black pepper, with building sweetness.
Finish: Butterscotch and cream with lingering warmth and spice.
We then moved on to another white spirit: City of London Gin. We visited them a few months ago, and you can find a complete write-up in an earlier blog post, but in short, they are the closest distillery to Vinopolis and the only distillery in the City of London. They make a particularly classic gin, so Jon and Tom decided to pair it with a classic gin cocktail: the Ramos Gin Fizz.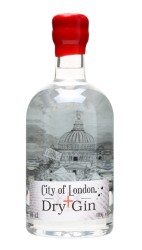 The Ramos is famous in part because of the hard work involved in making one – it is supposed to be shaken for 12 (yes, 12) minutes. The classic recipe uses gin, lemon, lime, egg white, sugar, cream, orange flower water and soda water; Jon also adds lavender water to emphasise the floral notes of the gin.
Jon is a master of molecular mixology, so faced with the prospect of making gin fizzes for the whole room, he decided to be creative – he bet he could make 30 drinks in the space of time it took three volunteers to shake just one.
While Tom, along with Chris and David from the shop, shook away, Jon combined enough of the ingredients to make 30 drinks with lots of ice, and then poured the cocktail back and forth between a couple of large jugs to aerate and chill the drink quickly. He then filled a soda siphon, charged it with gas and proceeded to pour out glasses of fluffy gin fizz before the ice in the shaking team's shaker had even melted.
While Tom recovered from his shaking ordeal, we moved on to our next drink: Tapatio Blanco Tequila. Again, rather than mix this, it was served straight, but this time with another drink on the side: a verdita. Verdita, 'little green' in Spanish, is the classic accompaniment to Tequila, and is simply a green-coloured mix of fruit juice and chilli, and everyone has their own recipe – you can find Jon's in our National Tequila Day post. As a starter recipe, mix pineapple with some mint and chili. Simply take a sip of Tequila, then a sip of verdita, and repeat.
The final drink was a chance for for Jon's craziness to shine. The base of the recipe was a Diplomatico Reserva Exclusiva Old Fashioned, made by stirring the rum with bitters, sugar and ice, but Jon took it to the next level to create a Pipe and Slippers.
First he prepared an elaborate Old Fashioned of Diplomatico Reserva Exclusiva, simple syrup, chocolate bitters and Pedro Ximénez sherry. Next he filled a decanter with the smoke from smouldering whisky-cask chips, then poured the cocktail into the smoky decanter. He left it for a short while in the decanter, before pouring it into a cigar-sized test tube, placing it in a cigar case alongside a special Diplomatico cigar, then presented the finished combination propped up in a (clean) ashtray. Pure theatre.
Unfortunately, producing a similar cocktail for 30 people wasn't going to work logistically, so there was a small change to the recipe – rather than smoking with fresh oak, they spritzed the top of each cocktail with a bit of liquid smoke. The effect was very similar to the actual smoke but dialled back a bit, giving the cocktail less of a bacony kick.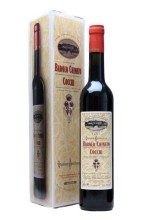 To finish the evening, a simple pairing of Cocchi Barolo Chinato and dark chocolate. The folks at Cocchi are big fans of chocolate pairing, even going so far as getting their own special chocolates made (as mentioned in our last post on Cocchi), but in this case we 'just' went for a high-cocoa, dark-chocolate 'cigar'.
The wine was spicy and bitter, with sweetness running through the centre, while the chocolate was bitter and fruity. The combination of these two was like finding the right piece to fit a hole in a jigsaw puzzle – where there was fruitiness, the chocolate and wine complemented each other, and where there was a gap in the sweetness, the wine propped up the chocolate. An excellent match.
Summer does seem to be threatening to end at any moment, but while the sun shines, we will make cocktails. Let us know if you try any of the drinks from the tasting, and if you've got a verdita recipe, please don't keep it to yourself.