A few of us ladies at TWE HQ are on a mission – to get more women involved in drinking the hard stuff (responsibly, of course). Far too often we have found ourselves sitting in a whisky tasting where we are the minority sex in the audience. This has to change; cue our very first women-only whisky tasting: Ladies Night.
Our host for the evening was Becky Paskin, whisky writer and editor of scotchwhisky.com, who says that writing about and tasting whisky for a living is 'the best job in the world'. And having done it for the past eight years, she certainly knows her stuff.
As we tasted through the whiskies, we were guided through various subjects from labelling laws, types of grains and casks and even an explanation of the Lincoln County process. Becky explained that while Speyside malts are often light and citrusy, and Highland drams fuller bodied, with peated whiskies being made in both (Balvenie, Glenfiddich and Glenturret) and unpeated whiskies found in Islay (Caol Ila and Bruichladdich), 'regionality is less relevant today than ever'. People are also experimenting with various types of grain, including chocolate malt, which gives a mocha like-flavour (yum!).
What stood out from the evening was the multitude of questions asked by the audience, including how barrel size affects flavour and colour, when 'whisky' should be spelled 'whiskey', and how styles of peat vary around Scotland.
Most interesting fact
One out of 10 people cannot smell black pepper. I did not know that.
Metaphor of the evening
'Recharring is like Botox for casks' – Dawn Davies, TWE head buyer
Tip of the evening
Peated whisky and tonic is the new G&T, apparently.
We Tasted
Balvenie 12 Year Old Single Barrel
Soft with aromas of honey, citrus and apple crumble, hints of eucalyptus.
Glenlivet Nadurra Oloroso
Packs a punch, full bodied with sweet and spicy flavours.
Compass Box Great King Street Artist's Blend
Delicate with candied apple, vanilla, floral – juicy palate with nice length. Dangerously easy drinking.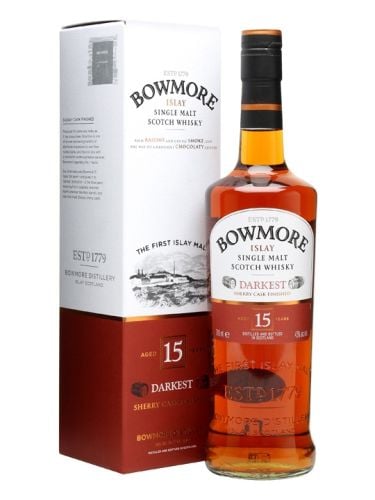 Bowmore 15 Year Old Darkest
Light peat with leather and sherried notes of chocolate, spice and Christmas cake.
Bushmills 10 Year Old
Very fruity with a creamy texture; someone pointed out Pez sweets!
Eagle Rare 10 Year Old Single Barrel
Aromas of corn, vanilla, toffee and caramel.
Whisky of the night
Although it was a close call, the favourite of the night was Bowmore 15 Year Old Darkest – who says ladies like a lighter dram?
Based on the great success of the evening we will definitely be doing more Ladies Nights, but covering other drinks and spirits categories, and we may even throw in some cocktail making. I am very excited – watch this space.
Posted in

Irish Whiskey, North American Whisk(e)y, Scotch Whisky, WHISKY & WHISKEY
Tagged

Balvenie, Bowmore, Bruichladdich, Bushmills, Caol Ila, Compass Box, Eagle Rare, Glenfiddich, Glenlivet, Glenturret