Whisky from The Glenlivet is known for its generous, fruity style, but did you know that in the past, its spirit was always lightly peated? The Speyside distillery has just launched the third bottling in its ongoing Nàdurra range, following the First Fill and Oloroso expressions. The new whisky was finished in casks that used to contain heavily peated whisky, which wraps a subtle layer of smoke around the fruit.
Glenlivet's master distiller Alan Winchester said that the distillery only started to phase out its use of peat after World War II, when customers from the US demanded 'lighter, sweeter whiskies'. Winchester, who described the Nàdurra range as 'returning Glenlivet to its roots', added: 'Nàdurra means "natural" and with this new bottling, it's fascinating to see a fruity, floral whisky with all those layers of peat.'
So, how does it taste? This is what I thought: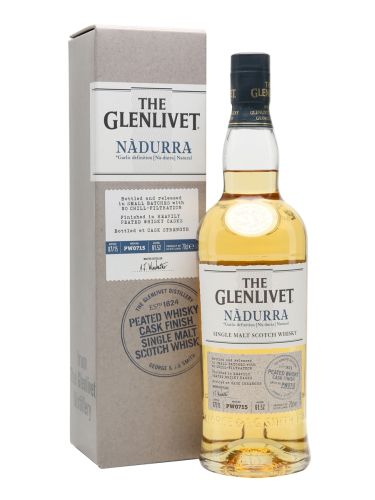 Nose: Creamy, with sweet aromas of candied fruit, green banana and pink peppercorn. Freshness, too, in the form of green-apple skin and mango. Earthy peatiness and gentle smoke lurk in the background.
Palate: Packs a punch at full strength, with a blast of smoke and black pepper! With water, plenty of fresh green fruit (apple and pear), as well as a touch of spice from the cask. The peat then comes through, but it's richer and riper than expected, with creamy, custardy notes joining in.
Finish: The clean fruits linger well with the soft smoke.
Comment: This would be an ideal 'beginners' peaty whisky. The peat isn't raw or ragged; rather, it blends in with the fruit and spice and doesn't dominate.
Certainly different from the Glenlivets I've tried in the past, and as I mentioned in the tasting note, this would be a great introduction to the world of peaty whisky, particularly for those who are reluctant to dive into a big-hitting Islay. Glenlivet Nàdurra Peated Whisky Cask Finish is available to buy from The Whisky Exchange here.