After a difficult start to life, Benriach has emerged from the shadows and is now a highly regarded Speyside distillery. It closed after just two years in 1900, with a 65-year gap until it reopened in 1965. But since Billy Walker bought Benriach with the help of a consortium in 2004, the distillery has gone from strength to strength, with a clutch of well-received releases. Benriach brand ambassador Stewart Buchanan led our latest Whisky Exchange tasting, giving plenty of inside info on what goes on – with a few drams along the way, of course.
In Their Own Words – Stewart Buchanan
'Benriach came on the market in 2004. Billy bought it for £6 million, and the deal included 23,500 casks going back to 1966. If you tried doing that today, you'd have to double the amount and add a zero to it!'
'We're one of the more northerly distilleries in Speyside, just a few miles from Elgin. Longmorn is just 500 yards away, and one mile away, there's Glen Elgin. That road is stinking with whisky production – you can hold your nose or breathe it in!'
'When we bought the distillery, there was black algae on the walls and tumbleweed everywhere. I used to work at Tobermory, with its lovely coloured houses and harbour, and I end up coming to this place with its algae-covered walls…!'
'Benriach is one of the fruit bombs of the Speyside region. At 10 years old, it's all green apple and pear; at 16, it's more like a Golden Delicious apple; after 20 years, it develops peach and apricot flavours; and at 35, it's all tropical fruit – mango and passion fruit'
'At Benriach, we use borehole water which has a high mineral content. You get a slightly sweeter expression with hard water and high mineral content. But at Glendronach [also owned by Billy Walker], the water is soft and "heavy", which is ideal as we want that oiliness and depth'
'I don't mind if you add water to your whisky, but remember that we've already put it in the whisky for you…'
'Our 35 Year Old is aged in refill-sherry hogsheads which are very unpredictable. The big boys don't like them because they want consistency, but we love inconsistency! Some distilleries don't like European oak at all, because the barrels are quite fragile and can crack and split easily'
'We've got more IT people in our office than we have at the distillery!'
'Some people say that you only use finishing in whisky to mask a bad cask. But you can't make a silk purse from a sow's ear'
'Sometimes things go wrong. We finished some Benriach in a Tokaji cask – it was quite dry and a bit like Old Spice aftershave!'
'Our 17 Year Old Septendecim is the most honest whisky we have. It's like the aroma you get when you drive up to the distillery'
We Tasted
Best #TWETasting Tweet
Nose #benriach 25 is restrained but palate is BIG: creamy sweet mocca touched by spices and tropical fruits, smoke in background
Whisky of the night
Hmm…a tough one. I waxed lyrical about the 10yo and 12yo in our Christmas blog post, so let's go for the 25 Year OId. A lovely mix of orchard fruit and sweet malt.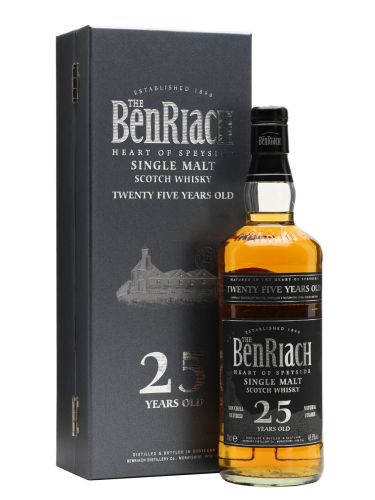 Nose: Beautiful aromas of rich, honeyed fruit, along with fragrant peach and apricot, shortbread and oat biscuits.
Palate: The rich, ripe fruit continues on to the palate with baked peaches, custard tarts, shortcrust pastry and a touch of cinnamon. Apple notes add freshness. Rich texture and good weight.
Finish: Great balance between the fruit and spice.
Comment: This really shows how Benriach can age – the fruity spirit has mellowed beautifully over a quarter of a century, while the oak influence is measured, adding a subtle spiciness.
Many thanks to Stewart for an engaging tasting that showed off the wide spread of ages and flavours in the Benriach range, but the key element – a clean, refreshing fruit character – ran through all of them. You can choose from our range of Benriach whiskies from The Whisky Exchange website here.