Something a little different for our latest TWE Vinopolis tasting – Indian single malt. It has taken time for Indian whiskies to be taken seriously by traditional whisky drinkers, but the best now stand toe-to-toe with their Scotch counterparts – and sometimes beat them. Our host was the engaging Ashok Chokalingam from Amrut Distillery, based in Bangalore in southern India.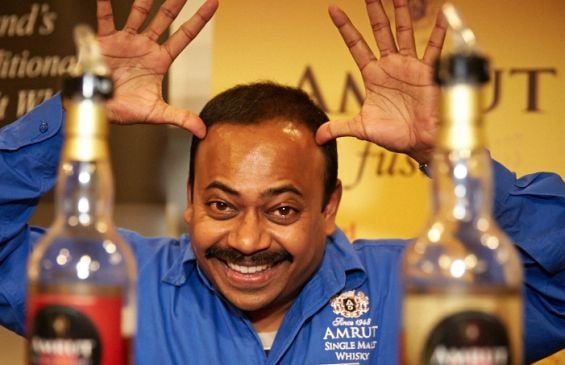 In Their Own Words – Ashok Chokalingam
'When you say "India", you say "chicken tikka masala" or "Bollywood", but "single malt whisky"? No chance!'
'India is the largest consumer of whisky in the world – 350 million cases a year'
'Our first product was rum, in 1950. Then we started making brandy in 1970, and finally in 1980, we started malt distillation'
'We get the majority of our barley from the north west of India, from Rajasthan and the Punjab'
'To start with, Amrut was never sold in India. The first place we sold a bottle was Glasgow'
'We did a blind tasting with three Amruts and three Scottish whiskies and we won hands down!'
'Amrut distillery is at 900 metres altitude – the highest Scottish distillery is Braeval at 330 metres'
'There used to be a theory that to make good whisky, you need to use water filtered through limestone, and so on. That is rubbish; nothing but marketing. Why do you think that every distillery in the world uses demineralised water to reduce the alcohol level in their whisky?'
'Do I add water to my whisky? If people are being horrible to me, then no – straight down! But most of the time, yes, a few drops'
'Every single Amrut whisky has that liquorice/anise character that comes from tropical maturation'
We Tasted
Amrut Single Malt – tropical fruit, candied orange, toffee and vanilla. Fruit salad in a glass.
Amrut PX Single Cask – dark berries, boozy raisins, dark chocolate and espresso, very rich.
Amrut Naarangi – Oranges and lemons, honey and malt, oat biscuits and syrup. Sweet, clean and full flavoured.
Amrut Portonova – Butterscotch Angel Delight, with liquorice, cherry and toffee, plus refreshing red fruits.
Amrut Fusion – Stone fruit, sea spray and cloves, with cinnamon, black pepper and clean citrus. Great balance; an absolute bargain.
Amrut Indian Peated Malt – Tar and smoke, with a refreshing fruity, nutty note. Rich earthiness combined with sweet spice. Plenty going on here.
Best #TWETASTING TWEET
@TWELondonBridge @Amrutsinglemalt Peated. Germolene cheesecake palate. Tastes better than it sounds.
Whisky of the night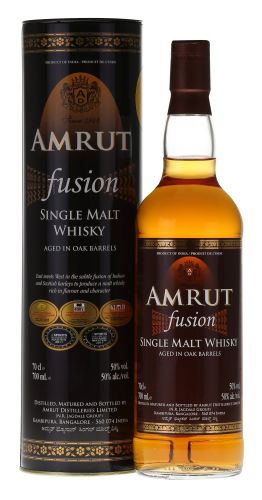 It has to be Amrut Fusion. Made with Scottish and Indian barley, this is a phenomenal whisky for under 50 quid. Jim Murray gave it a whopping 97/100 in his 2015 Whisky Bible.
Nose: Fresh and tinned fruit – peaches, mangos, apricots, plus spicy cinnamon and clove, joined by aromas of Earl Grey tea and just a touch of smoke and sea spray.
Palate: A real hit of fresh fruit and citrus-orange notes, with black pepper and cinnamon adding a zingy layer of spice. Rich and refreshing; absolutely delicious.
Finish: The spice and fruit linger for a long time.
Many thanks to Ashok for an entertaining tasting – each whisky was very well received, particularly the Fusion and the Naarangi. What came through was his persistence to put Indian whisky on the map, travelling the world to persuade bars and retailers to stock Amrut. His hard work has paid off.