Back in April, I wrote about Midleton Dair Ghaelach, a new Irish pot still whiskey finished in Irish virgin oak. That post concentrated more on the sourcing and treatment of the wood; this post is all about the whiskey, which has just arrived at TWE HQ.
Dair Ghaelach ('Irish oak') is a blend of whiskeys aged between 15 and 22 years in refill bourbon casks, before a 10-month spell in Irish virgin oak. Midleton began experimenting with Irish oak several years ago, and were delighted with the results. They're even trialling whiskey aged entirely in Irish oak. We'll have to wait and see whether they come to fruition, but in the meantime, this is what we thought of Dair Ghaelach: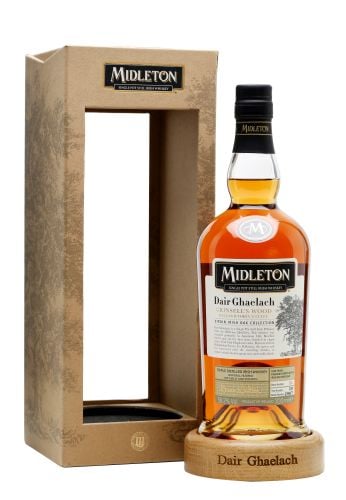 Nose: Very rich, with enticing aromas of sultanas and raisins, crème brûlée, and Caramac bars. Tobacco and leather are in there, too, along with honeyed fruit.
Palate: Good weight, with generous helpings of dried fruit, cinnamon and nutmeg. More evolved flavours of leather and old bookshops appear, helped along by green fruits, toffee and vanilla. Full flavoured and complex.
Finish: Good level of spice – pepper, cinnamon, touch of waxy fruits.
Comment: There is a lot going on with this whiskey, but every element finds its own place. The sweet spice from the oak really shines through, but not so much that it takes over. Just a fine example of Irish pot still, with the classic notes of tropical fruit, green apple and spice.
The first batch of Midleton Dair Ghaelach is limited to 12,000 bottles, and is available from The Whisky Exchange priced at £166.