In a bust-up for the dubious honour of 'most mysterious and least-known major whisky-producing nation' it is, by my reckoning, a straight-up two-way tussle between India and Taiwan – Japan and England having now backed away into relative repute and thus, safety.
And so it is that I leapt at the opportunity to fill one of the many gaping holes in my whisky knowledge and attend an Amrut tasting with famed brand ambassador Ashok Chokalingam.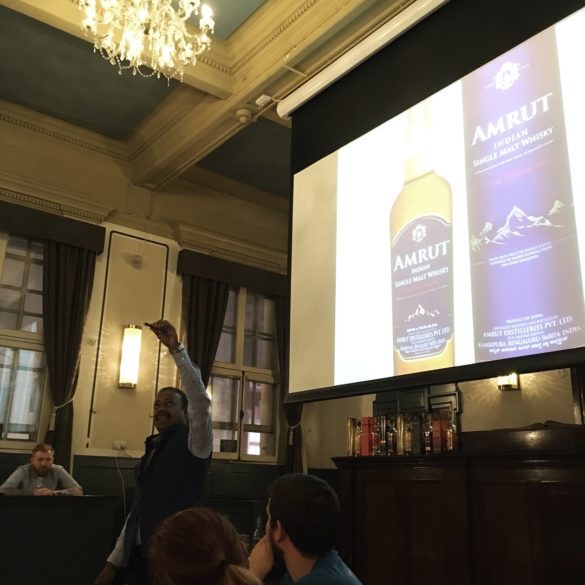 So, Indian single malt whisky, huh?
The first thing to note, we are told, is that India has more distilleries than Scotland, and that the nation's whisky consumption is in excess of 350 million cases a year.
'But India's one of the most populous nations on the planet!' We hear you cry – and yes, you'd be right. Ashok is quick to point out, though, that half of that population is comprised of women who, by-and-large, don't drink for cultural reasons. Add to that another 15% of the population who don't drink for religious reasons and then those who are below the legal drinking age, and the remaining number displays a pretty impressive DPC (drams per capita). Certainly a whisky drinking nation then, but what about production?
Making whisky in India
By UK legal definition, whisky is whisky is whisky – fermented grain, distilled, and aged in oak for at least three years, regardless of its origin – but how does process differ in India, and how does the climate change things?
Funny you should ask! The Amrut distillery is in Bangalore, where temperatures can vary between 15oC in the winter, all the way up to 34oC in the summer, and humidity often ranges between 30% and 79%. The effect this has on the whisky, we're told, is that evaporation is wildly accelerated, reaching a rate of 10-12%/year compared to Scotland's paltry 2-3%. Over Amrut's most common maturation period of ~5 years then, they lose a staggering 50% of every cask. India has greedy angels, it seems.
The higher temperatures have another strange effect – where evaporation can cause whisky in cooler climes to dip below the legal whisky ABV of 40%, alcohol and water evaporate at similar speeds in Bangalore, causing the ABV of the spirit to remain level as the years go by.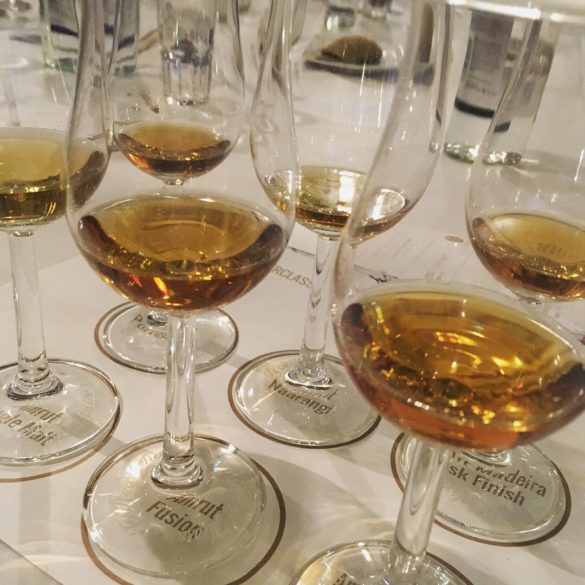 Indian whisky ingredients
In terms of ingredients used, Amrut has some interesting components. Its single malt expression, for instance, is made using Indian barley and water transported 2200km to the distillery from the foothills of the Himalayas. Ashok is keen to tell us that the smaller-grained Indian barley provides a specific and distinctive character to the whisky. When asked about the water source however, he laughs.
"We write this story," he points to the text on the Amrut tube in his hand, "because people want to know where everything comes from. That everything has an impact. But I can tell you now that [the idea of] water source [imparting flavour] is total f****** bull****."
That's that, then.
So, climatic quirks and process aside (bar a quick note that Amrut spirit is distilled to around 69% and casked at around 62.5% ABV), let's move on to the whiskies themselves. We tasted six in total – here are the more dramatic of them.
Amrut Madeira Cask Finish
50% ABV, aged for 5 years and 6 months. 60% of that time was spent in ex-bourbon casks before being moved into ex-Madeira casks. Ashok tells us that Amrut source their casks from family cooperages in Spain and Portugal, where they're used to store the fortified wine for at least 20 years. Thus, the short maturation time – a longer maturation would simply overwhelm the spirit.
My second-favourite dram of the evening, this is a delightfully multidimensional whisky. Grain and light fruit on the nose lead to a full, lush palate of honey and jammy orange with a touch of lemon oil and cardamom spice. Oak, grapefruit and a hint of charcoal in the finish. Really great.
This whisky is slated for release in the UK at the end of October for ~£130.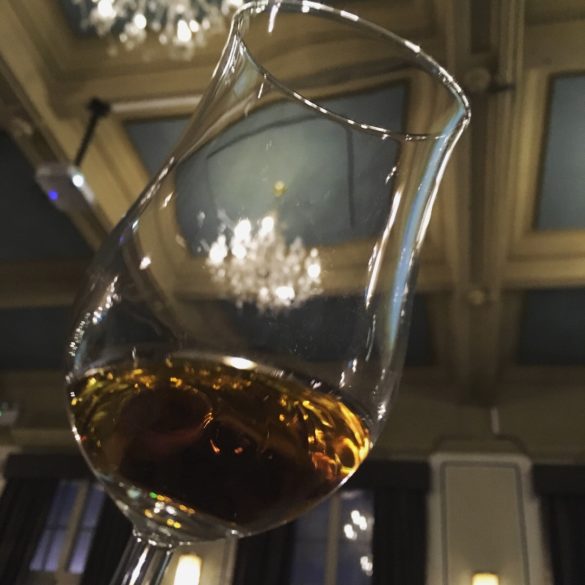 Amrut Portonova
62.1% ABV, made with unpeated Indian barley and matured in ex-bourbon casks for 2-2.5 years before spending a year in a port pipe, and a final two years back in ex-bourbon to round it back out.
My personal favourite of the evening – I hear others nearby echo the sentiment. The nose is of cherries and airy citrus; lemons, pineapple and a touch of apricot.
You can feel it on the palate before it even touches your tongue: cherry vapour forms the vanguard before that pronounced citrus from the nose fills the mouth, joined by sweet, woody vanilla. Absolutely fantastic with a long, light and fruity finish.
Incidentally, Ashok says this is being dropped to 48% and moved to travel retail only, so if you want one, get one soon.
Amrut Naarangi
50% ABV. Oloroso sherry casks, which have spent two years full of a mixture of sherry and orange peel, are filled with 3-year-old whisky, presumably for a further two years. This, technically speaking, infuses the whisky with orange essence without invalidating the drink's 'whisky' classification since nothing has been added.
Naarangi is perhaps the rarest of Amrut offerings: this is Batch 5, consisting of 5800 bottles (the last seen on the UK market was Batch 3, Batch 4 having gone "somewhere else").
The nose is light with a touch of grain; very gentle aromas of honeysuckle, slight mustiness and a hint of oily orange. On the palate the orange shines through along with buoyant woody spice. This is juicy and unusual – not typical sherry-cask stuff – but perhaps lacks some of the depth of flavour that other expressions have so championed.
All told then, Amrut shows itself to be an impressively-tasty and varied whisky, with some obviously-talented distillers and blenders on hand. Ashok touts Amrut as "the missing link between Scotland and Kentucky," and with its balance of fruit, grain and wonderfully-integrated peat flavours, he might just be right.