Japanese whisky is enjoying its moment in the sun, but its new-found popularity is putting a strain on stock levels, and as such, non-age-statement whiskies are the inevitable consequence. Hibiki's answer is Harmony, a blend of more than 10 malt and grain whiskies.
The whiskies are from Suntory's Yamazaki and Hakushu distilleries, and also the Chita grain distillery, which acts as the dashi ('broth') of the blend, says the company. A number of different types of cask are used, too, including mizunara, American white oak and sherry casks.
We're big fans of Japanese whisky here at TWE, and if you've never tried one, you're missing out. Generally speaking, they have an exceptional poise and purity of flavour, typically characterised by a perfumed fruitiness, smooth mouthfeel and clean finish. This new whisky from Hibiki is packaged in the same beautiful decanter-style bottle that is well worth keeping after you've finished the contents.
This is what we think of Hibiki Harmony (by the way, the whisky is named after the English translation of the word 'hibiki', trivia fans):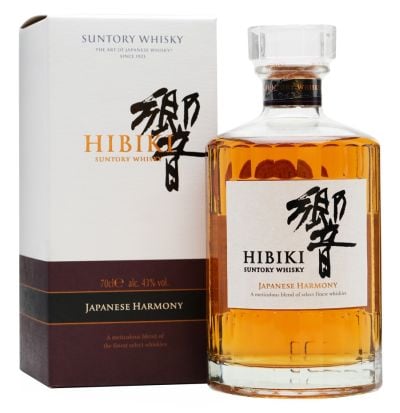 Nose: Beguiling aromas of apricots, orange blossom and marmalade, bolstered by subtle spiciness, too – cinnamon and clove. Elegant and seductive.
Palate: The generous fruit continues on to the palate, with oranges and apricots in abundance. There's a little peppery spice, but the soft, succulent fruit takes hold. Nice balance, and nicely crafted.
Finish: The spiciness takes over from the fruit and lingers, along with a little barrel char.
Comment: Something of a baby compared with much older Hibiki bottlings, this retains the classic soft, elegant orange-blossom character and generous fruitiness, with a little spice to help things along.
You're getting a lot of whisky for the money, so forget any preconceptions you might have about NAS bottlings. This is a lovely dram and we think well worth it. Hibiki Japanese Harmony is available to buy from The Whisky Exchange website right now!