Gin has seen a remarkable rise over the past few years, with new brands appearing almost every week. One of the first was No.3 Gin, introduced by historic wine and spirit merchant (and independent bottler) Berry Bros & Rudd in 2010.
Berrys' found the perfect producer for its gin in De Kuyper, both being family-owned firms founded in the 1690s. The respected liqueur specialist is situated in the Dutch gin capital of Schiedam (also home to Bols, Ketel One and Henkes). The brand took a year to create and the recipe was formulated with the help of renowned consultant Dr David Clutton (whose PhD is in Gin Flavour). Just six botanicals are used: Italian juniper, sweet Spanish orange peel, grapefruit peel, angelica root, cardamom pods and Moroccan coriander seed.
The bottle is in Berrys' traditional dark green and is decorated with a silver key, inspired by the lock on 'The Parlour' – a famous room at the brand's spiritual home of 3 St James's Street in London (from where the gin gets its name). It is, in fact, the same room where the idea for blended Scotch Cutty Sark was conceived in 1923. No.3 had a strong start, selling more than 60,000 bottles in its first year, and has continued to grow (and today even has its own bar in the Royal Albert Hall).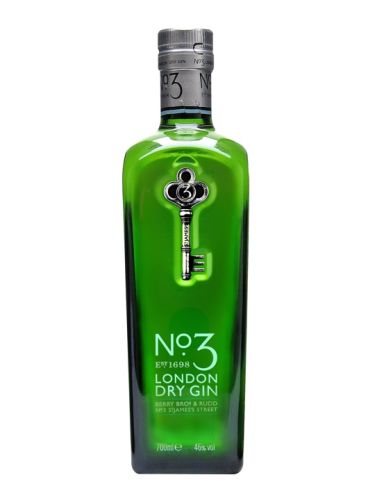 Nose: Juniper dominates on the nose with hints of citrus and a subtle floral note.
Palate: The texture is rich and almost creamy in nature. Full-bodied with juniper as the prominent flavour, and the floral and citrus (orange and grapefruit) notes from the nose being joined by spicy coriander, cardamom and cinnamon.
Finish: Long and spicy, with the floral note the last impression left, becoming earthier as it diminishes.
Comment: A classy gin, where each of the six botanicals shines on the palate.
This is a versatile gin, one of only a handful I can think of that are enjoyable when drunk neat, even at its relatively high (for gin) abv. Of course if it's too strong for your personal taste, you can add a splash of water (which is how gin was drunk in centuries past). If you're a G&T fan, I'd recommend using a handcrafted tonic such as Fever Tree (either 'full-fat' or light); more 'mass-produced' brands will dilute the botanical character of the gin. Its texture and richness lends itself to Martinis, too; after vigorous testing, the best complementary Vermouth match was judged to be Dolin De Chambery Dry.
The brief was to create a 'unmistakably traditional London Dry Gin' and this has definitely been met. If you only have space in the drinks cabinet for one premium gin, then this would be a superb all-round choice. If ever you're in London's Mayfair and want to treat yourself, then head to Dukes Bar where it is used in what is consistently voted one of the world's best Martinis. Now you can have both the key and the secret!