It's scary how many product launches happen around the festive season. Even though we expect to see lots of new bottlings appearing ready for the Christmas rush, this year has seen a surprisingly large number. However, nestled among the various launch parties last month was one event that was a little different – an evening with The Balvenie that was all about the whiskies they already have out. No new releases, no bells and whistles, just a table covered with some of the whiskies they've released over the past few years, almost as a quiet boast.
Over the past couple of years, Balvenie have been having a clear-up, rearranging their whisky range. Not everything has come out the other side – with my own favourite, Signature, a casualty – but it's now a sleeker and more consistent line-up, focused around three core pillars: single barrels, cask finishes and triple-matured drams. The latter range is exclusive to Global Travel Retail, but the first two are joined by special editions and Balvenie's oldest regular expressions: the 30, 40 and 50 Year Old releases.
For the evening of celebration, they had put together 24 whiskies to showcase their range and how it has changed in recent times. The number of whiskies was chosen in honour of Warehouse 24, both the name of their fan club and the warehouse that hosts the famed Tun 1401, the source of some of their most lauded and best-selling drams of the past few years. Along with the core range they'd also managed to find a few older bottles, including the last two UK releases of Tun 1401 (batch 5 and batch 8), the newly released (and immediately sold out) Tun 1509, and an old bottle of Founder's Reserve from the 1980s.
I've been fortunate enough to try my way through most of the Balvenie line-up, but there have been a few gaps, which I had the opportunity to fill. The first on that list is the 14 Year Old Caribbean Cask, which appeared a couple of years ago as the most recent incarnation of the rum-finished entry in the Balvenie range.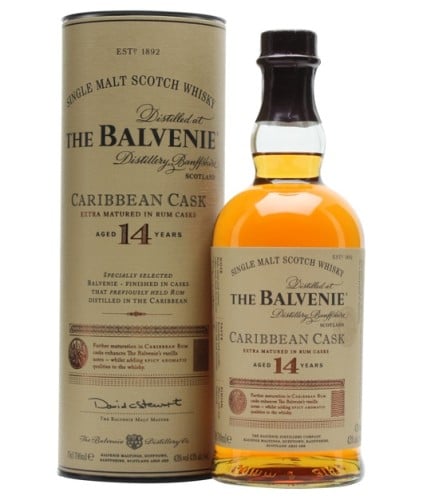 Nose: Brown sugar, butter and nutmeg – buttered rum mix, before you add the rum. With that, there's shortbread, golden syrup and sweet Muscat grapes.
Palate: Apples, lemons, icing sugar and brown toast, with syrup, caramel and toffee popcorn.
Finish: White toast with golden syrup, freshly sawn oak and a touch of stewed apple.
Comment: Lots of rum influence, but still run through with the classic Balvenie honey-and-malt character.
While the evening wasn't focused on any particular new release, they did have their most recent release on the table – 25 Year Old Single Barrel. Over the past few years, Balvenie have been reorganising their whiskies into distinct groups and this 25 year old sits at the top of the single barrel range.
While the younger 12 and 15 Year Old expressions are matured in first-fill bourbon and sherry casks respectively, 25 years is a long time to sit in an active barrel. The oak influence can easily become too much, and as such the 25 year old is matured in refill casks, to allow the spirit to age without becoming swamped with wood. I'm a devotee of refill-cask-matured whisky (young and old), so made sure I grabbed a dram of this: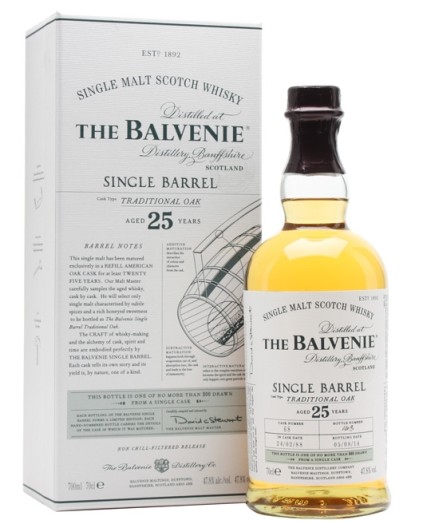 Nose: Apple crumble, polished oak, crystallised honey, barley sugar, anise, chocolate cornflake treats and a hint of anise.
Palate: Very soft and initially sweet and buttery. Popcorn and cornflakes give way to sharp apple, rye bread and tart, stewed berries. Oaky spice grows, with some dark burnt-sugar notes.
Finish: Long, with lots of freshly milled grain, cinnamon spice and a touch of cardboard.
Comment: Exactly what I expected from a refill-matured Balvenie, which is a good thing. The distillery character is intact and propped up with balanced spice and a few darker, oaky notes.
As a final dram of the night, brand ambassador Sam Simmons rolled out something special: the latest batch of Balvenie 40 Year Old. I went to the launch of the second batch three years ago and in the meantime they've sold enough batches – at least seven by our count – that they've added it as an ongoing entry in their range. The batch number may have gone from the label, but each release is still a vatting of a small number of casks. The one we tried was put together from just nine casks, with about half of them once holding sherry.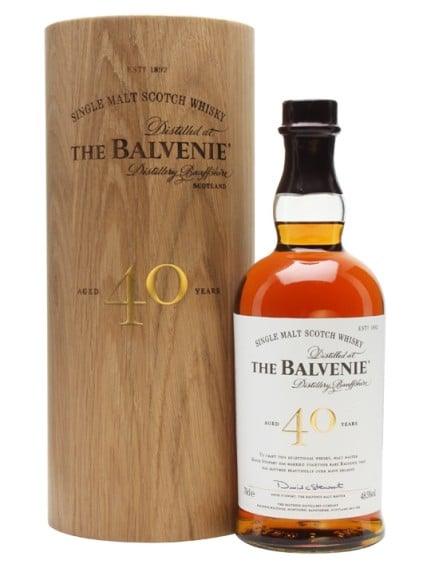 Nose: Buttery, full-strength rum, pine needles, bananas (both real and foam sweets), pear drops, marzipan and warm raisins. Old, waxed oak sat behind all of that, along with one of the most specific nosing notes I've got for a long time: buttered white toast with Vruchtenhagel (fruit-flavoured Dutch sugar sprinkles – one of my favourite things).
Palate: Toffee popcorn, cinnamon toast and raisins up front, with old oak, gingerbread, molasses, spiced cake batter and honey providing structure. Leathery notes roll in, but don't overpower the sweeter notes. A drop of water brings out more dried fruit and turns up the spice.
Finish: Long and warming, with spicy cinnamon, bread pudding and lemon zest. As that fades, polished oak makes itself known, along with lingering sweet butter.
Comment: Balvenie can take some ageing, but as with any older whisky they need to be careful not to pick up too much influence from the oak – they've fallen on the right side of the line, with the oak providing gravitas without hiding the spirit's core character.
Now that Balvenie seem to have finished rejigging their whisky line-up, it all makes sense. Not many distillers could have rolled out a tasting line-up as impressive as this, and I look forward to seeing what they do next.