With all the romance of whisky, it's easy to forget that distilleries are, in essence, factories, and production is just cold, hard science. One distillery that takes an extraordinarily scientific approach is Sweden's Spirit of Hven (pronounced 'veen'). Distiller and joint owner Henric Molin is a chemist by trade and uses his background to create a range of spirits, predominantly using nosing and chemical analysis.
The distillery is situated on the island of Ven (the 'h' prefix is the older Swedish spelling, and is also used in Danish) which lies in the Øresund strait between Denmark and Sweden. Henric and his wife Anja Engdahl-Molin have been running the on-site hotel in Backafallsbyn since 1997, and a decade later decided to start distilling: 'We needed to do something to keep the staff busy during the quiet season,' Henric told me. The brand was only exported for the first time in 2012, part of a plan to do things themselves without outside financial help, and to grow slowly: 'We wanted to keep control of the whole process; it was important to us.'
The operation at Hven uses scientific methods including in the tasting room, where the temperature and humidity is often subtly altered during events to see how it affects perceptions. The pièce de résistance is the gas chromatography-mass spectometry machine which analyses spirit samples and shows the chemical breakdown. This allows Henric to assess the ageing capability of a certain spirit before it is put in a cask, or to see whether it contains too high a percentage of undesirable elements, such as feints (the spirit produced at the end of the distillation). The machine is the only one of its kind in the EU to be used for spirits, and Henric analyses samples for around a quarter of the world's distilleries.
They produce a wide range of spirits: whisky, aquavit, gin, vodka, and seasonal winter and summer spirits, and have been experimenting with apple brandy and an agricole-style rum using sugar beets from the island. Here are my personal favourites:
The base for many of the distillery's products, including its gin and aquavit, this is distilled in a column still in Germany (until Hven gets one of its own). Diluted to 55%, it is aged for around three years in chinkapin (a different species of North American white oak to the more commonly seen Quercus alba), and then redistilled to remove the colour.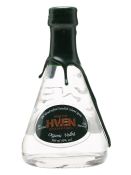 Nose: Subtle, but citrus-led (grapefruit and lemon).
Palate: Clean and pure, with hints of grapefruit, with a rich texture and hints of oak tannin.
Finish: Medium in length, with hints of oak and a gradually drying sensation.
Comment: Vodka rarely excites me. This bottling, however, is unusual, with the long cask ageing adding an extra layer of texture, and it was interesting to see the family resemblance between this and the distillery's gin, aquavit, winter and summer spirits, of which it forms the base.
The organic gin is made by a combination of steeping and vapour infusion. The heavier botanicals – such as juniper and citrus peel – are steeped in the vodka for 24 hours before being redistilled, with the vapours passing through a basket placed in the neck containing the lighter ones (including elderflower).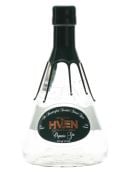 Nose: Pronounced juniper-led nose, with delicate floral notes in the background.
Palate: Floral elderflower and acacia intermingle with sweet rhubarb and zesty orange.
Finish: Medium in length, with a floral ending.
Comment: Very complex and floral, with the production method allowing the intricacies of the elements to shine through.
The vodka is redistilled along with caraway, lemon and orange peel, St John's wort and rhubarb, then aged in wood. Each batch is made up of 30 casks, of which a third each is aged for two, four and six years.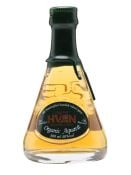 Nose: A predominant caraway note, with citrus in the background.
Palate: Spicy, with caraway, vanilla, cinnamon and a hint of liquorice, backed up by zesty citrus notes of oranges and lemons.
Finish: Refreshing with citrus notes overtaking the spiciness.
Comment: An excellent take on Scandinavia's national schnapps, this is lighter in body than other aquavits I've tried, but richer in intensity and complexity.
The first release in the distillery's Seven Stars series, in which seven whiskies are to be released over the coming years, all named after stars in The Plough constellation. A medium-peated whisky (around 40ppm), this was aged for around four years in 25 oak casks – a combination of Spanish, French and American.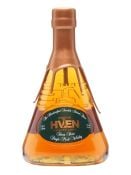 Nose: Complex with sweet nutmeg, ripe strawberry and dark chocolate.
Palate: A flavour explosion! The nutmeg and dark chocolate from the nose joined by orange zest, cinnamon and vanilla.
Finish: Medium in length, with the orange zest the most prominent flavour at the end.
Comment: An intriguing whisky, every sip is slightly different. It's one of those that I could sip and think about for hours – a real gem.
I tasted a range of other spirits – Summer Spirit (vodka, elderflower, rhubarb and apples), Winter Spirit (vodka, cassia and other spices) and a single-wine-cask-finished whisky (Sankt Klaus), all of which were delicious and great examples of their categories. All the spirits were matched with food. The best? Aquavit and pickled herring (matjesherring) – they complemented each other perfectly.
Spirit of Hven is unlike any distillery I've ever visited – the scientific approach lends another dimension, with exceptional attention to detail at every stage. Tasting the spirits, it's hard to forget the brand is only seven years old, and I eagerly await future releases.
My week visiting Swedish distilleries highlighted the progress being made in the country, which had no whisky production 15 years ago. With the spirits from Smögen and Box coming of age, the future is bright for Swedish whisky – I'll be visiting again soon.