One of 2013's more interesting press events took place last Tuesday, with the launch of Auchentoshan's Taste Experiments Masterclasses.  Consumer tickets for these events sold out in a flash, with fans of the Glasgow malt jumping at the opportunity to attend a showcase of science-based tasting experiments led by a particularly stellar lineup of hosts.
The press release had promised that the evening would "transport tests usually only explored in the confines of the Master Blender's laboratory into a fun and interactive environment", without giving much else away.
As an aside, I was disappointed to find that Auchentoshan in their press materials are still persisting with the somewhat misleading claim to be 'the only distillery to distil three times'. This phrase is disingenuous at best.
Even if we pretend that Bushmills, Midleton and Cooley don't exist, in Scotland both Springbank's Hazelburn and Bruichladdich's Trestarig are triple-distilled (and there's also the new triple-distilled Benriach 1998). And that's just whisky.  Dozens of vodkas are triple-distilled, most famously Smirnoff, much of which is produced at the Scottish grain distilleries Cameronbridge and North British.
For the future, Auchentoshan would be well-advised to stick with the less snappy, but more factually accurate, phrase, 'the only Single Malt Scotch whisky to triple distil every single drop' that appears in the press release footnotes.
Anyway, minor nerdy gripes aside, let's get back to the Taste Experiments.  The event took place at Bethnal Green Town Hall where we  were welcomed with beautifully made (and presented) Auchentoshan Juleps from master cocktail-creator Ryan Chetiyawardana and Paisley Kennet, who very kindly supplied me with a posh paper napkin to wipe my fevered brow (it was VERY hot on the Central Line).
After a couple of Juleps and a welcome from Morrison Bowmore's Master Blender Rachel Barrie, we began the evening with an introduction to taste led by coffee experts DunneFrankowski, who performed a series of  taste evaluation experiments in entertaining and informative fashion.  The sensory tests included popping a balloon filled with oak smoke, dropping small samples of lemon juice or stewed tea onto the tongue while holding one's nose and various other pseudo-scientific tomfoolery.
We nosed bottles containing flavour chemicals including orange, caramel and coconut, and tasted strips of paper to check our sensitivity to PTC, a chemical compound not found in food that we all have a genetic proclivity towards or against – you can either taste it or you can't, in the same way that you can either roll your tongue or you can't.  I couldn't (and can't).
This means I have a low sensitivity to bitterness, which I found curious as I particularly detest over-oaked whiskies with their surfeit of  bitter tannins.  At any rate, DunneFrankowski gave an engaging and informative performance that was very audience interactive.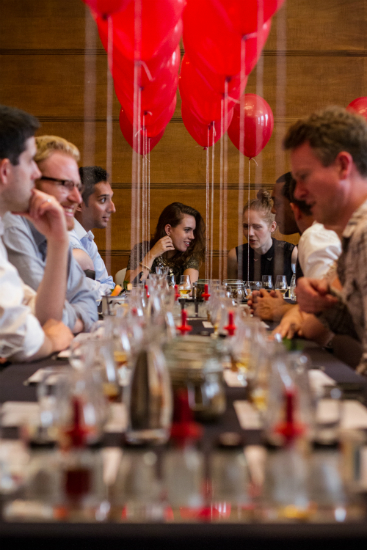 The next part of the evening saw Rachel Barrie exploring the chemical compunds that give us different flavours.  Rachel trained as a chemist before becoming involved in whisky creation at Glenmorangie and heading up the SMWS tasting panel.  After helping to create the likes of Glenmorangie Signet and Ardbeg Corryvreckan, she joined Morrison Bowmore Distillers as Master Blender at the end of 2011.
Rachel was, as ever, lively and entertaining, and her talk was pitched at a good level for the consumer audience the Taste Experiments show is aimed at.  It sounded like it would make sense if you had even a very basic grasp of chemistry, and the personable, self-effacing Rachel was able to get her message over without becoming too dry or boring.
I struggled a bit here, as the location of my seat meant that there were three people blocking my view of the flipcharts with the relevant chemical diagrams.  That's my excuse for not understanding it, and I'm sticking to it.
One thing I did pick up was about palmitic acid, which was one of the nosing jars we'd tried with DunneFrankowski.  It's palmitic acid which gives us coconut aromas.  The acid is formed naturally on the surface of the barley itself and as well as giving coconut aromas and making wort cloudy, when broken down into hexanol it also gives green apple and citrus aromas and flavours to the spirit. [Disclaimer: Chemical facts presented here may have been incorrectly recorded by your correspondent.  Do not attempt to reproduce these facts at home or in conversation with chemists.]
The next part of Rachel's talk concerned tarpenes, which come in two chemical forms, with their constituent molecules dressed to the left or right in mirror image of each other.  These two forms of tarpenes correspond to orange or lemon aromas [see above disclaimer].
Here, Rachel was particularly enlightening.  The reason we had earlier found different aromas in DunneFrankowski's nosing jars of chemical compounds were down to differences in perception caused by our individual olfactory epitheliums.  I've known about the olfactory epithelium for a while, but somehow never really properly grasped its relevance to subjectivity in sensory perception, and it really got me thinking. I'll be blogging more on this subject very soon.
Rachel used Auchentoshan Classic, Valinch and Three Wood to illustrate her points.  As usual it was the Valinch that stood out for me.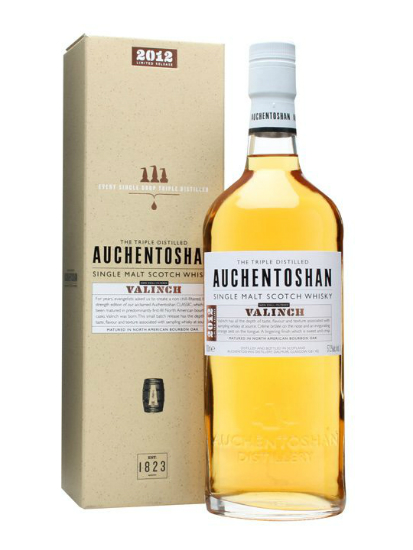 Auchentoshan Valinch / 2012 Release, 57.2%
Nose: Vanilla and scented candles.  Warm milk, cheesecake, chocolate, Ovaltine.
Palate: More nutty than expected, but still with plenty of chocolate and vanilla flavours, natural caramel and orange zest.  Generous weight, but still approachable and very drinkable despite the strength. Water lifts the chocolate and nutty flavours – almost like a fruit & nut Yorkie bar – with additional hints of porridge and honey.
Finish: Cloves, cinnamon and some pleasingly edgy tannins.
The session worked well, with just the right blend of interesting facts and scientific rigour, without patronising the rather noisy audience or losing sight of the magic inherent in the whisky-making process.  This was one of the best aspects of Rachel's talk for me, bringing to light the idea of the hidden chemistry of the manifold reactions taking place within and around the spirit, both as it is distilled and during the years spent in the cask.
Now it was time for Ryan Chetiyawardana of Mr Lyan and Shay Ola of Rebel Dining Society to take centre stage with more fabulous creations.  Ryan has been one of my favourite bartenders for a few years now, and has contributed some truly fantastic cocktails for TWE's Whisky Show since 2011.  He's also one of the tragically small number of bartenders I've met with a genuine passion for and knowledge of single malt whisky.
The guests were treated to three eye-catching courses from Rebel Dining Society, including duck confit with quail egg and girolles; cured mackerel, caviar and ham smoked with Auchentoshan Three Wood-infused smoke; and Auchentoshan Classic cream filled profiteroles.  Each dish was paired with one of Ryan's superlative twists on some classic cocktails: a whisky sour, an old-fashioned and a hi-ball.  All were excellent, but the sour was particularly good, so here's the recipe:
Auchentoshan Valinch Sour
Ingredients
50ml Auchentoshan Valinch
20ml Charred grapefruit juice
20ml Demerara sugar syrup (dissolve two parts sugar in one part water)
1 dash Orange bitters
Method
1. Slice a ruby grapefruit in half, sprinkle with icing sugar and char the flesh with a blowtorch.  Allow to cool, then press and strain the juice. You may need more than one grapefruit to get the requisite amount of juice.
2. Add all the ingredients into a shaker, and shake hard over cubed ice.
3. Double strain into a rocks glass filled with ice.
4. Garnish with a slice of charred grapefruit.
Sadly, I had to duck out before the very end and consequently missed what I'm sure were some truly excellent profiteroles.  I cursed myself all the way back to Hove for that one.  My pain was assuaged by the delight of finding one of the excellent moustachioed enamel Julep mugs in the goody-bag.
Many thanks to DunneFrankowski, Rachel Barrie, Ryan Chetiyawardana and Rebel Dining Society for successfully staging an ambitious event and congratulations for pulling it off with such panache.  Thanks also to Abi from Margaret PR for inviting me along to the evening.
Tickets for the Auchentoshan Taste Experiments sold out in a heartbeat, but don't despair if you didn't get one – with a format this successful, I'm sure this event will return very soon.