We've had a number of relaunches over the last year, with reactions to the new whiskies being rather mixed. There's been unfairly maligned releases like the Macallan 1824 Series and slightly confusing launches like the new Glen Scotias, but one from earlier this year has stood out as my favourite so far – the new Tamdhu 10 year old.
As has been mentioned several times in blogposts-passim, I am a sucker for pretty bottles. I now have a Tomintoul 'perfume bottle' on the shelf at home and have my eye on the old Paterson's book decanters that will be hitting the site soon, and the new Tamdhu bottle certainly piques my interest: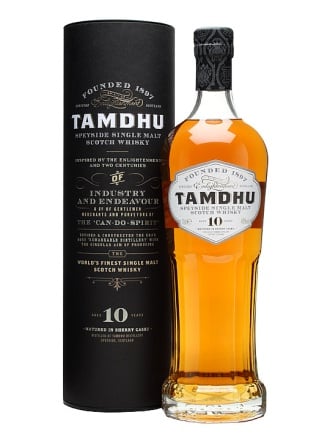 It's a bit reminiscent of those old Tomintoul perfume bottles, but mainly it shows that the folks at Tamdhu are serious about getting their whisky out into the world.
Up until now they've been a rather unknown name in the single malt realm, with their whisky for many years disappearing into the Edrington Group's various blends. However, in 2011 they were bought by Ian Macleod, owners of Glengoyne and bottlers of Smokehead amongst others, and have since been quietly working towards the relaunch of their single malt.
It's a sherry matured dram, using a combination of European and American oak casks, with a good chunk of first fill in the mix. They also use lightly peated barley, with a 'merest wisp of peat smoke' mentioned in their tasting notes, although it really is a tiny wisp…
They released the bottle, along with an impressive 100% first fill sherry limited edition, at the Spirit of Speyside festival this year and it's been filtering out into shops ever since. I recently managed to grab a taste:
Nose: Crunchie bars, eccles cakes, a touch of rubber, black liquorice, brown sugar, vanilla cream, victoria sponge, berries and foresty hints – rich earth and damp green leaves.
Palate: An oily mouthfeel with caramel, pepper and stewed oranges up front, and sherbert and milk chocolate coming in behind.
Finish: Medium length, with sweet wood turning slowly dry and spicy, with a burst of spiced butter fading to lightly bitter barrel char.
Comment: A solid and tasty sherry cask matured whisky. They've balanced the rich first-fill notes with some softer refill flavours to give rich fruit and chocolate as well as some softer creamy notes. I'm not sure about the 'wisp of smoke', though.
The Tamdhu 10 year old is now available at The Whisky Exchange for £33.25.