If you're reading this, then it's highly likely that you know that Feis Ile, the Islay Festival of Malt and Music, is currently happening over on Islay and Jura. You probably also know that the distilleries, each assigned a day within the week of the festival, traditionally release special bottlings of whisky to celebrate. While most of the distilleries keep the special releases on the island, the folks at Ardbeg have decided to share this year's whisky a little bit further afield. So, this Saturday, June 1st, is Ardbog Day.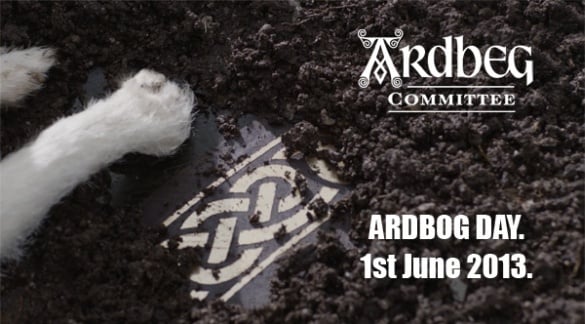 Last year the Ardbeg Day whisky was available from the official Ardbeg Embassies (including us), as well as from the distillery and their website itself. However this year, they've decided to expand the distribution even further, with special Ardbog Day events and parties in various countries around the world  – you can find a list over on their website.
Here in London we'll be pouring Ardbog from 10:30am at our London Bridge shop, as well as having bottles to sell to Ardbeg Committee members. We will have sign up forms to hand, so don't worry if you're not a member yet, it's a fairly painless process.
However, a stone's throw from the doors of the shop, Ardbeg themselves are having a London celebration. Gathering at 10am by Monument, they will be leading a march over London Bridge and down the banks of the Thames to Potters Fields for a bit of a party.
There will be music from Sophie Sweet and her November Criminals, peat digging and other games, a flock of flying sheep and, leading the way along the march, the Ardbeg Chopper. There will also, naturally, be whisky. You can sign up to join in over on the Ardbeg website, or just turn up on the day.
Anyways, more importantly – Ardbog itself. The distillery have done some good work, as usual, in building a great looking bottle and have also produced a rather cool looking video showing the 'origins' of the whisky:
Taking its name from the bogs of peat that give most of the Islay whiskies their trademark smoky flavour, Ardbog is very much an Ardbeg in the modern style. With Dr. Bill Lumsden at the helm of the Whisky Creation team there's a good chance you're going to find some cask related shenanigans going on and Ardbog is definitely a product of his love of interesting wood.
It's a mix of regular bourbon cask Ardbeg with some that has aged in Manzanilla sherry casks, all matured for at least 10 years. During the pre-release Ardbog tasting for Embassy staff, distillery manager Mickey Heads explained that the saltiness of the Manzanilla sherry complimented the generally briny Ardbeg spirit, emphasising that particular flavour. Putting that at the core of the Ardbog, they then brought in the bourbon cask whisky to round out the dram and add some American oak sweetness.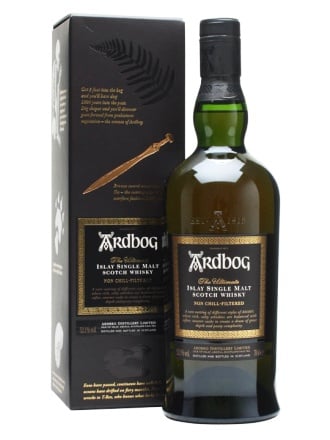 Billy
Nose: Underlying candy sweetness with a bit of tar, tyre-fire smoke and preserved lemons (Moroccan style, in salt). Lots of brine and hints of plimsoll rubber and new bandages.
Palate: More brine up front, along with sweet apple and lemon, bitter pith, coal smoke and dust, and a rich earthiness underneath. Quite dry after the initial sweetness, with sour woody notes creeping in around the edges.
Finish: Long, with apple skin, lemon peel, salted caramel, dry oak and a touch of black pepper.
Comment: On my first taste I wasn't particularly impressed, with my comment being a not particularly disparaging 'tastes like Ardbeg'. However, after a weekend of the bottle being opened it's definitely opened up a bit – an interesting balance of salt and smoke, although maybe a little bit dry for some.
Tim
Nose: Sweet honey, old wet mossy oak, some hints of chocolate shavings, then developing raisin syrup and some notes of bandages / elastoplast and balsamic vinegar. Indeterminate red berry fruit, Cadbury's fruit and nut bar. With time in the glass some lemon and fruit cake notes.
Palate: Sweet and sooty, with a developing strong salted nuttiness, particularly Brazil nuts, hazelnuts and almonds. Also quite citrussy with tart lemon juice flavours, plus burnt wet wood and some strong medicine cabinet / iodiney notes.
Finish: Salt and honey / caramel with the lemon notes becoming more boiled-sweet like.
Comment: Less of the famous tarry rope and more salt than normal Ardbeg. A whisky made for hipflasks.
The Ardbog will be available in our London shop from 10:30am on Saturday June 1st for £74.95. It will be available online (if there is any left) on June 17th – you can sign up to receive an email alert on this page.
If you're going to be in London and fancy joining in the festivities, I (Billy) will be hiding somewhere in the throng behind the chopper on Saturday and will be around in Potters Fields to lead people back towards our shop. So, grab me and say hello if you're around – I'll be the one with the increasingly silly beard and the Laphroaig hat…