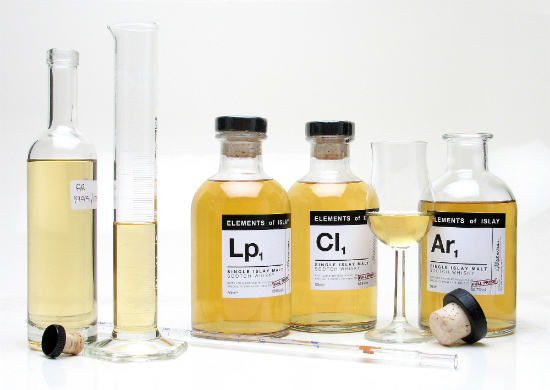 We had a tremendous Elements of Islay tasting at TWE Vinopolis on Monday 13th May, hosted by Simon Roser and Franchi Ferla of Simply Whisky. Simply Whisky are great pals of TWE and have their own unique take on whisky: their events are, not to put too fine a point on it, the best kind of bonkers.
It's difficult to describe succinctly exactly what Simon and Franchi do, but in a nutshell they put fun into whisky tasting events.   I have been to several of Simply Whisky's happenings in the last few years and I genuinely never know what to expect, except that I will drink some great whisky and laugh a lot.
General hilarity is not what you expect when you go to a whisky tasting.  But Simon and Franchi rip up the rulebook with a wild-eyed, gleeful anarchic joy, and one can't help but be swept along.  Everything they do is different, even when it's the same.  At a Burns Night event in Vinopolis in 2012, Simon assaulted the haggis with an eight inch blade, members of the public were forced to recite the bard's poems in a bizarre game of 'Burns Idol' and the entire evening was littered with huge tracts of Burns's authentic Scots gibberish reeled off from memory at top volume.  The response was general bewilderment and shocked laughter.  The audience were mesmerised.
Simply Whisky events are exciting, it's that simple. Simon & Franchi's blend of mayhem, music and madcap stunts are an antidote to the po-faced reverence, the hushed silence that can overtake whisky tastings when some people get too serious and others are afraid to speak up.  As you may have gathered, the boys are big on audience participation.  At one of our previous Vinopolis events, victims were selected from the crowd and dressed up in tartan blankets and ginger-wigged tam o'shanters.  They were then given a whisky and told to close their eyes while water was gently sprayed into a fan pointing at their faces.  The excuse was that this was to replicate conditions on Islay.  At a Simply Whisky show, one is occasionally tempted to hide under the table.
They're also big on costumes.  The Reverend Roser is a recurring figure, preaching fire and brimstone to anyone who doesn't drink whisky and supplying converts from a hipflask of the holy water he keeps on his person (it was Springbank 15yo last time I encountered him). At TWE's Whisky Show last year they suddenly ripped off their garments mid-tasting to reveal Star Trek outfits.  I don't know why, but that's not the point. It was funny, therefore it was a good idea.
A few months ago, Simply Whisky put on the funniest whisky event I have ever been to.  The Simply Whisky Fight Night was a simple premise – two brand ambassadors show off their rival whiskies in a series of three rounds.  What I did not expect was an actual boxing ring and two of the most famous faces in the whisky world throwing glasses of whisky over each other and having a real pretend fight.  But Simply Whisky's lunatic genius is highly contagious.
For example, I did not expect to see Sam Simmons cutting Richard Paterson's tie in half.  Nor did I expect to see Richard Paterson ripping off Sam Simmons's glasses and stamping them on the floor. At the end of the evening, I confess to being rather surprised to witness both men drenched in sweat, rolling around on the floor of a boxing ring having an arm wrestle. But, to the audience's dropped-jaw delight, all of these things happened.
I think I've made it clear that when it comes to whisky tastings Simply Whisky put the mental into experimental.  They were therefore the perfect choice to host an Elements of Islay tasting.  We knew they'd have fun with our funky medicine bottles and the chemical element-themed label, and so it proved. Simply Whisky's reputation, and the bargain price of the tasting – £35 for seven cask strength whiskies – made this one of our fastest-selling events ever, with all tickets snapped up in less than 20 minutes.
On arrival at TWE Vinopolis, the guests were required to don a disposable lab coat and hair protector. This was entirely necessary before entering the Simply Whisky laboratory. It also gave the guests an opportunity to laugh at each other, and an inkling of what was to ensue.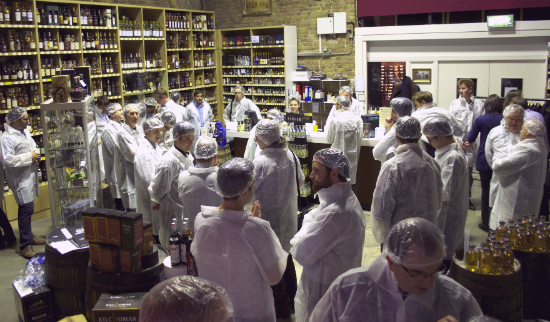 We proceeded to the laboratory, also known as Vinopolis's Vineyard room.  The entire space was filled with dry ice, of course.  Deep Purple's Smoke On The Water, the most perfect music possible for an Islay whisky tasting, thundered through the vapour as the white-coated, clipboard-wielding Professor Roser roared at us to put our protective footwear on. These were disposable plastic shoe covers sitting on our tasting mats, like hairnets for feet.  They made our shoes slippery, rendering escape impossible.
Cunningly, the tables were themed by the Classical Elements: Earth, Water, Air, Fire and Aether.  However, there were seven tables, so Simon and Franchi had made another couple up: Wood and Salt.  I was on Wood.
Each of these elements matched one of the whiskies.  We began with Elements of Islay Bn4, which had been designated as Air.  The eponymous French group's 'Sexy Boy' was played. On the nose I found treacle fudge, earthy leaf mulch and some herbaceous notes, then salt and coal on the palate (which was much smokier than I expected).  There were also some liquorice and aniseed notes, which our hosts had picked up on.  As a result, there were some aniseed balls on the table for us to taste, the first of a variety of sweets that were matched with the drams, another first for me.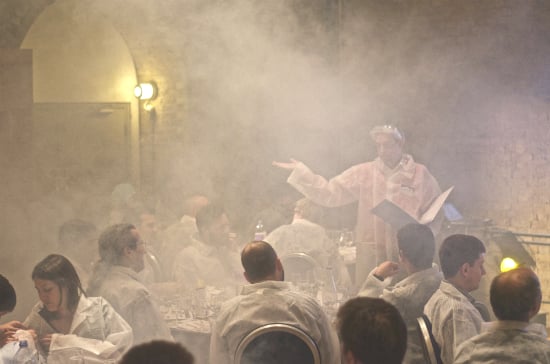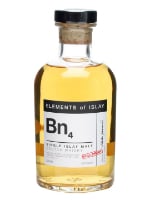 As we sipped the dram, Franchi spouted some classical element-related bullsh1t about air and how it fitted perfectly for the Bn distillery.  To be honest, I didn't catch most of it as I was savouring the dram and the pervading 'what the f*ck is going on' atmosphere that Simply Whisky generate so effortlessly.  The side doors had been opened by now to let the copious dry ice dissipate so that we could see each other around the table.  We all looked pleasingly ridiculous in our plastic haircaps and woven paper coats.
Next up was Elements of Islay Br4, the introductory music for which was Stardust by Louis Armstrong.  This was because Br was being linked to the classical element Aether, described by Plato as "that which God used in the delineation of the universe" and codified by Aristotle as the fifth classical element, the 'quintessence' of the heavens.
Later, medieval alchemists proposed that quintessence exists in all things on earth and that our actions are therefore at least in part influenced by events in the heavens. A 15th century text known as the Book of Quintessence attributed medicinal properties to quintessence and helpfully included a recipe: seven times distilled alcohol.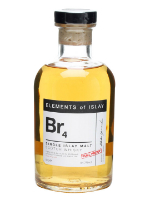 Which brings us back to Br4.  The nose had notes of boiled sweets and clean barley; naturally, then, the sweet to accompany this was barley sugar, although our hosts cheerfully admitted that this particular match didn't actually work in practice.  I saved mine for later, and hoovered up a few spares during the clean-up at the end. I love barley sugar.   Br4's palate was sweet, with the barley sugar balanced by apple fruit, minerally slate and chalk notes and some wet earth.  At full strength it had a little edge, but with a few drops of water it rolled over to have its tummy tickled – very gentle and clean with a crystal clear barley character.
Up next was Elements of Islay Bw1, representing Water.  I'm afraid I missed the reasoning for that, though I'm guessing it might be because this distillery is right by the coast and famously has a warehouse that's technically below sea level.  Bw1 was accompanied by Simon & Garfunkel's Bridge Over Troubled Water and a Refresher sweet, the latter because of a perceived sherbertiness in the whisky.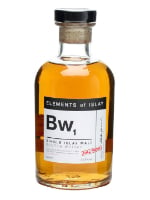 I must declare an interest here, having selected the casks for Bw1 myself.  But I found kiwi, melon, tinned pineapple and mango syrup and fresh hay on the nose, while the palate was fruity-sweet and sooty, certainly more phenolic than the nose suggested, with wet peat and extinguished bonfire notes amongst the tropical fruit.
The addition of water brought out a chlorine aroma that dissipated quickly, leaving an intensified melon aroma and flavour.  I hope it won't be taken as a boast if I mention that more than one party on our table said afterwards that this was their favourite dram of the night 🙂
We proceeded next to Elements of Islay Cl4, which had been designated as Salt, one of Simon & Franchi's spurious extra elements.  The music was, of course, DJ Shadow's classic Building Steam with a Grain of Salt, a title I've never understood but a totally righteous tune nonetheless.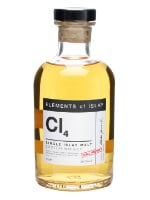 On the nose, sure enough (or just possibly by the power of suggestion), I found salted fish alongside coal and honey, plus wet burnt wood and some camphory notes. The palate was very warming at full strength, with Franchi comparing it to mustard seed, and had some pleasingly 'dirty' notes of burnt grass, earth, oily rags and iodine.
In a brief instance of relative normality, the Cl4 was accompanied by little cubes of Isle of Mull cheddar, which was an absolutely superb match, the salty, creamy cheese almost melting on the palate with the salty, smoky, slightly oily whisky.
The penultimate dram was Elements of Islay Lg2, which was representing Earth in the classical elements system. I confess that I've failed to note the music that came with this one (or perhaps I couldn't identify it).  I know that during the remainder of the evening the music included Fleet Foxes, Metallica and, I think, The Auteurs, reflecting the boys' extremely eclectic tastes.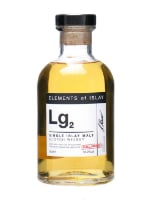 For the discussion on Lg2, much was made of a molecule called Ortho-Cresol found in Islay whiskies.  I specifically noted this down expecting it to come up in the quiz at the end and was very disappointed when we were later asked for the name of one of the other chemical compounds mentioned during the evening whose name I was unable to remember.
Anyway, for anyone interested Ortho-Cresol is a derivative of phenol, traditionally extracted from coal tar though not, obviously, in the case of Islay whisky, where it comes from the peated barley.
The nose on the Lg2 was certainly phenolic, with smoke, burning compost, some youthful leafy notes and bandages most prominent. On the palate, Lg2 was much sweeter, though the other flavours were all present too, and I found it really opened up and mellowed with a few drops of water.
While we enjoyed the Lg2, Professors Roser & Ferla were badgering away at the front, where they performed the classic experiment that proves that whisky is lighter than water.  This involves two shot glasses and steady hands.  Please note that TWE Blog will not be liable for any spilt whisky or public ridicule you may incur in any attempted recreation of this trick.  And we don't know how the whisky tastes afterwards either.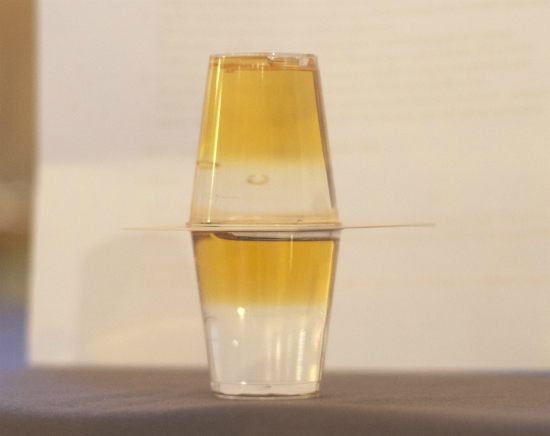 Anyway, for those still keen to try it, here's what to do. Fill both glasses to the brim with their respective liquids. The glass of whisky goes on the bottom; the water is inverted on top, with a divider such as a playing card or a smooth plastic card in between.  The card is then adjusted slightly to create a space where the two liquids can get at each other.  Over a period of 10 minutes or so, the whisky and water will then swap places in their respective glasses – see here if you don't believe me.
The penultimate whisky was Elements of Islay Pl1, a highly sought-after dram that sold out in just two months after we launched it at TWE Whisky Show in October last year. This was a heavily-sherried number with a high ppm, which is very different to the standard unpeated whisky produced at this particular distillery.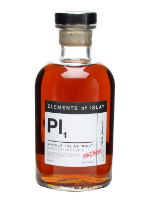 Pl1 had been designated Fire, and blazed its way across the palate in the manner appropriate to heavily-peated whisky bottled at 60% abv.The nose was big and rich, quite medicinal with some youthful breadiness and raisiny sherry notes.  The palate, though undeniably massive and smoky was balanced with some very sweet honey and sherry notes, plus soil, marinated raisins and some lighter apple and creamy vanilla flavours.
Things had been proceeding in an unusually sensible fashion for several minutes by now, so of course it was time for Simon & Franchi to inject some more craziness.  They produced small bicycle pumps that had had wine corks taped onto the ends, poured some Pl1 into a plastic water bottle, fitted the cork into the mouth of the bottle and began vigorously pumping away.
The not-entirely-wise idea behind this experiment was to increase the pressure in the bottle to the point that when the cork is removed, the sudden depressurisation in the bottle causes some of the whisky to flash vapourise.  This produces a vapour of whisky in the bottle, which can then be quickly inhaled by foolhardy onlookers.
Soon the air was filled with excited chatter and laughter as various people tried, with varying degrees of success, to recreate the experiment.  Although initially sceptical, I was eventually peer-pressured into trying it.  After a successful outcome on my first attempt, I was then forced to repeat the process until my arms hurt so that my feeble-limbed colleagues could have a try of the Pl 'steam'.
The steam itself was noticeably whiskyish, with the more medicinal notes of the Pl1 coming through.  After several prior whiskies, it did seem to induce lightheadedness.  Again, assuming absolutely no liability for any unfortunate consequences, those of you who may wish to try this at home can see how it's done here and here  [WARNING: INHALE RESPONSIBLY].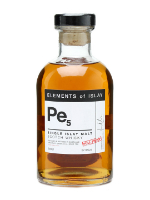 The final dram was something very special: Elements of Islay Pe5, from a distillery that closed in 1983.  This had a faint aroma of swimming pools, then oyster shells, wet sand, tarpaulin and, unsurprisingly given the age, a noticeable oakiness, plus wet wool and some nice boiled sweet aromas and flavours. This hugely classy dram was the perfect way to end an absolutely fantastic tasting.
There followed an extremely difficult quiz referencing some of the more esoteric and science facts that had been revealed in passing during the tasting.  I started out alright but was reduced to pure guesswork by the end, scuppered by the non-appearance of the famous Ortho-Cresol.
Our congratulations and thanks to Simply Whisky's Simon Roser and Franchi Ferla for another unforgettable, and hugely enjoyable, tasting.  If you'd like to join us at TWE Vinopolis for one of our tasting events, make sure you sign up to the TWE Vinopolis newsletter, as tickets sell extremely quickly.