Around the time of The Whisky Show last year we were rather pleased to have scored some whisky from a brand new distiller on the single malt scene – Goa's John Distilleries, makers of Paul John Single Malt Whisky . We featured their first single cask at our pre-show whisky dinner, have had two further single casks since and have been waiting for their next step: an ongoing bottling.
Instead we got two – Brilliance and Edited.
Paul John are relative newbies in the world of single malt. The company has been running since 1992, making a variety of spirits including Indian style molasses 'whisky' . They are currently the third largest whisky brand in India and the sixth largest producer in the world, shipping about a million cases per month of their most popular spirits. However, in 2006 they decided to add a new product to their portfolio.
Michael John, no relation of eponymous company founder Paul John, started at the distillery in 1995 as a distiller. Since then he's moved up through the company and now holds the title of Master Distiller and is responsible for their single malt whisky production. They've learned a lot over the last six or seven years, moving from a more traditional Scottish production process to one that is more tailored to their raw ingredients, developing a distinct Paul John distillery character.
Their biggest difference to Scotch is that they use Indian barley in production, Himalayan 6-row grain rather than the more usual 2-row European grain. This gives a lower alcoholic yield than is often found with Scottish production, but gives a more complex wash and thus more potential for flavour in the spirit.
As with other whiskies matured in warmer climes than Scotland, there is one major difficulty to overcome – evaporation. Goa is in the tropics and summer temperatures of 33°C combined with a winter 'low' of about 22°C lead to an annual Angel's Share of around 12-13%. They, like Amrut in nearby Bangalore (a mere 350 miles away), have managed to age spirit to about 8 years, but much longer and you end up with very empty casks and overly woody whisky.
Brilliance is the opening shot in the new ongoing line-up. It's made solely with unpeated spirit aged in bourbon casks and is bottled unchillfiltered at 46%.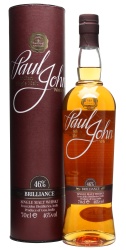 Nose: Fresh grain – wheat and cornflakes, sweet butter, soured cream, sweet lemon, a malty background and a touch of minerality.
Palate: Sharp apple at first, leading into sweet mango and cream, sweet fruit, honey and a tingle of cinnamon spice. Water softens some of the cinnamon heat and brings out even more apple and sweet cream.
Finish: Sweet cream, green apple, cinnamon toast and hints of bitter charcoal.
Comment: A fruity whisky that has some bite and good concentrated flavour at 46%. For me a drop of water does wonders, taking the edge off and revealing even more fruit, but for those who like their whisky intense this will work straight out of the bottle.
Edited is a different prospect, using some peated spirit in the vatting (about 15%).  Unfortunately you don't get peat in India, so Paul John import theirs from Scotland, Islay if possible, and use it for malting some of their grain, giving a phenol level of about 20-25ppm. Edited is, in common with Brilliance, matured in ex-bourbon casks and bottled unchillfiltered at 46%.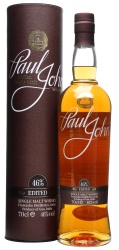 Nose: Soft and sweet with hints of coal smoke, green leaves and damp forests. Honey and malty grain dominate the palate, but behind is a light medicinal touch and a background of earthy peat.
Palate: Sweet, spiced apple and green mangos up front, along with some damp ferns. Light smokiness comes in, tending more towards bandage-like medicinal notes than a bonfire, along with some tannic apple skin, butter and cinnamon. Water brings out more cream and sweetness, as well as some dark and earthy chocolate notes.
Finish: Coal smoke and apple peel, ferns and a forest after a rainstorm. Light tingly spice and a hint of custard.
Comment: Only lightly smoky but with a good earthy peat underneath, contributing both a medicinal hit and a rich muddiness that turns towards chocolate with water. A darker and richer whisky, although still relatively light compared to the peat monsters of the world.
With the release of these two whiskies Paul John have started to lock down their range. Sometime later this year there will be a new 100% peated malt whisky on the market, there will still be occasional single casks appearing and they also have some plans for some special releases, but for the time being they will be focusing on Brilliance and Edited. From the reports of the folks who came to the launch last week, that's far from a bad thing.
Paul John Brilliance and Edited are now available on TWE for £38.49 and £42.49 respectively.