We like parties at TWE, and one excuse for a shindig that we we get involved with every year is Diwali – the Festival of Lights. A celebration of the triumph of light over darkness, the sky is full of fireworks at the end of October (and we eat quite a lot of sweets).
To celebrate the festival this year, we've got together with the Paul John Distillers, the most recent makers of Indian single malt whisky to bring their wares to the UK, to run a big prize draw:
Buy a bottle of one of the four Paul John whiskies below, and be in with a chance to win a £500 shopping spree on The Whisky Exchange website.
The first two bottles that get you into the draw are their first two ongoing single malts: Paul John Edited (a mix of peated and unpeated spirit) and Brilliance (completely unpeated). They made waves when they hit our shelves early last year, with lots of great reviews, including 96.5pts for Edited in Jim Murray's Whisky Bible 2014.
You can find out more about them in our blog post from last year, as well as information about the distillery and how the whisky is made.
The next two are more recent releases, the Paul John Classic and Peated Select Cask. These came in at the end of last year, and add a cask-strength element to the Paul John range. As well as being more intensely flavoured than the Edited and Brilliance, the Peated Select Cask is also the first opportunity to try the peated spirit on its own.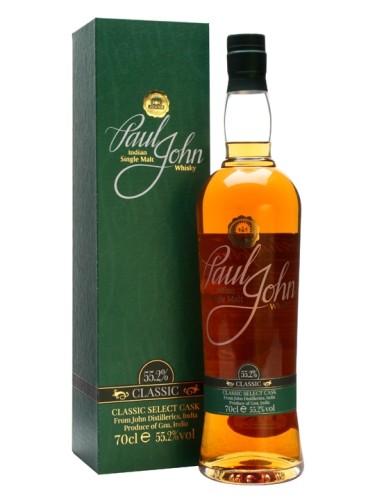 Nose: Like Brilliance, but turned up a notch. More vanilla, more cake batter, more fruity sweets and more spice. Stacks of cereal, with rolled oats, freshly milled barley and lots of fruit – apples, pears and hints of the more tropical: pineapples and Refresher chews (without the fizzy sherbert middle). With that there is sweet lemon drizzle cake, window putty and a light gluey note, as well as sweet pastry cream.
Palate: Sharp cinnamon up front: fireball gobstoppers and Hot Tamales. It calms down to show off apple sauce and sweet vanilla, as well as spiced, heavily buttered pastry with a grind of black pepper. Behind that, squirty cream from a can on top of a bag of Haribo. Water kills the heat and ups the sweetness, revealing caraway and spirity notes, along with even more vanilla.
Finish: Haribo fruitiness fades to spicy oak.
Comment: The natural step up from Brilliance, taking the sweet and grainy character of Paul John's unpeated spirit, and ramping up the intensity.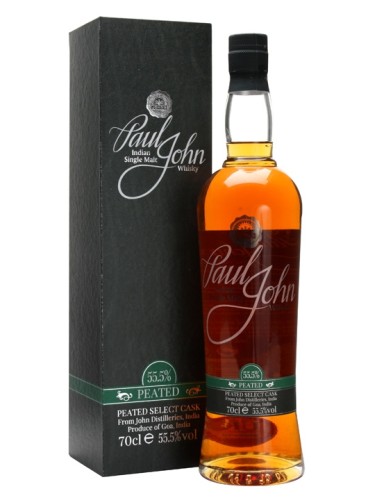 Nose: Earthiness rather than smoke to start, with lots of mulchy greenness, fruit skins and some medicine-cabinet touches. Ozone and swimming-pool notes grow in the glass, with tropical fruit matching their expansion. Smoke reveals itself after a while, along with black pepper, orange marmalade with smoky edges, and sweet, loamy earth.
Palate: Softer than expected to start, with big peppery spice and earthy smoke rolling in from behind. Sweet coal smoke, barrel char and crushed stone appear, with a touch of charcoal developing. Black-pepper spice underpins everything, with toffee sweetness for balance, and tropical fruit on top.
Finish: Gentle smoke and char, with sweet earth, aniseed balls and dark chocolate.
Comment: Smokiness done differently, with a more inland woodsmoke character than the more maritime peat that you find in Scotch whisky.
The competition runs until 11.59pm on 30 October 2014, and it's open to all TWE customers. You can find full details over on our Paul John prize draw page.