We had a superb tasting at Vinopolis a couple of Mondays back.  We were delighted to welcome the affable and gregarious Ian Logan, 'The' Glenlivet's global brand ambassador to introduce no less than eight outstanding drams to a packed crowd in Vinopolis's newly-revamped Vineyard room.
We started with the 12 year old, which in 2012 is better than I have ever tasted it.  It's always been an easy-drinking dram, but I've had it a few times this year and I really think it's gone up a level: velevety-smooth with delicious apple, custard and coconut flavours and a tempting kick of spice at the finish.  You should never judge a distillery solely by its standard dram, but as a primary indicator the 12 year old suggests that 'The' Glenlivet is a distillery in absolutely top form.
We moved onto the 15 year old French Oak Reserve – they can't call it 'French Oak Finish', as Ian pointed out, because only a proportion of the whisky is double matured.  So they call it French Oak Reserve.  I hadn't previously been aware of the distinction, so many thanks to Ian for that little snippet. You can't help learning stuff at Ian Logan's tastings, no matter how much you think you already know – the man is (metaphorically) steeped in whisky.
The French Oak casks in question here are absolutely brand new virgin Limousin oak which doesn't take very long to make its presence felt on a whisky, so the second maturation is usually only a year or two.  The whisky itself has a sweet-seeming nose, with golden syrup and creamy vanilla, while the palate has an extra sappiness as compared to the 12yo and some slightly sour apple flavours.  I found a drop of water brought out a pleasant leafiness, along with the custard I found in the 12yo and some hints of rhubarb crumble.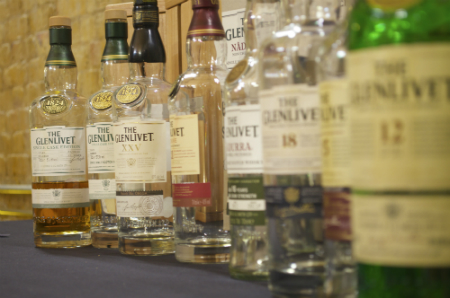 We proceeded next to the Glenlivet Nadurra 16yo, which is to many whisky anoraks an automatic choice from the Glenlivet core range.  The combination of bottling at a higher strength, no chill-filtration and the use of only first fill bourbon casks endows Nadurra with abundant whisky nerd brownie points, and it's easy to see why.  The nose shows flapjacks, apples and pears, autumn leaves and brown sugar; water brings out notes of marshmallows and strawberries & cream.  On the palate theres a big sweet bourbony hit – warming but very drinkable at full strength (53%) – then the fruit from the nose, plus liquorice, honeysuckle, vanilla and millionaire's shortbread. The finish is pretty gentle for a whisky at 53%.  A cracking dram.
Next up was the Glenlivet 18 year old, which differs from the previous whisky by virtue of a generous proportion of sherry casks. The nose is noticeably richer and nuttier, with honey or syrup, plus cocoa and milky coffee notes.  The palate is heavier and more generous than expected, with a good weight despite being a lower strength than the Nadurra (we're at 43% here as compared to the 53% Nadurra).  It's a lovely, silky mouthfeel with raisins, hazelnuits and polished oak.  I always find that water ruins this dram – take it as it comes.
We now moved into wooden box territory with the Glenlivet 21yo Archive, another dram with plenty of sherry oak in evidence. The nose had rich apricot, toffee apples, toasty oak & sawdust, developing a cocoa or chocolatey note after a bit of time in the glass.  The palate, meanwhile, showed sweet citrus liqueur (like an orange curacao), classic rich polished oak furniture and some berry hints in the background.  The oak is truly excellent – flawless.  Again, no water required here.
The next big-hitter was the Glenlivet 25 Year old, which has spent its last two years of maturation in Oloroso sherry casks.  The oak is very big on the nose, with woodglue and old church pews, plus some very intense, clean mixed peel aromas.  On the palate, although the oak is big, the balance is great with the wood not dominating the classic sweet sherry fruitcake flavours.  The finish is excellent with all the oak, mixed peel and fruity notes blending and fading together.  Outstanding intensity for a whisky at a comparatively modest 43%.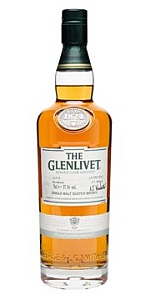 It was now time to shift up a gear with two final cask strength malts.  First up was the unveiling of the Glenlivet Minmore 18 year old.  Minmore is the latest bottling in the Glenlivet Single Cask series and is exclusive to TWE.  The Glenlivet Single Casks have been a very successful series of limited editions bottled at full strength and released in different markets around the world.  The casks are named alphabetically – you may recall the Helios & Josie bottlings from last year – meaning that Minmore is just the 13th of these casks to have appeared since the first bottling of the series was released – 2005's famous Atlantic 40yo.
Glenlivet Minmore is from a refill bourbon hogshead and has been bottled at its full cask strength of 57.9%.  As you'd expect, the nose is pretty intense at full strength, with very clean bourbon oak, pencil shavings, vanilla and cocoa-dusted cappuccino.  The palate is rich and powerful with strong apple and oak flavours.  Very intense at full strength, the palate benefits from the addition of some water, which brings out a truly classic bourbon cask character – as a refill cask one wonders if the first fill came out pretty early, because this is delightfully bourbony .  The finish is just drying enough to be very moreish; the whole is best summed up by the phrase 'Nadurra on steroids'.  As a  final note, it's worth mentioning that this Minmore can take a lot of water – we look forward to experimenting with it at different strengths.
The final dram of the evening was another special whisky from the Glenlivet Single Casks series.  Glenlivet Eclipse is a 21 year old first fill bourbon cask (#12549 for the curious), which was bottled in 2007 at 51.6%.  This outstanding dram had spiced apple pie, hot cider and vanilla cream on the nose, with the same following through onto the palate, along with clove, resin, fruit leather, and tinned pears and apricots, finishing lngo with lingering apple pie.  A triumph, but sadly now almost impossible to find.
Many, many thanks to Ian Logan and The Glenlivet for putting on such a fantastic show for us at TWE, and well done to all the TWE staff who have entertained us so heartily this Movember with their hilarious face-fuzz.