Balvenie's 12 year old DoubleWood is one of Speyside's most-loved drams amongst the whisky fraternity, with many whisky nuts (yours truly included) citing it as a key 'gateway' malt.  I certainly have vivid memories of it being poured liberally in my Oddbins days and remember it as a very important step on the journey to understanding what the single malt fuss was about. Indeed, DoubleWood has remained very high on my list of easy sure-fire recommendations, both for beginners and for great value easy-drinking drams.  It's no exaggeration to call DoubleWood a touchstone dram, and it's one I always enjoy going back to.
But while secondary maturation is so prevalent within the Scotch whisky industry nowadays, it's easy to forget just how weird and way-out the concept of taking whisky out of its casks and filling it into wine barrels was seen in the early 1990s when the first wood-finished whiskies appeared.  Balvenie DoubleWood, its stable-mate the magnificent 21 year old Port Finish, and the original Glenmorangie finishes were all pretty revolutionary in their time, and the practice of wood-finishing was considered by many in the industry as an unnecessarily expensive, new-fangled way of doing things.
A hat-tip, then, to Balvenie's David Stewart for being one of the pioneers of wood-finishing in whisky.  We won't blame him for the many and various crimes perpetrated against whisky by other distilleries conducting less well-judged experiments with the technique.
Given all of the above, the appearance of the largely-unheralded Balvenie Doublewood 17 Year Old is very big news.  As a significantly older expression of such an iconic dram, interest will be huge, and this whisky will no doubt be very high on many malt fans' must-try lists coming up to the end of the year.  So without further ado, let's crack on:
Balvenie Doublewood 17 Year Old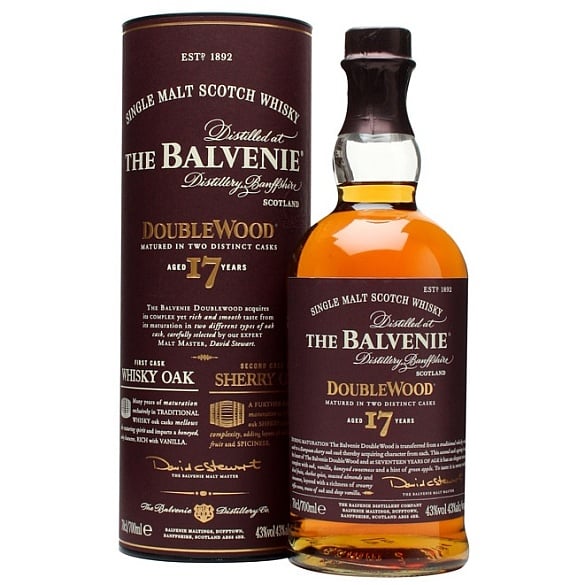 Billy:
Nose: Polished wood, Tim's cakespice, Danish pastries, dessicated coconut, vanilla cream, Cadbury's Fruit and Nut bars, and a little bit of tropical fruit at the back – mango maybe?
Palate: Oily mouthfeel, soft sweet caramel, lightly spiced wood, good apple pie (stewed apples, lightly sweetened pastry and a few raisins thrown in for good measure), a cinnamon tingle and a hint of Mars Milk (the best of all ready made milkshakes).
Finish: Sweet and fruity with a touch of fruit polish. Lingering rich caramel turns slowly to Good Old Wood.
Comment: Spicy Mars Milk? I'm in.
Tim:
Nose: Patisserie aromas, in fact this resembles nothing so much as a good-quality doughnut, complete with icing sugar & gooey strawberry jam; then a heavy dollop of vanilla and the first hint of sherry, in the form of raisin ice cream drizzled with honey, and of course oak – fresh timber and autumn leaves. Very appealing.
Palate:  Now the sherry influence is more prominent with cakey dried fruit (date, raisin) mingling with apple pie aromas.  The main difference with the 12yo, though, is that here the oak is centre-stage.  Naturally, as this is a Balvenie, it's very good oak, with big creamy vanilla, polished wood, a bite of oakspices (clove, cinnamon) and a hint of dry liquorice.
Finish: Medium-length, gently drying with a kick of spice.
Comment: Fans of the 12yo will like this a  lot.  It's far too well-mannered to be a moody teenager, but Doublewood 17yo shows significantly greater depth of character than its happy-go-lucky younger sibling.  It's still great fun, though. A hit.
The good news is that this 17 year old is an ongoing core range product rather than a limited release (and incidentally the press release confirms that the 14yo Caribbean Cask has now been promoted to the core range as well).  Being a Balvenie, Doublewood 17yo is of course very handsomely packaged in a rather Christmassy shade of burgundy.  It's available on the TWE website here.