One of the very many really great things about The Whisky Exchange Whisky Show is the massive raft of new releases put out by TWE, plus Elements of Islay, Single Malts of Scotland and Port Askaig.  2012, we're happy to say, is no exception, with some extremely exciting new whiskies pouring into our warehouse, being taken to Vinopolis and then being snapped up by thirsty Show attendees.  Thankfully we have some bottles left over that are now for sale on the TWE site.
These new releases tend to fall into four groups:  Show bottlings (these are usually in our much-admired retro labels); TWE-exclusive OB's launched at the Show (such as last year's 1971 Glen Garioch OB and this year's Karuizawas); New Single Malts of Scotland (SMoS) releases from our sister company Speciality Drinks Ltd (SDL); and new Port Askaig & Elements of Islay variants from our other sister company Speciality Brands Ltd (SBL).
Of these four categories, the SBL stuff (ie Elements and Askaig) is usually quite big batches designed for sale in different markets and to last a year, while everything else is usually single casks or very limited runs, with the most popular selling very quickly and frequently running out before the end of the Show.
Myself and Billy had the privilege of manning the Show Bottlings stand at the Show, with our duties there consisting of pouring whiskies for punters and spouting off about said whiskies to said punters on request.  Never at the same time, mind – when one of us was doing the bottlings the other was running around trying to sort out Masterclasses. Of which, more later.
Speciality Brands had their own stand from which to introduce the new Elements of Islay and Port Askaigs.  Here's some tasting notes:
Elements of Islay Bn4 50cl, 54.5%, £39.95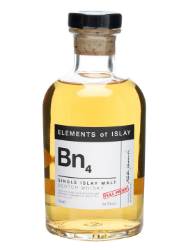 Nose: Fresh leather, crushed pine needles, earthy peat, hints of inner tubes, smashed green herbs, green anis. Honeysuckle, burning pine sap, a vague walnuttiness.
Palate: Sharp attack on burnt wet wood and chocolate. Fiercely assertive at full strength, with a strong hint of bitumen. Lots of spiky wood and muddy wellies, fields of ferns, liquorice root and aniseed balls.  Relaxes a bit with a drop of water.
Finish: Sweet liquorice and some leafy notes of bitter green herbs.
Elements of Islay Br4 50cl, 54.7%, £54.95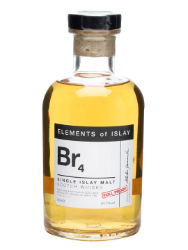 Nose: A lovely sweet maltiness: barley sugar, honeysuckle, grassy meadows, with some polished oak and suggestions of summer fruit in the background. A delicious whiff of summer.
Palate: Carries on from the nose with a gorgeous honeyed malt character, berry fruit compote, red apple, runny (natural) caramel and faint leafy grassiness. Delightful. Water lifts the fruit and exposes a pepperiness.
Finish: Glorious runny honey and rich oak with a touch of peppery spice.
Comment: Just so moreish. I loved Br2, but this might be even better. A fully mature dram at the peak of its powers.
Elements of Islay Bw1 50cl, 52.9%, £54.95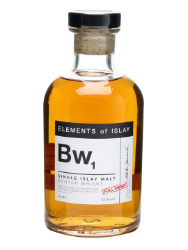 Nose:  Opens on tinned pineapple and kiwi, then gets very melony.  Pure runny honey after a minute in the glass, some faint oak & smoke, then bandages and some kind of herby menthol character.
Palate:  Medium-full.  Unexpectedly phenolic attack, with bonfire notes upfront with the fruit behind.  Quite spicy & peppery with hints of brine, soot, earth, wet burnt wood, turf, some sweet tropical fruit in the background. Deceptively peaty, with sour liquorice turning sweet, spice, rich green apple & pineapple cubes.
Finish:  Warm and long, makes the mouth water. Lingering green fruit with brine and a hint of ash.
Comment: A distillery very much in resurgence after several tepid years.
Elements of Islay Cl4 50cl, 58.7%, £38.75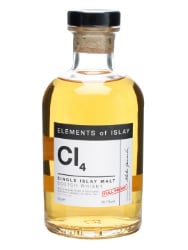 Nose: Very clean malty aromas with faint notes of brine, chlorine and burnt lemon, then a strong whiff of burning turf. Develops big linimenty medicine cabinet notes, with faint herby leafiness (fennel). Picks up some bandage and icing sugar aromas with water.
Palate: Huge frontal attack at full strength, massive kick of smoke and pepper. When the palate has acclimatised it's the turf smoke and strong grapefruit and lemon citrus that stick out. Sweeter and much saltier with water.
Finish: Very long and peppery, with bandagey notes lingering.
Comment: An epic dram at a bargain price. Very drinkable even at full strength – if you take small sips! Larger doses require water.
Elements of Islay Pl1 50cl, 60%, £64.95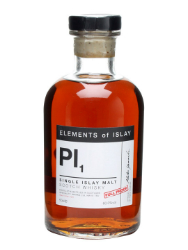 Nose:  Very rich plum jelly and modelling glue initially, then heavy dark fruit – blackberry, date, damson  – and chocolate pudding.  Develops medicinal aromas of bandages / liniment and sweet brandy butter, with woodsmoke & soot behind.
Palate: Absolutely immense – very big-boned and sooty at full strength.  The dark fruits from the nose, plus clove and black pepper.  Very high-cocoa dark chocolate.  Becomes slightly more manageable with water, which lifts the fruits above the heavy phenolics.
Finish: Coaldust, chocolate, ginger cake.
And the Port Askaigs:
Port Askaig 12yo, 70cl, 45.8%, £43.95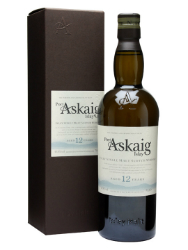 Nose: Very fresh and invigorating, with bracing sea air, seashells, a minerally character like wet slate, plus phenolic notes of ash and wet burnt wood.  Faint honeyed, leafy notes in the background.  Becomes earthier with time.
Palate: Mediumweight, but packs a punch. Very minerally initially, then salty and sweet at the same time.  Becomes ashy and drying, with the brininess increasing as the smoke, dry turf and chalky, flinty notes assume control mid-palate.
Finish:  Some lemony acidity breezes in to keep things fresh as the ashy smoke and turf linger.
Comment:  More savoury than some drams from this distillery, this 12yo has impressive depth of character for a relatively young malt, but remains light enough to encourage a refill.  Very more-ish.
Port Askaig 30yo Cask Strength 70cl, 51.1%, £199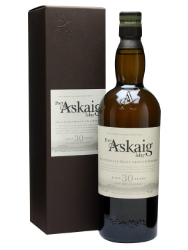 Nose: Wow, lots going on: rich honey sweetness, some strong melon notes, bananas in various forms – fresh, foam and milkshake, then some barley sugar and very light smoke emerges.
Palate:  Quite full and generous, with very rich flavours following on from the nose,  and a luxurious oily texture.  Sweet initially, but the phenols are much more evident on the palate than the nose, with thick smoke and rich wet peat alongside more subdued melon and banana fruit notes from the nose. A thread of honeyed lemon runs through the whole ensemble.
Finish:  Good length, sweet and lightly sooty, with the fruit lingering much longer than expected.
Comment:  We've normally bottled this at the traditional 80 proof, but the vatting was just far too good to add water to.  Superb stuff.