We're having a little break from tastings down at TWE Vinopolis, although we're still catching up with the write-ups here at HQ. I'd like to say that it's so that we can have a rest over the summer, recharge our tasting batteries and prepare for the autumn, but it's actually because we don't have any space in our pop-up shop to do any. We'll be back in September once we've moved back to Vinopolis, but in the meantime here's the first of our two final tastings before the move.
We were joined by Anthony Wills, founder and owner of Kilchoman on Islay, to run us through some of their expressions and let us know how they've been getting on since the distillery started way back in the dim and distant past of 2005. They're the youngest distillery on Islay and still one of the youngest in Scotland, only able to call their whisky whisky for the last 4 years.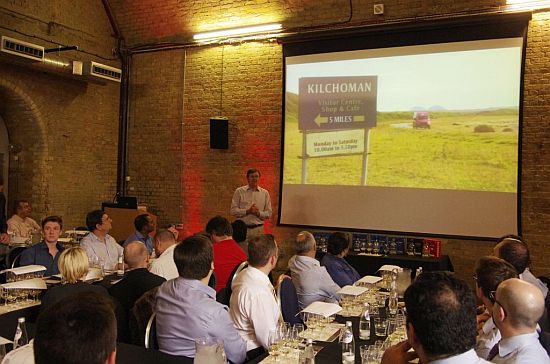 Anthony came to the whisky from the wine trade, initially as an independent bottler. As cask prices rose and distilleries started hoarding more of their best casks for themselves he looked to other areas and decided that there was space in the market for a small, artisanal distillery. His wife's family had a farm on Islay and after four years of fundraising he had £1 million to put towards his distillery. He ran out of money 4 months into operation. Fortunately, an open and running distillery is much easier to show to potential investors and a second round of funding kept them going until they became profitable.
They didn't do it all on their own, with spirit guru Dr Jim Swan consulting in the early days of the distillery to help design the new make. Anthony gave him a simple brief – a peaty spirit that would mature quickly, something important when each day that you're not selling whisky is costing you money.
The distillery is almost the definition of artisanal, producing small amounts of spirit in a rather hands-on process. Their stills take a charge of 1500 litres, over ten times less than the 18000 litres done by Caol Ila, Islay's biggest distillery, and they currently fill 22 casks a week for 48 weeks of the year, a total annual output that Caol Ila achieves in about four days, according to Anthony's calculation.
A part of the original plan was to produce whisky from field to glass – growing barley, malting it, producing spirit, filling casks and then maturing it all on the farm. They couldn't do that for all of their spirit, as they couldn't make enough just using their own grain, but have produced a small amount for a number of years. There isn't much in the way of a manual for 'how to run your own maltings' and their spirit yield from their own malt started out rather low, but over the years they've improved their process (even if there was an incident involving blowing up the kiln house) and they're now up towards commercially produced barley levels.

The first whisky we tried was their first release of whisky made using their own barley, the 100% Islay Inaugural Edition. Made using barley from Rockside Farm, aka the distillery, and then malted (peated to 20ppm), mashed, fermented, distilled, filled and matured in bourbon casks all onsite. The obligatory special edition version they released was even bottled onsite. It's around 3 years old, matured in first-fill bourbon casks and was the first in a series that should showcase their increasing knowledge in how to produce whisky end-to-end – the second edition should be appearing this Autumn.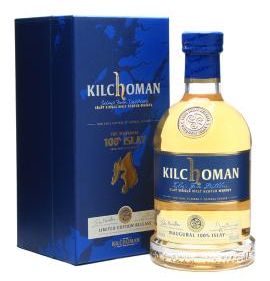 Nose: Big sweet grain, sweet peat, medicinal touches, dry minerality, lime chews and light liquorice.
Palate: Lightly flavoured with prickly smoke at the back of the palate. Clean young spirit, lemon peel, sweet grain and a touch of anis.
Finish: Apple skin tannins, spiced grain and gravelly smoke.
Comments: A statement of intent more than a finished whisky, in my opinion. A bit too light and young for me, but popular around the room.
We then moved on to Machir Bay, their first ongoing bottling, released in March this year and named for the distillery's local beach, 3 rather beautiful miles of sand and stone that's down the road from Rockside Farm. It uses commercial barley rather than their own, peated to a respectable 50ppm, the same as Ardbeg. The releases are batched and will show the release date on each bottle – we're currently on the 2011 batch, with the 2012 vatting waiting in the wings. It's a mix of bourbon and sherry finished whisky, skewed towards the former, bottled at 46% with no colouring or chill-filtering, like their other general releases.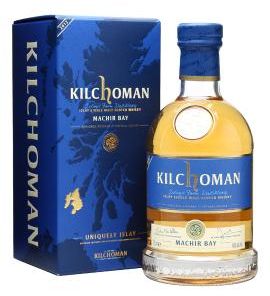 Nose: Medicinal nose, rich fruity sweetness, unripe grapes and currants.
Palate: Sweet but balanced by a lemon zest sourness. Vanilla, underlying rich fruit, spiky medicinal peat and some crunchy minerality.
Finish: Cracked stone, brine, green leaves and lingering menthol.
Comments: A solid statement of intent, bringing together medicinal peat, maritime brine and minerality, and some sweet fruit. It's young and fresh, but it shows beyond its years.
Next was the Summer 2010 Release, their first general release of spirit that could be legally called whisky and the first of their regular seasonal releases that led to the development of Machir Bay. This is pretty much the same as the 100% Islay, differing only in that it uses commercial malt.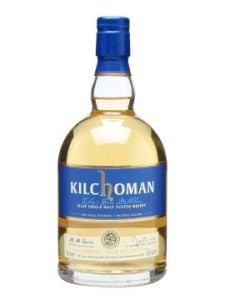 Nose: Sweet, creamy grain, lots of minerality, freshly squeezed lemon juice and grated lemon zest.
Palate: Creamy mouth feel and a fizzy sherbert citrus taste with medicinal peat and crisp minerality.
Finish: More minerals as well as a mossy note.
Comment: A fresh and mineral laden dram with lots of zesty citrus notes.
We continued with the Winter 2010 Release, the follow up to the Summer release, altered only by the addition of a few potential months of age and the addition of some whisky matured in refill casks from Cooley in Ireland.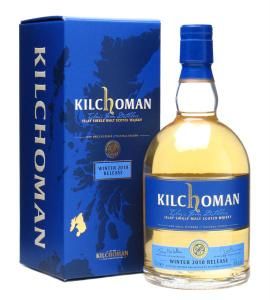 Nose: Big minerality up front, stewed lemons, earthy peat, freshly unwrapped bandages and sweet vanilla appearing in the gaps.
Palate: Rich and sweet to start, becoming green and grassy in the middle with buttery sweetness and sweet smoke.
Finish: Damp peat, wet stone and sweet grass
Comment: Quite different to the summer, with the refill casks adding a grassy, green note to the mix.
Next was the culmination of the seasonal releases, the 2006 Vintage, matured for about five years in first fill bourbon casks. This was their first official release of 5 year old whisky, another milestone in the distillery's development and has been rather popular. We're out at the moment but will hopefully have some more available soon.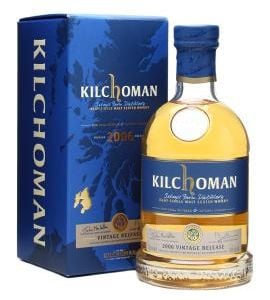 Nose: Sweet butterscotch, fresh citrus, pear skins and sweet, grassy peat.
Palate: Butterscotch carries through from the nose along with lime, ferns and loads of wet grass and mud.
Finish: Peat fires, buttery sweetness and lingering stony minerality.
Comment: Quite a different beast to the younger whiskies, with more bourbon cask sweetness and complexity as well as more of the green notes from the Winter 2010 release.
Our penultimate whisky was the Sherry Cask Release, a 100 % sherry cask whisky that shot off the shelves, although the shop did manage to squirrel away a case for those attending on the night. This whisky intrigued the maturation geek in me by being a sherry butt matured whisky finished in sherry hogsheads – while the butts were imparting flavour to the spirit it wasn't picking up much colour, so the whisky was transferred into hogsheads that had been used to store sherry for 20 years for 5 months before bottling, giving it a rich colour and an extra sherried kick.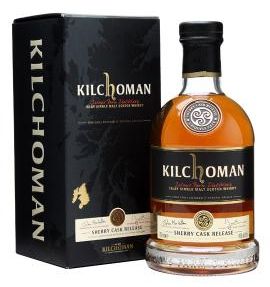 Nose: Big rich sherry, dry dried fruit, brown sugar, leather, dried cherries, eccles cake centres and a lick of woody smoke.
Palate: Sour cherries, rich sugared raisins, warm smoke and bitter dark wood.
Finish: More dark wood, more cherries, menthol and a hint of juniper.
Comment: Sat on the edge of Too Much Sherry for my palate, thankfully coming down just on the right side. The spirit has been overtaken by the casks a little bit, but from the palate they are obviously excellent casks.
Last of the night was a rather rare single cask Kilchoman. While they have done a few of these in the past they've now moved to doing them almost solely as distillery exclusives. On top of the uncommon nature of the spirit it was also bottled at a massive 61.2%, quite an eye opener for the end of a tasting.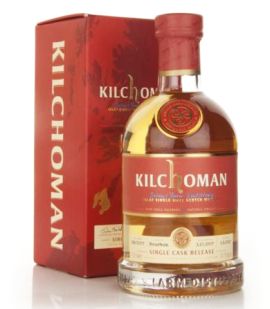 Nose: Crushed ferns, big medicinal peat and big alcoholic hit.
Palate: Sweet and rich, very hot and full of vegetal flavours – mulched ferns and damp grass.
Finish: Hot and powerful with lingering fruit and burning grass.
Water: This needed water and it swum very well. Dropped in ABV to somewhere around the low 50s there was cream on the nose and the palate filled out with creamy apple, sharp apple skins and smoky pears.
Comment: A bit of a beast to end the night and one that needed water. Without it was hot and closed but with a good slug it became sweet, fruity and creamy, backed up by delicate and fragrant smoke. An impressive dram – whisky cordial.
Many thanks for Anthony for making the long trip down to London from Islay, hopefully we'll see him down here more often as the distillery ages.
You can see what happened on Twitter during the tasting over on Storify.