We've been meaning to say something up here on the blog for a while about the new additions to the Johnnie Walker range, so finally here are some notes.
Earlier this year it was announced that the much loved (to a certain segment of the whisky buying public, but not a particularly lucrative segment, it seems) Johnnie Walker Green Label was being discontinued in certain markets. As the only Blended Malt in the range it's stood out as a potential for pruning for a while, and with the addition of the Double Black last year it was the obvious one to go.
However, it hasn't been the only change, with the 18 year old Gold Label (which we're currently running a free glass offer on…) also being phased out in many markets and replaced with the no-age-statement Gold Label Reserve. It continues the Clynelish-centred theme of the Gold Label but without the guarantee of 18 years of maturation: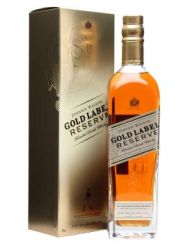 Nose: Light and pleasantly oily, with Custard Creams, zesty lemon, floral honey and soggy grain.
Palate: Sweet, waxy and fruity to start (thankyou Clynelish), quickly dropping into a lemon butter centre with icing sugar sweetness.
Finish: Perfumed wood, bowls of flower petals, light waxiness and some lingering dark wood.
Comment: A light and sweet blend without as much Clynelish influence as I'd have hoped, although made up for by the interesting finish.
The second of the new Walkers is the Platinum Label. Originally released as a Travel Retail bottling in late 2011, available exclusively at Delhi airport, it's now hit the main product line and is being rolled out across the world. It doesn't take the place of either the Gold or Green labels, although it does have an 18 year-old age statement, but it's being positioned as a stepping stone between the Gold Label Reserve and the Blue Label: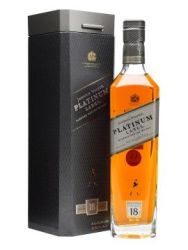 Nose: Sweet and floral, light vanilla custard, sweet pineapple, candied lemons, honeysuckle, sweet pastry.
Palate: More pastry up front, lightly briney, sweet citrus and a buttery vanilla cream middle with some lightly smoky malt.
Finish: Light, sweet flowers, lingering green wood.
Comment: A sweet and fruity nose backing up a soft, sweet and rich body. The body doesn't quite live up to the nose, but makes up for that with buttery richness. My favourite of these two newbies.
Those are the only two that we'll be seeing at TWE for the time being, but an interesting sample dropped through the letterbox the other day – Johnnie Walker Blue Label: The Casks Edition. This is a special travel retail only Johnnie Walker, bottled at a chunky 55.8% rather than the regular Blue Label's 40%. 'Cask strength' blue label? That's worth a try…
Nose: Floral shampoo, freshly picked flower petals, massage oil, spiced custard, hazelnut biscuits.
Palate: Rich and spicy at full strength – ginger, olive oil, spicy wood. Water adds more sweetness to the back, with raisins and some dark chocolate appearing in the mix. The floral notes from the nose hang around throughout.
Finish: Ginger biscuits, dark wood and a touch of soapiness.
Comment: The floral note marks this one out as not for me, but behind it there's a well balanced whisky that works well even at full strength, although a drop of water unlocks it.
Now all I need to do is grab a bottle of the Green Label before it all disappears. I've still not tried it…