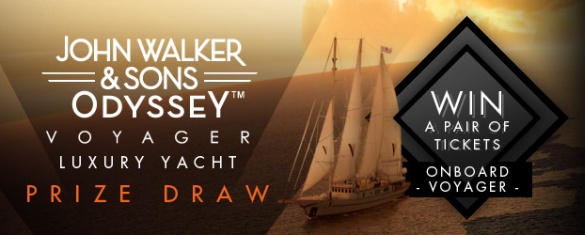 I like boats. From dinghies up to ferries I, for some reason, feel more at ease when surrounded by water. Having grown up inland it's a bit of a mystery how this obsession developed, and now living in one of the highest areas of London (on the 6th floor, no less) I don't get a chance to play on the water very often. However we're running a competition at the moment to let a lucky pair of winners attend a rather exclusive boat-borne party.
The boat in question is the John Walker Voyager, a three masted 1920s style racing yacht that has been making its way around the world in the wake of the release of a new whisky from Johnnie Walker – the John Walker & Sons Odyssey. The Voyager has been docking in various ports, throwing parties for a variety of different whiskies from Johnnie Walker and is currently making its way across Europe.
The John Walker & Sons Odyssey is a rather shinily presented blended malt, put together by master blender Jim Beveridge using whisky from only three distilleries, undisclosed of course. For a bottle geek like me it's equally impressive due to the presentation – the decanter (styled after the shape of a sail) comes clipped into a geared metal frame that should, thanks to the combined powers of gravity and momentum, keep the bottle upright. It's shiny.
Here's what the folks at Johnnie Walker say about the whisky: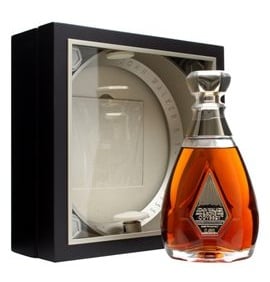 Nose: The nose is powerfully rich and captivating with hints of honey, berry fruits and caramel.
Taste: The palate is full-bodied and inviting — from the freshness of citrus fruits to the richness of berries, from the smoothness of honey to the creaminess of caramel.
Finish: Finally, the finish is mellow, lingering and smoky — never to be forgotten.
On July 17th the Voyager will be hitting London and that night they're throwing a party for one of the other more recent entries in the Johnnie Walker stable – the Gold Label Reserve.
A revamped version of the old 18yo Gold Label, it's built around a core of Clynelish and sits bang in the middle of the Johnnie Walker range. Here's what I thought: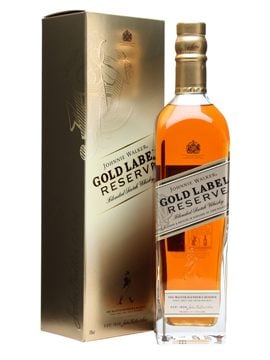 Nose: Light and pleasantly oily – Custard Creams, zesty lemon, floral honey.
Palate: Sweet, waxy and fruity to start (thank you Clynelish) quickly dropping into a lemon butter centre with icing sugar sweetness.
Finish: Perfumed wood, bowls of flower petals, light waxiness and some lingering dark wood.
Comment: A light and sweet blend without as much Clynelish influence as I'd have hoped (I really like Clynelish). However, that's quickly forgiven thanks to the interesting and well-balanced finish.
We're very pleased to have obtained a couple of tickets to the party on July 17th and will be giving them away to one lucky customer. Entering is simple – just buy one of the bottles listed below before July 1st and you'll automatically be in the draw:
Please note that this competition is open to UK customers only. Full details can be found over on the competition page – Good luck!