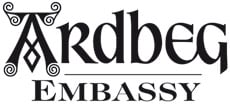 After years of quietly sipping away at their whiskies, and occasionally selling a bottle or three, we are very proud to announce that The Whisky Exchange at Vinopolis has been invited to become an official Ardbeg Embassy – a privilege only extended to a handful of specialist whisky retailers around the globe.
As an Ardbeg Embassy we will always have a healthy range of bottles from the distillery open to sample in store and, most importantly for any Ardbeg Committee members out there, we are being given a rather special 4.5 litre bottle of the new Ardbeg Alligator for its Committee Exclusive launch on the 1st June, with explicit instructions to share it with Committee Members who happen to wander by.
To celebrate the start of our ambassadorial duties we're running an Ardbeg tasting tonight with distillery manager and 'Chief of Mission' Mickey Heads. Unfortunately there are no tickets left – you need to be on our tasting mailing list to get advance warning of these kinds of things. We predicted that this one would be popular so we elected to distribute the tickets by lottery, and it was fortunate that we did as we received enough applications to sell out the event ten times over. There'll be a report up here soon to let you know what happens…
With the embassy opening its doors on June 1st , we'd like to invite any Ardbeg Committee members down to TWE @ Vinopolis this Saturday, June 4th, to glory in our Ardbegginess and maybe a try dram of 10 year old (or something 'snappier') in celebration of our new status. For those who can't make it then feel free to pop by whenever we are open – wave your Committee credentials and we'll see what we can do for you.