Just arrived – our very special single sherry cask 1982 Port Ellen Royal Wedding Reserve!  We mentioned this in our earlier guide to Royal Wedding whiskies, so let's try and give you an idea of what it's all about with double tasting notes from myself and Billy.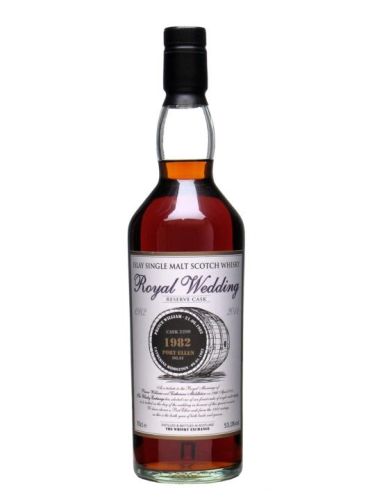 Tim Says:
Well , the colour is very appealing – a rich nutty brown with red gold tints in the bottle and some greenish tinges at the edge in the glass.
Nose: A teasing combination of sweet and savoury, with chocolate, some raisins and cocoa powder notes alongside some balsamico, menthol, coffee, eucalyptus, linen and briney, kippery notes.  The above on a four-poster bed of old polished teak or mahogany.
Palate: Quite full, without being too overbearing. A tannic, oaky thrust initially, then a powerful surge of sweet peat and dry sherry, with most of the characters from the nose well-represented.  Develops much more on the savoury side, with aged balsamic vinegar and saltfish and those rich dark coffee notes.  Water lifts sweeter notes, and enhances the cocoa powder with some exotic fruit and a hint of old libraries.
Finish: Long, sweet, tingly with residual spice, orange liqueur notes. Quite drying as one expects from whisky of this age.
Billy Says:
It's scarily dark in the bottle, but it's a comforting a rich reddy brown when it gets in a glass. I'm still trying to work out if Tim's green tinges are really the colour of the edges or just an artifact of the lighting in our tasting dungeon…
Nose: At first a savoury damp gravel road with a few weeds, but that quickly burned off. It was replaced by balsamic vinegar, Love Hearts and Space Invaders, and burnt apple pie with cinnamon and raisins. Under that there's a bit of medicinal smoke, with a basin of Vicks infused water and a towel just out of reach.
Palate: Coal smoke and leather up front, then big meaty tannins and green wood fighting with some sweet peat on the centre of the tongue. Water shows a little more, with sweet fruit in the middle (sweet grapes and an appley hint?) and a bit of savoury vegetal peat creeping in.
Finish: Initially fiery, quickly calming to dry smoke and coffee grounds with a hint of sweetness and the sweetshop from the nose as the smoke clears.
Available now online and in the shop soon.