Continuing our trilogy of blog posts on noteworthy whisky press releases, let's have a bit about the new Gold Bowmore.
In contrast to Whyte & Mackay's media-savvy pi$$-taking audaciousness, as discussed in my previous post and here, this press release is rather more of the preachy, hype-driven old school of whisky PR, where every new release is the most massively earth-shattering whisky ever released (until the next one):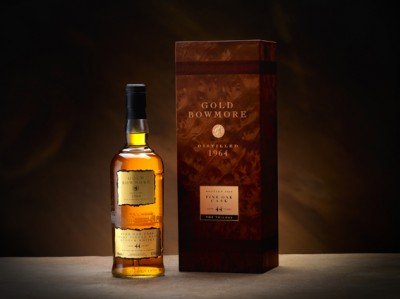 Gold Bowmore: The final stage of a 45 year long journey
[Ed: Not the best start, given that it's a 44yo whisky]
The most collectable whisky in the world
Bowmore, Islay, Scotland, 21st September 2009: First there was White, then Black and now the exquisite trilogy is complete with the release of the exclusive Gold Bowmore – a 44-year-old single malt whisky from Bowmore's famous weather beaten distillery on the Scottish Island of Islay.

A highly collectible and multi-award winning whisky, with previous trilogies selling at auction for as much as $18,000, Bowmore has long been coveted by whisky lovers worldwide and today sees the release of just 701 bottles of this unique Gold Bowmore spirit, each lovingly hand-numbered and encased in a stunning Burr Elm box.

44 years of quiet maturation in the famous number one vaults, has allowed an exceptional and rare example of Bowmore single malt to develop – the oldest one ever to be released from the distillery. Gold Bowmore has been created from the same hand-crafted spirit as the first two in the trilogy with the individual taste of each influenced by the different casks they were matured in. Gold Bowmore is uniquely matured in three Bourbon casks and a single Oloroso cask then carefully married together to make a spirit richly gold in colour with a finish that is beautifully balanced yet incredibly complex.

The trilogy began in 2007 with Black Bowmore. Matured purely in Oloroso casks, ebony in colour with aromas of exotic fruits, ginger and cinnamon, there were just 827 bottles produced. This was followed last year by the release of White Bowmore, matured in Bourbon casks, the colour of golden syrup and scents of galia melon, mango and papaya and launched with just 732 bottles. All three spirits come from the same year – the first time a Bowmore trilogy has been created this way.

Eddie McAffer, Distillery Manager at Bowmore commented: "I am so proud to see this last and very special part of the trilogy released. At Bowmore we put everything we have into every single bottle but this Gold Bowmore is something quite unique, embodying everything that is special about the whisky and from a year when things at the Bowmore distillery really went into a new era."
The trilogy reflects Bowmore's heritage of whisky created by people so passionate that nothing stands in the way of perfection. The whiskies are now some of the most collectable in the world and on release Black and Gold impressed critics across the globe.

Gold Bowmore (42.4%)  will be on sale from 23rd September at £3000 RRP.

Notes to editors:

The original trilogy
Whisky lovers will be familiar with the original Black Bowmore trilogy, released in 1993, 1994 and 1995. These highly acclaimed limited editions are some of the most collectable in the world and in 2007 an original set sold for $18,000 at Christies – the highest amount ever reached for whisky at a world auction.  The new Black, White and Gold trilogy are a reflection of this original trio, taking the last of the spirit from this amazing distillation.

Tasting Notes
Black Bowmore
Ebony in colour with aromas of exotic fruits, ginger and cinnamon.
A palate combining ripe mango, toffee and dark chocolate with the faintest hint of signature Bowmore smoke
White Bowmore
The colour of golden syrup with amazing aromas of Gallia melon, mango & papaya.
On the palate, mixed exotic fruits, vanilla and maple syrup with a trace of Bowmore peat smoke   
 Gold Bowmore
Rich gold in colour with aromas of passion fruit, papaya and vanilla.
An explosion of ripe exotic fruits, creamy vanilla and only a hint of peat smoke on the palate
  1964
Gold Bowmore is the final part of the trilogy which began back in 1964, and has a fascinating history. This milestone year for Bowmore marked a new era in the crafting of the famous single malt. The distillery had newly converted the original coal-fired pot sills to stills that run on steam enabling far better control of the temperature. At the same time as the first batch of distillate dropped from these new stills, 17 sherry butts from Williams and Humbert arrived at the distillery. Unlike the traditional bourbon casks, which impart a golden hue on their contents, the oak Oloroso casks, retain the sherry taste and colour, which results in a much darker, reddish amber whisky.
I'm a bit puzzled by something here.  According to the release, 'All three spirits come from the same year – the first time a Bowmore trilogy has been created this way'.   So which release of  'the original Black Bowmore trilogy, released in 1993, 1994 and 1995′  wasn't a 1964, then?  If true, this is big news.
Unfortunately, however, the coup-de-grace for this kind of bombastic press release was delivered last month by Serge Valentin on Whiskyfun in the form of Glen Wonka, and it will now be very difficult for companies to prevent their ultra-premium releases attracting the epithet 'Wonka-esque', which is already in widespread usage on the various whisky fora.
Now, I do love old Bowmores, and I've no doubt that the Gold Bowmore will be a gorgeous whisky, but post-Wonka I really think it is important for PR departments at the big producers to adapt to the times and stop talking about lovingly hand-numbered bottles – no matter how dedicated and loving those particular bottle-numberers may be.  It's important for very special new whiskies from blue-chip distilleries to have a bit of fanfare about them, but there are different ways of achieving this.  In these straitened, cynical, money-conscious times luxury products are still in demeand – but the way they're marketed needs to be up-to-date and, most importantly, exclusive and understated.  Bling and self-aggrandisement are out.  Quiet luxury is something we can all aspire to.