Helan går till Sverige!
The Whisky Exchange is delighted to announce that we are now able to ship to Sweden!
As far as we are aware, TWE is the first – and only – online retailer to register with the Swedish tax authorities for duty and VAT on alcoholic products.  This means that our Swedish fans can now order whisky from TWE and pay the correct tax and duty online, knowing that their orders will be despatched and delivered safely and legally with no danger of delays, confiscation or extra charges to pay.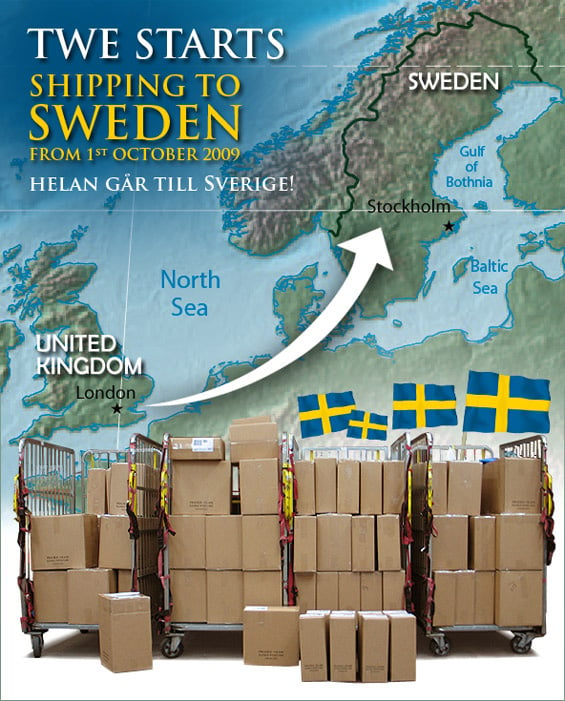 This is how it works:
 In the checkout area after you have chosen your products, you will be asked to select your country.
When you select 'Sweden', two extra lines will appear in your basket showing the Swedish duty and VAT.
You can click on the question-mark icon beside each of these lines to see a breakdown of how much you are paying for each item in your order.
You can then continue with the checkout process as normal.
When you reach the final checkout page you will be asked to enter your Personal Identity Number (Personnummer).  This is a requirement by the Swedish government to confirm that you are at least twenty years of age.  This number is used by us only to verify your age.
Now you can sit back in full confidence and wait for your lovely whisky to arrive!
Don't forget, if you are a business customer registered for Swedish VAT and the whisky is a business expense you can claim back all the VAT from the Swedish government!
The Whisky Exchange would like to welcome all of our Swedish friends and wish them many happy hours of surfing and safe, secure, worry-free ordering.  Skål!