Need inspiration for that special bottle? Looking for a last minute stocking filler? Absolutely no idea what to get for secret Santa? Well fear not, because the always publishable Whisky Exchange Christmas gift guide is here. Our 12 drinks of Christmas has perfect presents for gin lovers, whisky botherers and cocktail fanciers. Just scroll away and let us take the hassle out of the seasonal mega-shopping.
Tanqueray No 10 Coupette Glass Pack
A great gift for the aspiring mixologist in the family. Just tell them that the best way to judge a bartender is by how good their Martini is and that practice makes perfect – you'll be kept in cocktails all Christmas. The iconic No 10 reinforces the classic Tanqueray botanicals with extra citrus fruit and chamomile. It's a sure-fire way to upgrade any gin cocktail and is also very nice with light tonic and a wedge of grapefruit.
Monkey Shoulder Ginger Monkey Set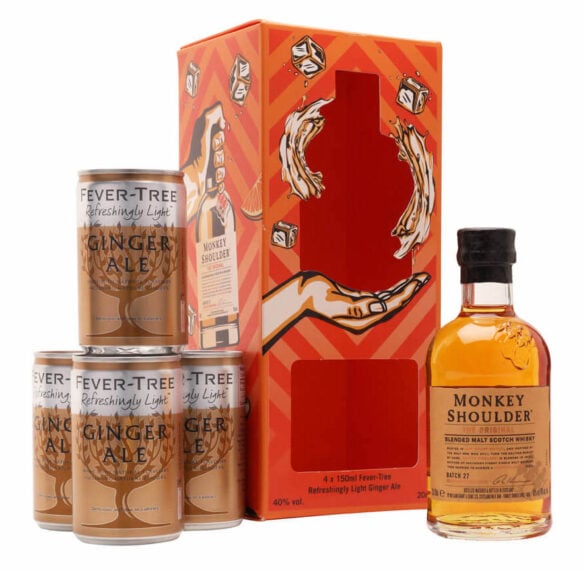 Buy now >
This handsomely presented gift pack contains a bottle of the classic Monkey Shoulder blended malt and a supply of ginger ale to pair it with. Scotch whisky served long with ginger, ice and a slice of lime is a great highball with Christmassy notes of biscuits and dried fruit. As an added bonus, this gift set opens up a world of primate related humour you can deploy. We won't ruin the fun by providing jokes for you, but punchlines you may want to use include: 'the monkey bar', 'gorilla style' and 'merry chimpsmass'.
Plantation XO 20th Anniversary with Two Glasses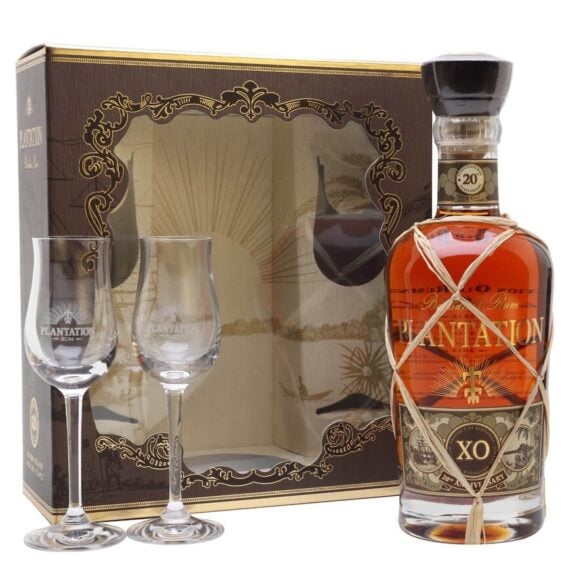 Buy now >
A great alternative to the traditional after-dinner brandy. This well-aged rum began life on the Caribbean island of Barbados before making the long voyage to the Charente. On arrival, it went to rest once again in French oak cask in the cellars of the venerable Cognac house Pierre Ferrand. It's a sweet and easy-going sipper with lots of marzipan, milk chocolate and vanilla custard. The tasting glasses included are perfect for nosing, sipping and savouring.
Talisker 2012 8 Year Old Special Releases 2021
A real star of Diageo's 2021 Special releases, this is the sort of whisky made for cold evenings and warm fireplaces. Talisker has been in business supplying hearty, fortifying drams to the people of Scotland since 1830 and is rightly held up as one of the world's great distilleries. This limited expression is bold and briny on the palate with white pepper, apple butter, nori and lots of earthy smoke. The label features a Scottish Christmas sea monster – don't google it or anything but they're a real and very traditional part of yuletide in the highlands.
Taittinger Brut Reserve Champagne Glass Set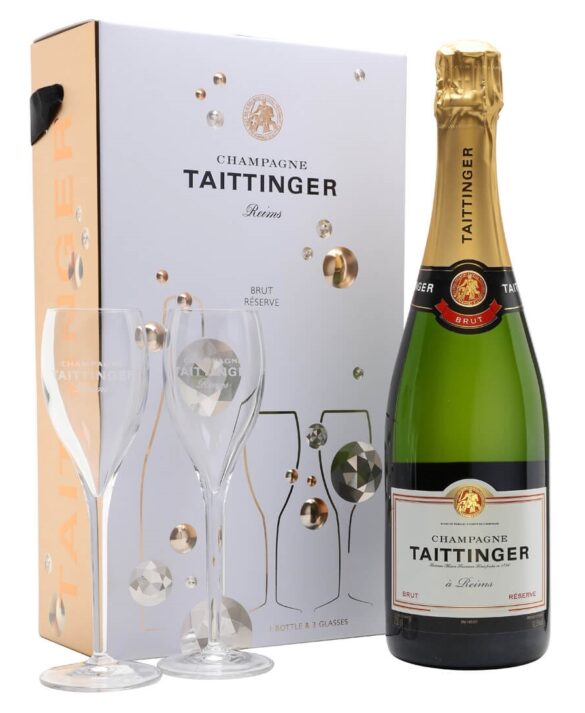 Buy now >
The ideal board game to play on Christmas morning – simply pop the cork, pour the wine into the glasses provided and toast until the bottle is complete. Players must be 18 and up, everyone's a winner and there's no actual board or game. What could be better? Each box contains two lovely flutes and a bottle of Taittinger's elegant, Chardonnay-forward Brut Reserve.
Perfect Measure Christmas sherried Whisky Tasting Set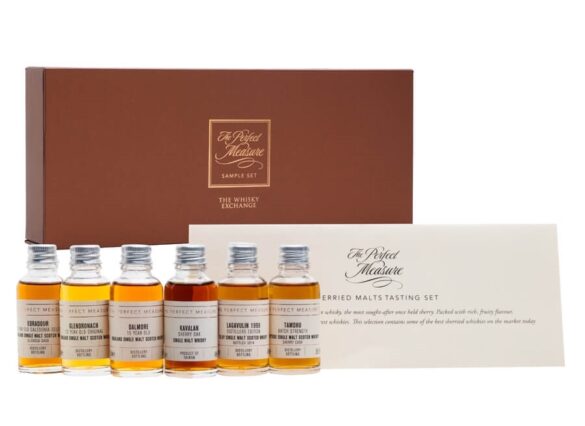 Buy now >
Six shots of pure, distilled Christmas presented in a smart gift box. Whiskies aged in sherry casks often take on festive flavours of dried fruit, chocolate, nuts and spice. This selection covers a variety of styles, from the rich and elegant to the robustly peated where smoke meets sherry. A great gift for sherry cask fans and anyone looking to explore the richer, darker side of Scotch.
Personalised London Dry Gin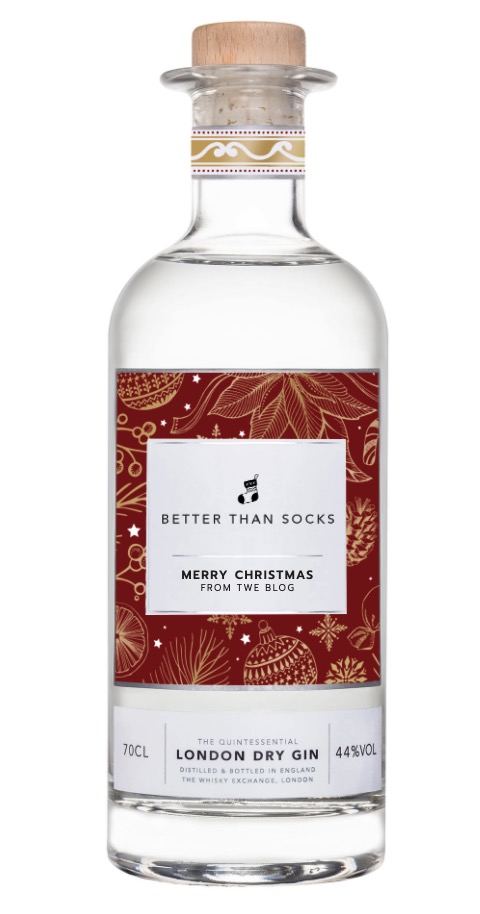 An absolutely classic, straight-down-the-line, god-save-the-queen London dry gin. This versatile blend of botanical goodness is produced exclusively for you, our lovely customers. It's also available with custom labels so you can send someone special a Christmas message wrapped around a bottle of gin. Just select from a range of designs, add a few words of your own and cross another gift off the list. Easy.
Piper Heidsieck Hors-Serie Vintage Brut 1971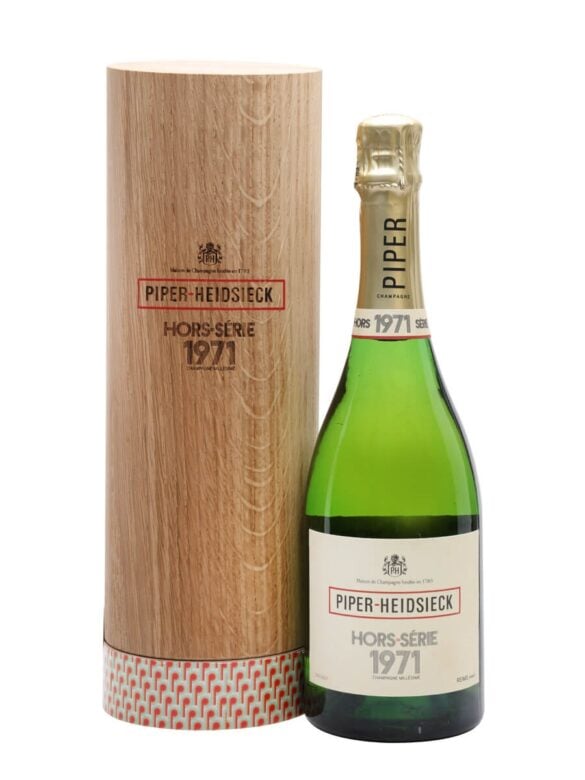 Buy now >
The grapes used to make this Champagne were harvested in September 1971, around the time John Lennon released Imagine and T.Rex dropped Electric Warrior. It's been aged for an incredible 50 years in Piper Heidsieck's cellars prior to release. No glasses with this one, just five decades of history in a bottle. It's a deep gold colour in the glass with an intense nose full of dried fruits, toasted nuts and tropical touches of pineapple and lychee. The palate is citrusy, with dried orange and mature layers of raw chocolate and earthy cep mushrooms.
Johnnie Walker 18 Year Old Glass Set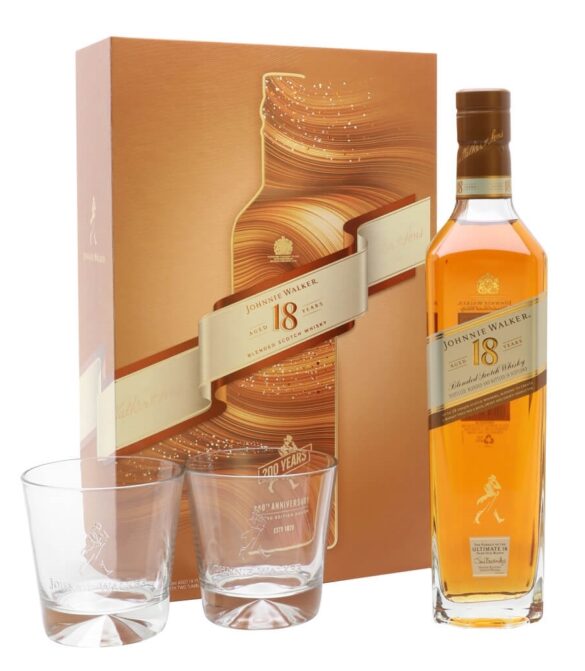 Buy now >
After 200 years in the business, Johnnie Walker remains a benchmark for blended whiskies. Fans of the bestselling Black and Red Labels will appreciate this well-aged expression from the striding man. It's a smooth but layered dram with candied peel, salted caramel and vanilla pastries on the palate and a hint of campfire smoke in the finish. Each gift box comes with two tumblers perfect for sharing a drink-or-two on Christmas day.
Graham's Port Pack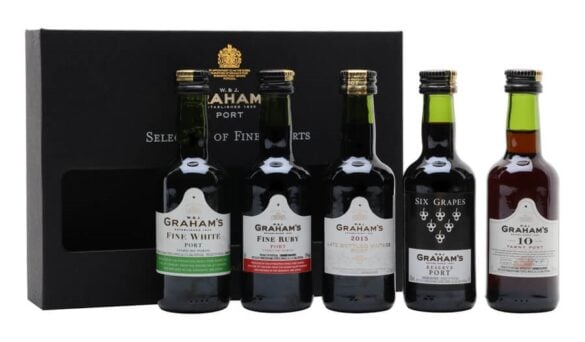 Buy now >
Port has been a part of the festive season for centuries – these complex fortified wines offering the perfect accompaniment to cheese and snacks as Christmas Day turns to Christmas Night. This tasting pack from Graham's offers the opportunity to work through a variety of styles including the light and fresh Fine White Port and the rich, nutty cask aged tawny. World class stocking filler and god-tier mince pie washer downer.
Mr Black Cold Brew Coffee Liqueur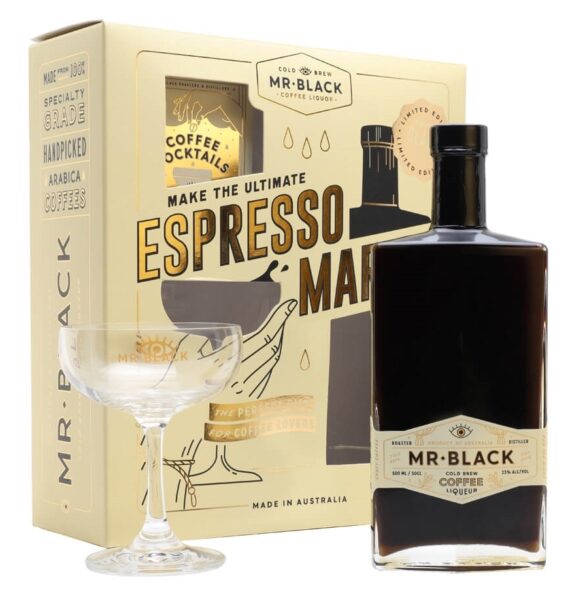 Buy now >
Christmas is a marathon, not a sprint – so a little pick-me-up is always welcome. This superb quality cold brew coffee liqueur from Australia is the ideal base for an Espresso Martini. The perfect gift for anyone who'll predictably be well stocked with coffee and vodka come the big day. The good people at Mr Black have even thrown in a cocktail glass for serving espresso martinis, swirling around and gesturing with to make a point.
Everything You Need To Know About Whisky
(but are too afraid to ask)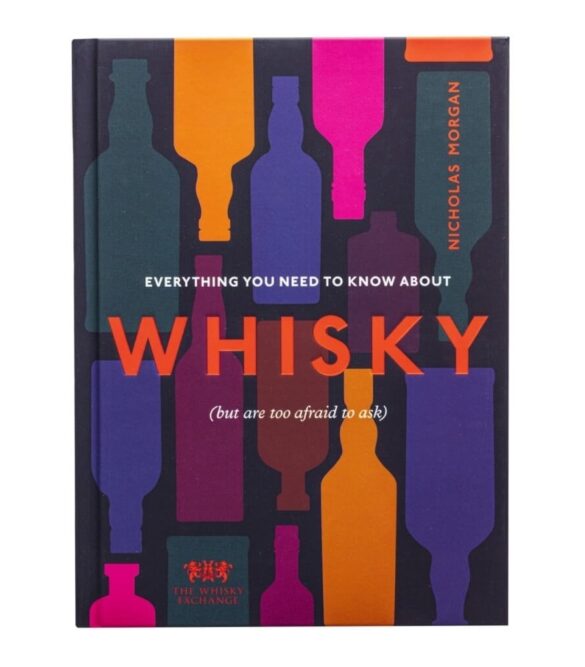 Buy now >
Does exactly what it says on the cover – this deep dive into the whisky industry is essential reading for anyone who enjoys a dram. The beautifully illustrated volume from drinks writer Nicholas Morgan covers the history, culture and future of the world's finest spirits. If someone you know wants to learn more about whisky, whether they're new to the category or a seasoned Scotch drinker, this is the gift for them.