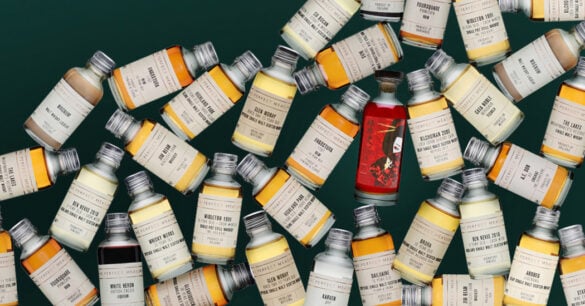 You may have noticed that Christmas is approaching. While we've got loads of great things happening on our website – and you can find them through our Christmas page – we also have lots going on in our London shops, including one of our biggest giveaways ever: three lucky winners will start the new year with hundreds of tasty things things to drink…
The Perfect Measure…to share?
For the whole of December, each of our three London shops will have a big box of bottles for visitors to admire. Each will be filled with samples from The Perfect Measure, our Fine Christmas Malt 2021 and a handful of deliberately deceptively sized boxes and baubles, and your mission is simple: guess how many samples there are in the box. The prize? The contents of the box.
Each shop has its own box, each with a different number of Perfect Measures, and you can make a guess for each one – that's three chances to win a huge pile of tasty drinks.
There'll be a QR code to scan in-store to take you to the competition sign-up page, and once you've popped in your email and made a guess, you'll be in with a chance of winning.
What's in the box?
Not only have we grabbed currently available samples from across The Perfect Measure range, but we've also dug deep into the archive, and raided my own stash of long sold-out bottles.
We've got drams from closed distilleries like Imperial, sought-after favourites including a few 1996 Ben Nevises (Ben Nevii?), and a stack of no-longer-available TWE-exclusive bottlings that I'd been saving for a special occasion. That occasion is this December.
On top of all of that, each box will contain a sample of the recently released (and sold out) Karuizawa 34 Year Old Ruby Geisha. The penultimate entry in the Karuizawa Geisha range, it and its sister bottling were sold by ballot, with the 34yo commanding a price of £18,000. Based on bottle price alone, a 3cl sample is worth more than £771.
Get to the shops!
So, if you want to be in with a chance of winning our biggest-ever tasting set, head down to our London shops this December. You can find out where the shops are, when they're open and how to drop them a line over on our website:
Covent Garden – Great Portland Street – London Bridge
Good luck and happy counting!