Britain is positively awash with whisky. While most distilleries are located north of the border, and Wales's Penderyn has been making waves for years, England is now rapidly filling up with whisky makers.
Back in the 19th century, there were a few whisky distillers across England – enough that Alfred Barnard's seminal work on the country's producers of the time is called 'The Whisky Distilleries of the United Kingdom' rather than just Scotland – but they had all closed by the early 1900s.
The past decade has seen a resurgence in English whisky making, with The English Whisky Company kicking things off in 2005 and a host of other distillers popping up over the past few years. Only English Whisky and Hicks and Healey (a collaboration between a cider farm and brewery in Cornwall) have whisky so far – even in England, the law says spirit has to mature for at least three years – but for many of the others, it's not far off. Here are a few up-and-coming distillers to keep an eye on.
Bimber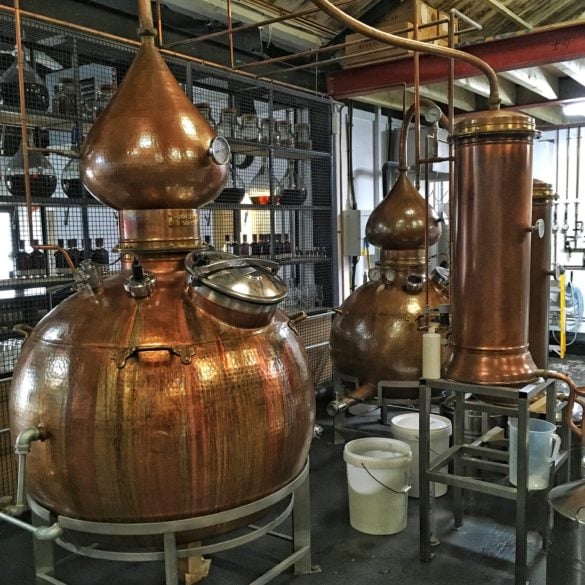 I'm starting with the closest distillery to The Whisky Exchange HQ – it's a 15-minute walk away. Based in north-west London, Bimber is becoming well known for its vodkas, especially its uncompromising fruit-infused spirits, but it is also laying down casks of spirit that will one day become whisky. The first new spirit was filled into casks in June 2016, so there's still a few years to wait, but we've had a little taste and are looking forward to 2019.
Fun fact: Bimber is the Polish word for moonshine.
Cotswolds
A few years ago at Whisky Live, a friend of mine introduced me to someone called Dan and then ran away before telling either of us who each other was. 'I'm Billy Abbott, I write about whisky, ' I said. 'I'm Dan Szor and I'm building a distillery in the Cotswolds,' he replied. Four years later, not only does Dan have a distillery producing award-winning gin, but later this year his first casks of maturing spirit will legally become whisky – keep an eye out on 9 October 2017.
East London Liquor Company
Already known for its gin, East London Liquor is also hiding away casks of maturing spirit, with the end of 2018 predicted as the launch date for a first whisky. Unlike most other distillers, ELLC isn't producing a single product, with each batch of casks using a different recipe of cask type, mashbill, fermentation and all the rest to produce a unique whisky. With no intention (yet) of producing an ongoing bottling, prepare yourself for a run of crazy drams.
The London Distillery Company
The London distillery that I know best, having seen it grow from a friend's ideas to being on site for its first distillations. Currently focusing on gin – Dodd's and Kew gin – the distillery also has some casks of spirit maturing that will soon become whisky. Grain-obsessive founder Darren Rook has used old-fashioned barley and old brewer's yeast strains to create a flavoursome spirit that will soon hopefully see the light of day. I bought a cask, so I hope it does…
The Lakes
The Currie family have been making whisky for years, so it's no surprise that Paul Currie, son of Arran founder Harold, decided to set up his own distillery one day. What is more surprising is that he headed south of the border to do it. While it's only a short drive to Scotland, it is very English distillery, built in the heart of a restored Victorian farm. You'll need to wait until 2018 until you can taste whisky produced at the distillery, but in the meantime The Lakes is producing The One: a range including vodka and gin made at the distillery, and blended whiskies containing whisky made across the British Isles.
Cooper King
One of the smallest of the new producers, Cooper King hasn't actually started distilling yet. The distillery is still being built in Yorkshire by the founders and their friends, with crowd funding supplying the money needed to put it all together. Inspired by meeting Australian whisky makers during a trip to Tasmania, fledgling distillers Abbie and Chris hope to start distilling later this year.
The Spirit of Yorkshire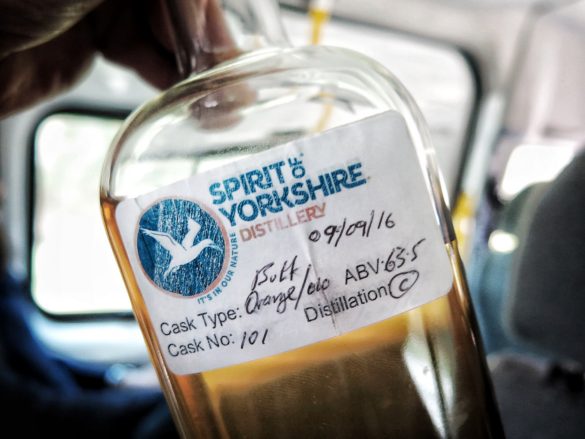 While it's also based in the county, Spirit of Yorkshire is quite different to Cooper King. It was founded by the owners of Wold Top brewery, a family of Yorkshire farmers specialising in growing barley. Having made beer since 2003, they expanded the brewery in 2013 with an eye to a very specific future project: a distillery.
In the end, building a distillery at the brewery wasn't feasible, so The Spirit of Yorkshire sits a few miles down the road. The barley is grown on the family's farm, malted, brewed at Wold Top and the resulting wash is tankered to the distillery, where it distilled into new-make spirit and filled into casks.
With a capacity of 450,000 litres per year – similar in size to Royal Lochnagar and Scottish newcomers Annandale and Ardnamurchan – it's much bigger than most of the other new English whisky makers. With a distillery designed with the help of whisky legend Jim Swan, it's set up to be a major producer. And having tried the spirit, it has a lot of potential. Keep an eye out for a first release sometime around 2020.
Dartmoor Distillery
A project that has taken a while to get going, Dartmoor produced its first spirit earlier this year. From collecting its still – a repurposed Cognac alembic – back in 2014, it took until the middle of 2016 to raise funds and start building. Based in the old town hall in Bovey Tracey in Devon and with Springbank master distiller Frank McHardy as an advisor, Dartmoor is now distilling and laying down spirit for the future. We look forward to trying it.
Adnams
Last, but by no means least, we come to Adnams. It was already a large and well-known brewer, but during some refurbishment and expansion a few years ago, the company found a building that they didn't really need and decided to have a go at building a distillery. Step forward to the present day and Adnams has a range of award-winning vodkas, gins and liqueurs, all made with an eye to interesting flavours and using the company's expertise in brewing. A few releases of whisky have also appeared, but knowing distiller John McCarthy's love of experimentation, there's lots more hiding in the warehouses waiting until it's ready.
You'll be able to find all of the above, as soon as they're ready, on our English whisky page.