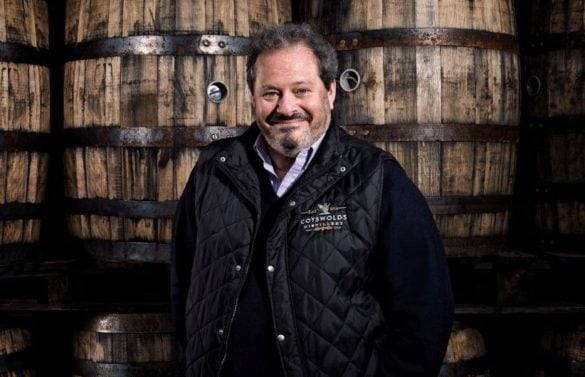 Dan Szor is the founder of Cotswolds Distillery. He left behind a career in finance to follow his love of whisky and build the first distillery in the area. After years of development and hard work, he and his team released their first whisky in October 2017.
'It was June 2012. I was looking out of my bedroom window in my house in the Cotswolds. It was beautiful day, the wind was rippling through the barley and I had a thought: "why hasn't anyone made whisky out of this barley?"'
'[Building a distillery] was just a passing idea and I pushed it out of my head for a few months. I went full circle and went back to the one person I knew in the industry, the guy who sold me my barrel of whisky. While at Bruichladdich on my annual barrel-hugging visit in May of 2013, I asked to see Jim McEwan. I said, "I've had this idea of building a distillery in the Cotswolds and I can't think of anyone to tell me if it's a crazy or not besides you." He told me, "You've got to do it – follow your dream."'
'What grows here is a mix of fruit and cereals. You get apples, pears, plums, damsons – the hedgerows are full of different things. And you get tons of cereal, including some of the best barley. To me, the flavours of a Cotswolds whisky ought to be predominantly fruit and grain'
'How do you design that kind of whisky? For that we enlisted the help of the late, great Jim Swan, who was a integral part of the team, even as short as his time with us unfortunately was. He was immensely important and he will live on in our whisky'
'In terms of imbuing the whisky with a sense of place and terroir, it all starts with the barley, which true to my original vision/epiphany moment is all locally grown'
'Another thing that's cool is that we are, to my knowledge, one of only two whiskies in all of Great Britain that are in production and on sale that are 100% floor malted. The other one is Springbank, so we're in good company'
'[Jim Swan] felt very strongly that it was all about fruit: a good fruity new make will make a good whisky. For Jim, that started in the mash tun with a very long four-day fermentation. Why is four days important? Your alcohol is created in about two days, but its the third and the fourth day which provide you with a lot of what will create the esters [chemicals that create fruity flavours] in your whisky. The best time to inhale our wash is day four. You get these amazing banana, fruit salad and pineapple notes coming off and they come through in the distillation'
'Our stills are called Mary and Janis. We've not gone with posh English names – you get a lot of Prudences and Constances and Patiences in the gin world – we've gone with American rock instead. Mary is Proud Mary, because she keeps on burning (she's our wash still), and Janis is Janis Joplin, because we take a little piece of her heart every day'
'The biggest part of the story and where Jim had a big effect was in the wood. He personally designed the barrel which is responsible for most of the flavour profile of our flagship whisky – the STR: shaved, toasted and recharred. You take a wine barrel and make it into a whisky barrel by charring'
'Every six months we get a shipping container of incredibly juicy first-fill bourbon barrels. When they come to us they've never been disassembled and have only just been dumped – you could get high from just standing in the container'
'It was my decision to combine the STRs with first-fill bourbon casks. We experimented with lots of different ratios and settled on 70:30 – our flagship whisky is 70% STR and 30% first-fill bourbon'
'In terms of where we're going, we'll be peppering the world with fun, thought-provoking, interesting and novel small-batch stuff, hopefully cask strength. But in terms of what our flagship whisky will be 20 years from now, I don't know. I'm just hoping I'll be around to make that call'
'Why do all of this? Because it's fun. If you can't have fun doing this, then why are you in this business? There are much easier ways of making money in this world'
'A big part of the reason for doing this was a change of life. Moving out to the Cotswolds is a funny thing to do for a guy who grew up on 98th and Madison in New York. I don't regret it in the slightest'
You can find the Cotswolds gin on The Whisky Exchange website. You can also sign up to receive a notification when the Cotswolds Single Malt whisky is back in stock – our first delivery sold out in days.