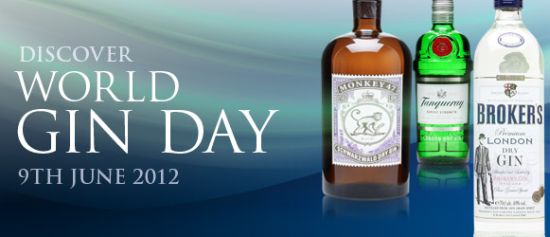 Some say it tastes of petrol; others like it with tonic; a few of us even like drinking it on its own. I am of course speaking of gin, the finest juniper-led spirit of our time. A few years ago Neil Houston, of Yet Another Gin, noticed that other spirits were getting their own celebration days but gin was left out in the cold. He decided that enough was enough and declared that the 2nd Saturday in June would be known as World Gin Day!
World Gin Day started off quite small but has grown over the last couple of years to be a decent-sized worldwide celebration of juniper-led spirits. I've been using it as an excuse for a bit of self-indulgence since it began and each year have tried to look into new and interesting gins that I've not tried before.
Fortunately I now work for a company who are rather good at finding new and obscure products from around the world and have a wealth of interesting gin sitting yards away from my desk. I've had a bit of a dig through the various gins we have and put together a list of some bottles that you may not have heard of as well as some variants and old friends over on the main TWE website.
Here's a few choice selections from the list:

Beefeater 24 – A premium gin put together by Beefeater master blender Desmond Payne, his first totally new recipe and one of the first since the distillery opened in 1820. As well as upping the citrus peel in the mix he also brought in tea, using Chinese green tea and Japanese sencha. It's grassy with lots of citrus on the nose and has less sweetness on the palate than the regular London dry, showing off some more bitter woody notes.

Adnams First Rate – One that we've been fans of at TWE ever since the first sample bottle arrived to see if we wanted to stock it. We did. A foray out of the world of beer by well-known brewer Adnams, it's part of a range that includes vodka already, has recently added limoncello and distilled beer, and will soon have a pair of absinthes. Very traditional in flavour and composition, it's bottled at 48% for more of a kick and make an excellent gin and tonic.

St George's Botanivore – I've heard good things about St George's (not to be confused with the English Whisky Company's distillery), a bunch of excellently crazy Californian distillers. Their Hangar One vodka is good, their absinthe's very tasty and their single malt is getting better with every bottling. Their gin has been recommended to me a number of times since it appeared and, as its packed with a Botanist -like level of local botanicals, it's definitely on my To Try list.

Monkey 47 Distiller's Cut – A relatively new arrival and a follow up to the impressively popular Monkey 47 regular gin. Who said having a good name doesn't shift bottles? Luckily this one follows up its name with a high quality premium gin, showing that Germans know a few things about juniper spirits, including when to add a bit of a local ingredient twist (Black Forest cranberries anyone?).

Viking Dzins – The one I most want to try and which World Gin Day will give me the excuse to purchase. Produced by Balzam in Riga, well known for their liqueurs and digestifs, this is the only Latvian gin that I've ever seen. I know practically nothing about it other than its origin, despite having found a handy Latvian to translate the label…
Check out the World Gin Day website for more info, and make sure you have (responsible) fun on the day itself.  Cheers!