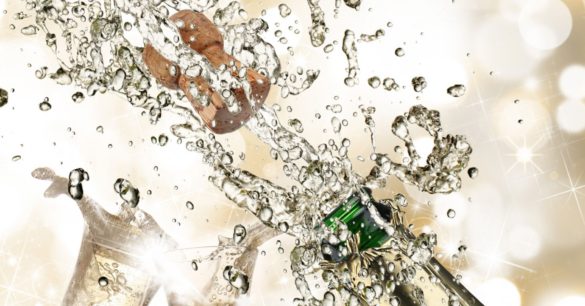 When it comes to sparkling wine, there's one name that stands head and shoulders above all of the rest: Champagne. But why does it earn such praise? I asked our resident Master of Wine, Dawn Davies, what she thought.
What sets Champagne apart?
Refermented in bottle
Rather than pumping it full of gas like a SodaStream or letting it ferment in large closed tanks, the fizziness is created in each bottle. The still base wine is filled into bottles, some sugar and yeast are added and the bottle is sealed. The yeast eats the sugar, producing alcohol and carbon dioxide. With the bottle sealed, the carbon dioxide has nowhere to go and dissolves, creating the fine bubbles that Champagne is famous for.
Long maturation
A key element of Champagne production is autolysis, where the dead yeast cells in the wine break down and create new flavours. The longer the wine is aged on the dead yeast cells – called lees – the more pronounced the bready and yeasty flavour that Champagne is famously known for becomes. Champagne is matured for a minimum of 15 months on the lees, with vintage bottlings legally required to age for at least three years. This long maturation is key to Champagne's character.
Ideal climate and soil
The Champagne region is relatively cool and is noted for its chalky soil. Although this combination would normally ring alarm bells for grape growers, it's ideal for Champagne, where the high acidity helps preserve the wine through the long bottle ageing, leading to a fresher tasting wine when finally drunk.
The art of blending
Finally, there are reserve wines – still wines held back from each vintage and reserved by the producers, used as part of the blend for their non-vintage Champagnes to ensure consistency of house style. The age and wealth of the Champagne houses has allowed them to maintain excellent reserve stocks over the years, giving their wines an extra kick of quality.
The Challenge
While those four elements used to be the preserve of Champagne, wine producers around the world have upped their game, as well as base themselves in areas with similar terroir. But there's only one way to find out how they compare. Dawn recently ran a tasting in which four Champagnes were pitted against four sparkling wines from around the world – and all were tasted blind.
Champagne vs California
Our first pairing matched Louis Roederer Brut Champagne with Quartet Anderson Valley Brut from California. Both are produced by the same company – Louis Roederer – best known as makers of Cristal. Roederer Estate was founded in 1982 and used the knowledge and experience of the company's French winemakers to start making some of the USA's top sparkling wines. The style of Quartet is similar to the French-made wines, but less chalky soil and a warmer climate – despite frequent cooling fog – lead to a richer and sweeter-tasting wine, but one that still stands up to its old-world sibling.
Champagne vs England
Next Dawn paired the classic Ruinart Blanc de Blancs with Gusbourne Blanc de Blancs, produced in Kent. The terroir in Kent and Champagne is near-identical, with chalky soils, similar amounts of rainfall and comparable temperatures leading to a boom in winemaking in south-east England – even Champagne houses are getting involved, with Taittinger investing in a Kent vineyard. The Champagne was more elegant, while the Gusbourne had more weight and a touch of pleasant earthiness. Gusbourne is a comparatively young producer – founded in 2004 – and doesn't have the stocks of reserve wines to take things to the next level, but Dawn reckons it won't be long until they do.
Champagne vs Franciacorta
Our third pairing compared Perrier-Jouët Grand Brut to Ca' Del Bosco Franciacorta Cuvée Prestige from Italy. Franciacorta is the Italian equivalent of Champagne, with a small, well-defined area producing world-class wines. The winemakers use the same methods as Champagne, including bottle fermentation, long ageing on lees – a minimum of 18 months, three longer than Champagne – and similar grape varieties. Flavourwise, it wasn't as crisp as the Perrier-Jouët, and had more stewed-fruit notes. The Champagne also had much more bready character, thanks to PJ (and the other big names) ageing their non vintages for a minimum of three years, but the Franciacorta wasn't far behind.
Champagne vs Cava
The final pair of the evening was Chartogne-Taillet Sainte Anne, The Whisky Exchange Sparkling Wine of the Year 2017, and Recaredo Terres Cava from Spain. Cava lacks the prestige of Champagne and has lagged behind Prosecco's resurgence, but that's all changing. With new, excellent wines now arriving in the UK, Dawn predicts it's the next big thing. Of the four wines we tried, it's the most different to Champagne, with very different grape varieties and a much warmer climate. This leads to a heavier and richer style, with an almost creamy, caramel core, especially compared to the herbal and fruity Chartogne-Taillet.
The Conclusion
Opinion in the room was totally split. Champagne devotees stuck with their tipple of choice, but those with a more open mind tended more towards the non-Champagne sparklers. They were all close in quality and character to the Champagnes they were pitted against, and when you take value for money into account, they are definitely worth a look.