Islay native Adam Hannett has some very big shoes to fill. As head distiller at Bruichladdich since summer 2015, he and distillery manager Allan Logan have taken over the running of one of Scotland's best-loved distilleries, producing Bruichladdich, Port Charlotte and Octomore spirit. Retired production director Jim McEwan may cast a long shadow, but after 12 years of mentoring and training, Adam is now in charge of continuing the cult distillery's reputation for making great whisky.
I spoke to him last month, during the build-up for this year's Islay festival.
'Growing up on Islay you take whisky for granted – you think everyone's got eight distilleries on their doorstep'
'In 2004 I dropped out of university – I didn't enjoy it and wanted to come home to Islay. I came around to the distillery and met Jim McEwan, who took me on for a few months, just tour guiding and working in the shop. The first day I came home and my eyes had been opened – I'd absolutely fallen in love with the way whisky is made'
'What do I do in a normal day? Generally, whisky things. No two days are the same – that's the joy of it'
'The casks we have are amazing. The spirit is unbelievably good. My job is an absolute joy. It's dealing with people who are at the top of their game – absolute craftsmen – and ingredients – whether it's casks or barley or whatever – that are all the best quality'
'I hear the term "master distiller" bandied around a lot. I've been working here for 12 years and I don't think I'm anywhere near being a master of anything yet. You are constantly learning, constantly surprised by the little things. If someone else thinks that it's the title for me in 20 years from now, then fair enough, but I'll always be the guy who's looking to learn'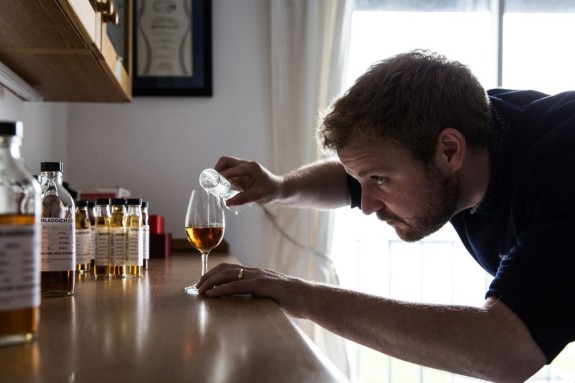 'I'll never rest and say "I know everything", because the day you do that is the day you'll have lost the spark for whisky making'
'If I'm making a whisky, I don't want to be doing it off a spreadsheet. I want to go to a cask, pull a sample and nose and taste it – keeping everything local means I can do that'
'Sometimes when you're walking around the warehouses you find something you forgot you even had: the experiments that Jim had, things you find in dark corners, things you see and say "Oh, I remember we did that!"'
[On Bruichladdich Classic Laddie] 'It's a very complicated recipe, and it changes. And that's ok. We don't mind if we get a bit of variation, as the whisky is about the flavour and ingredients we've got. Whatever nature gives us, whether it be through the barley or the casks, that's what we need to put in the bottle'
'On our wish list of things we'd like is to have our own maltings and malt our own barley here. It's a missing piece of the jigsaw. How we do that, we don't know yet. One day…'
'It's a Victorian distillery, we have to respect it. Doing things slowly slows down the process and limits how much we can make. But we're not trying to flood the market, we're just trying to make the best whisky we can'
You can see Adam in action below, hosting his first Islay Festival masterclass last weekend.