It was billed as the most expensive whisky tasting ever staged, and there was an appropriately reverent, almost nervous air as people took their seats for this one-off tasting of five extremely rare Karuizawa whiskies at The Whisky Show. Every seat was sold and the event was hugely over-subscribed, despite the £6,000 ticket price, which included an ultra-rare bottle of Karuizawa 1983 (limited to just 50) that all attendees took away with them; all proceeds from the tasting have gone to charities helping those affected by the devastating earthquakes in Nepal.
Our host Dave Broom summed up the feeling in the room: 'Karuizawa tastings are always tinged with regret, because once these whiskies have gone, they've gone. The distillery is never going to reopen. We are indulging in liquid necrophilia.'
None of the whiskies in the tasting were originally planned to be released as mature malts by the distillery's owner, Mercian, because Karuizawa was never designed to be released as a single malt whisky: 'At the beginning of the century, you couldn't give Karuizawa away,' Dave said. 'The whiskies just sat there in the cask. They were meant to be blended, and Karuizawa was there to provide that big bass note.'
The first whisky of the evening was a 29-year-old, aged in bourbon and bottled at 53.9% – first released at last year's Whisky Show and described by Dave as 'the lightest of the lot; it reminds me of Brora'. Here are my notes: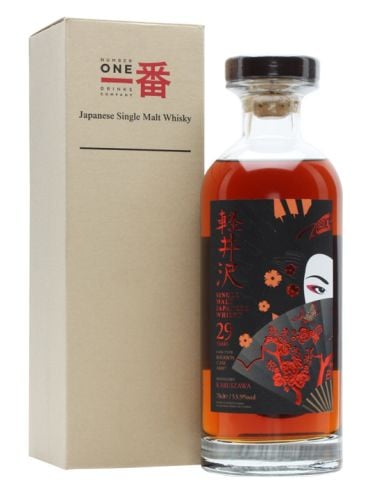 Nose: Dark chocolate cake and toasted nuts with bitter espresso and exotic fruit – passion fruit and banana. Then a rich creaminess, with toffee and vanilla ice cream appears.
Palate: Quite hot, but with wave after wave of sweet spice, cinnamon, nutmeg and cloves, with notes of sandalwood, sweet smoke and barrel char.
Finish: The spices mingle with the oaky notes and last a very long time. No sherry here, so less of that dried-fruit character, but delicious layers of rich flavour nonetheless.
Stylistically, Dave noted the similarities between Karuizawa and Macallan: 'Both have small stills, downward-facing lyne arms, less reflux and low copper contact – producing big, powerful, rich whiskies. The reason the people at Karuizawa put the spirit in sherry casks was because the new-make spirit was big. It's very different to the Japanese norm of soft, aromatic whisky – it's bold and muscular.'
The second Karuizawa demonstrated this perfectly; a 30-year-old whisky aged solely in sherry casks: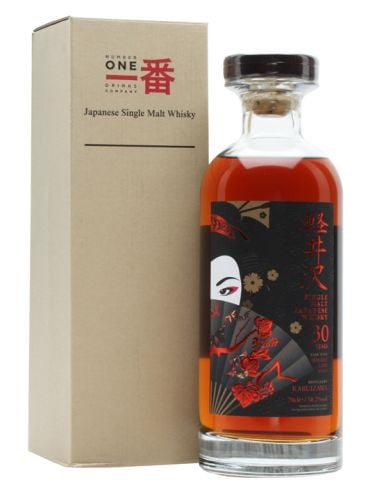 Nose: Heady rush of orange oil. Fresh, with wood polish, leather and tobacco. Water brings out a meaty character.
Palate: Chocolate cake laced with citrus, bolstered by a touch of peppery smoke. Christmas-cake spicing, dried fruit soaked in rum, cigar box and coffee. Needs a lot of time to appreciate.
Finish: Big, big big! The flavours go on and on, particularly the savoury notes of wood, leather and spice.
Dave first visited Karuizawa a decade ago, arriving on a train packed full of skiers eager to hit the slopes (the town is an affluent holiday resort): 'You're in the middle of the mountains and there is snow everywhere. It's a place where the elite of Tokyo go to get away from the heat. It's a chic place.' When Dave toured the distillery, he was told by staff that they never considered Karuizawa to be sold as a single malt. One employee said to him, 'We think of Karuizawa as a soldier.'
Whisky number three was made in 1981, aged in a sherry cask and bottled at a hefty 60.3%. Dave likened it to a Brothers Grimm fairy tale: 'It's a bit of a beast… don't go into the woods… there's a slightly dangerous air to this whisky.'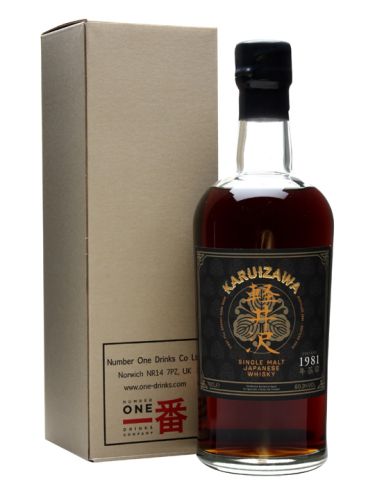 Nose: Fresh, with menthol eucalyptus aromas, with floral, minty, sponge-cake notes. Not heavy on the nose at all.
Palate: Bigger flavours now: dark chocolate, toffee, crème brûlée, but that floral freshness is still there, bringing in a clean, refreshing note to what is an intruigingly sturdy whisky, packed with Christmas-cake spices, dried fruit and leather-book notes.
Finish: Everything in balance, with the fresh mintiness counteracting the rich fruit and spice.
The other reason so many casks of Karuizawa were allowed to gather dust in the warehouse was because the Japanese whisky market took a downturn in the late 1980s, and the owners waited – in vain in this particular case – for things to improve. The distillery was eventually mothballed in 2000. Attempts to buy the distillery have fallen on deaf ears, and the site remains locked and disused. 'Karuizawa could have been saved,' said Dave. 'Port Ellen and Brora probably couldn't have been.'
The fourth whisky of the Masterclass was from 1970 and in marked contrast to the whisky that preceded it.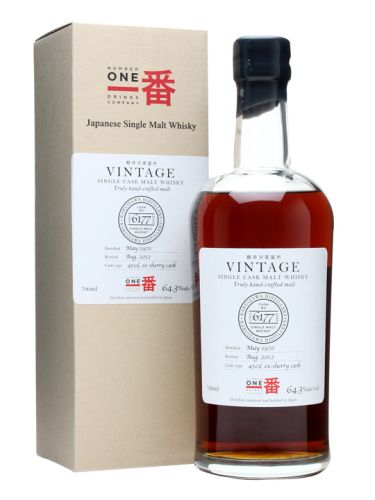 Nose: Alcohol prickle, rich spiciness with heady aromas of cinnamon, mulled wine and raisins, then hot buttered toast, brioche and cookie dough. Very enticing.
Palate: So much sherry-cask influence – boozy raisins, dried fruit and sweet spice – ramped up by exotic sandalwood and incense notes. Bit of a crowd-pleaser, this one, with the classic fruit-and-spice combo that sherried whisky fans crave.
Finish: The rich dried fruit lasts longest, but it's jazzed up by warm spiciness. Powerful but not over the top.
The fifth and final whisky had never been seen before. An ultra-rare 1983 Karuizawa, limited to just 50 bottles, and bottled specially for the Masterclass. After tasting it, Dave said it was 'like walking into a fine antiques shop'.
Karuizawa 1983, 59.1% ABV
Nose: Rich, gooey chocolate cake is the first aroma that hits you, quickly followed by roasted almonds and hazelnuts and woody spices: cinnamon and nutmeg. There's a lovely heady blast of Madeira-soaked fruit mixed with molasses and crème brûlée, with a welcome freshness, too.
Palate: The spiciness is more pronounced on the palate. The dark chocolate is still there, but it's Maya Gold with a sprinkling of pink peppercorns and ground espresso. Weighty toffee fudge and burnt treacle are enlivened by Morello cherry notes, and extra complexity arrives in the form of leather-bound books, linseed oil, sandalwood and cigar box.
Finish: Fresh, fruity notes counteract the rich chocolate and spicy character, creating a beautifully balanced finish.
The five whiskies were all big and beautiful, rich, spicy and generous, but all so different, much more than I'd expected. Of course, the dried-fruit and Christmas-cake spices were all there, but we went from light and playful (29yo bourbon) to dark and brooding (1981) and finished with a bells-and-whistles bottling whose flavours went on and on (1983).
This unique tasting raised £225,000 for charity; thanks must go to all those who contributed by attending this Masterclass. They were rewarded with five diverse, delicious whiskies from a distillery that will never produce another bottle. Dave concluded: 'A tasting like this is a warning. This shouldn't happen again. Other distilleries shouldn't go through the same fate as Karuizawa.'
If you wish to find out more about the charities involved, you can by clicking the links below:
Community Action Nepal