As the weather turns colder, my after-dinner drinks change from light, summery whiskies to brandy. One of my favourites is Delamain, known for its elegant yet complex Cognacs. We recently welcomed MD Charles Braastad to TWE to showcase the range.
In their own words – Charles Braastad
'People say the Cognaçais distil their wine as it's too bad to drink. We intentionally make it undrinkable as acidic wine produces the best brandy'
'The governing body [BNIC] stops checking the age of the eaux-de-vie once it reaches 10 years old. We have the paperwork, but there's no official way to check the age of old Cognacs'
'If you add water to your Cognac it turns into Marseille soap [cloudy, with a soapy aroma]. It's better for us to reduce the strength before bottling. We add faibles [old Cognac at 15% abv] instead of water'
'Because we use old casks, our Cognac needs time to become interesting. That's why our range starts at around 20 years old'
'The use of caramel is not taboo in Cognac. We use a very small amount, not to make them darker but to keep the colour consistent between batches'
'We keep our Cognacs for decades, so we believe you should spend 20 minutes nosing them. If you're in a rush, it's better to drink VS'
'Our vintage Cognacs have to be kept in a separate [locked] part of the warehouse. The BNIC have they key and we can't get in without them'
'Vintages are produced in tiny quantities. We release a third at 30 years old (there were 440 bottles for the 1973), a third at 40 years and the remainder at 50 years'
'Unlike Bordeaux, there is no legal fixed price for Cognac grapes or eaux-de-vie. But when Hennessy buy their stocks of three-year-old VS, it sets the prices for the region'
'Smaller houses have to specialise in their own area, region or style. If we tried to compete with the big companies, we wouldn't last long'
Charles describes the range
Delamain Pale & Dry – average 25 years old. 'We named it as it's both pale (due to ageing in century-old wooden vats) and dry (as no sugar is added)'
Delamain Vesper – average age of 35 years old. 'Pale and Dry is about length; Vesper is about broadness'
Delamain Extra – around 40 years old. 'At this age, the fruity flavours turn into nutty ones. This is a great match for Christmas pudding'
Delamain Très Vénérables – bottled at 55 years old. 'It's sophistication, the haute couture of the range. It's an older version of the Pale & Dry style.'
Delamain Réserve de la Famille – a single cask bottled at 60 years of age. 'It's a wild Cognac. We don't guarantee style or flavour, but we do guarantee complexity'
If you'd like to read more on any of the core range, then you can read Stuart's post from last year's tasting at Vinopolis here.
The tasting culminated in a taste of the pinnacle of Delamain's range: Le Voyage de Delamain.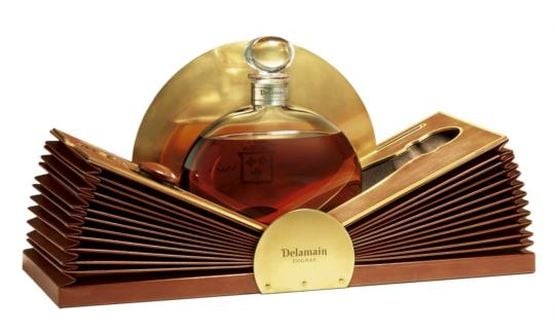 Containing eaux-de-vie matured for up to a century and more (Delamain do not reveal the exact age), this is one of the rarest Cognacs in existence. Just 500 bottles were produced, although being a handcrafted bottle, Baccarat hand blew 10 times as many until the Cognac house had enough they were happy with. This is an old style of Cognac, the main difference to modern day is that Voyage is made entirely from the Folle Blanche grape; due to its susceptibility to phylloxera, Folle Blanche has almost disappeared from the region, with Ugni Blanc (Trebbiano in Italy) accounting for more than 98% of vineyards today.
Charles says there are only six decanters left unsold, and we're delighted to have one for sale. Here are my tasting notes:
Nose: I could smell this for hours and still be picking out new aromas. Very complex with leather, tobacco, coffee and spice box all present. After a few minutes, hints of dried fruit and walnut begin to appear.
Palate: Rich and full-bodied yet elegant at the same time. As you would expect from a Cognac of this age, there is spice from the wood, but it's not overpowering and is in perfect balance, with walnut, liquorice, tobacco, coffee, fig and the slightest touch of menthol.
Finish: Exceptionally long – I could still taste it 20 minutes after the tasting had ended. Any hints of fruit slowly faded, leaving notes of cigar box, leather and coffee.
Comment: I have been lucky enough to try a few spirits that have taken me by surprise, and the first nosing and tasting of Voyage was definitely my wow moment for Cognac. To be so balanced and elegant after around half a century in wood is testament to the blending skill of Charles and his team.
The exceptional Le Voyage is a unique beast, but still retains the house style, and the family resemblance can be seen all the way down to the Pale & Dry. Everyone has their own preferred style of Cognac, but if you like yours elegant yet flavourful, Delamain should be a house that's high on your list.
While Cognac is known for being an after-dinner drink, it can be enjoyed with food, too. A little trick Charles taught me a few years ago; if you're eating crème brûlée, crack the top, pour in a teaspoon of Pale and Dry and enjoy – I tried it and it works magnificently.