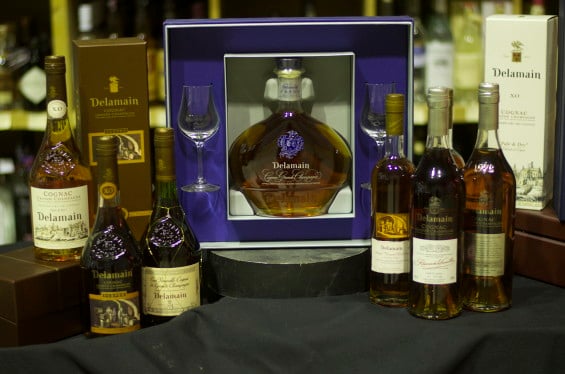 The Cognac world is dominated by four houses – Courvoisier, Hennessy, Martell and Rémy Martin, who control 85% of the industry between them – but for the latest Whisky Exchange tasting at Vinopolis, the focus was right at the other end of the scale.
Delamain is one of the oldest, and also one of the smallest producers of Cognac. Founded in 1762, the company is still family owned (although Champagne house Bollinger has a 34% share), and what really sets Delamain apart from most of its competitors is that it does not produce VS or VSOP Cognac – 'we start where others finish, with XO', said Delamain brand manager Guillemette de Couesnongle, our guide for the evening.
A key feature of Delamain is how they bring their Cognacs down to bottle strength. Rather than use distilled or demineralised water, as most houses do, Delamain prefers to use faibles – old, low-strength Cognacs (usually about 15%) that lower the overall abv without diluting flavour.
Guillemette presented seven Cognacs in all, each with their own personality and style. We began with one of the most popular…
Pale & Dry is aged for approximately 25 years, and is a refined Cognac, with none of the heavy-handed approach that afflicts some XOs. Guillemette pointed out that it's 'a misconception that a darker brandy is better'.

Nose: Very fresh and clean, with an abundance of floral notes, as well as soft Seville orange marmalade. Refreshing.
Palate: Delicate and elegant, with a soft mouthfeel. Slight butteriness on the palate adds texture, but this is all about the perfumed, rather quince-like fruity notes.
Finish: Soft, delicate and very easy to drink.
The second Delamain of the night was Vesper, roughly a decade older than Pale & Dry, at about 35 years of age. This was much fuller and richer, and would be an ideal accompaniment to a good cigar.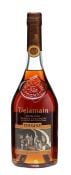 Nose: Pronounced oakiness, accompanied by brioche, demerara sugar and rich spices.
Palate: Soft mouthfeel, but some very pleasant woody, tobacco notes take hold, along with autumn leaves and forest floor. A big mouthful of flavour, with the oak making its presence felt along with the burly spirit.
Finish: Spicy oak at the forefront.
Single-vineyard Cognacs are about as rare as a Parisian steak, so it was a treat to try a product that is so different to the industry norm. Gensac La Pallue is a Cognac made with grapes from one vineyard (and eaux-de-vie from just one grower) in the heart of the Grande Champagne area. Guillemette was coy about its exact age, but we believe it's about 20 years old.

Nose: Well-rounded aromas of candied orange peel, dried fruit and sweet spice (cinnamon and nutmeg).
Palate: Medium-bodied, with some fresh black pepper poking out from the aromatic and warming dried orange peel and candied fruit.
Finish: Very well balanced between the spice, fruit and oak.
The fourth Cognac we tasted was a step up in age. Extra is approximately 40-45 years old – and once the eaux-de-vie have been blended, the liquid is given another two years in the cask to 'marry' and finish its maturation gracefully.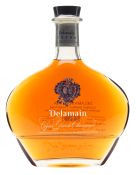 Nose: Soft, delicate but distinct aromas of brioche, cake spices, currants and raisins. Very approachable and enticing.
Palate: Gorgeous mouthfeel – so, so easy to drink – with layers of gentle fruit and spice wafting over the tongue. Like the best boozy Christmas cake you've ever eaten.
Finish: Rich and spicy, but the sweetness is never far away.
Some wags in the drinks industry like to refer to this Cognac as 'Terry Venables', but here at TWE, we would never stoop to such lame puns (not all the time, anyway). Très Vénérable is even older than Extra, and this really comes through when tasted. 

Nose: This oozes class, with refined aromas of walnut, hazelnut, dried fruits, and a bready note, with spicy rye and cinnamon.
Palate: Soft initially, then the spicy oak and refreshing fruity notes kick in. Wonderful stuff, with rich, Christmas-cake spices perfectly balanced by warming dried fruit and a slightly savoury touch of autumn leaves.
Finish: Pleasantly drying, spicy and moreish. Complex and classy.
The penultimate Cognac of the evening was also the oldest. Réserve de La Famille is the product of a single cask, and unblended. No faibles are required because thanks to the angels' share, the natural abv is 43%, so no need to reduce further. Again, no confirmation of age, but widely believed to be between 50 and 60 years old – pretty much the upper limit for old Cognac before the oak influence starts to become too powerful.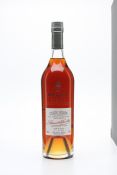 Nose: The dried fruit and Christmas-cake spices are all present and correct, but this has another layer of complexity, with beautiful oak influence and haunting aromas of cigar box, forests and a hint of leather books. One to take your time over.
Palate: Baked apples loaded with cinnamon, raisins and demerara sugar, then that characterful oak appears, adding much complexity.
Finish: The complex oakiness just goes on and on. Exceptional.
It's always a treat to try spirits made in your birth year, so for me, closing the tasting with a glass of Delamain 1973 was a fitting finale. Delamain don't make much vintage Cognac (and with the exception of Hine, neither does anyone else, actually), so this was a rare opportunity to try the product of a single year – and what a glorious year! 

Nose: Rich, sweet notes of milk chocolate and brioche at first, then warming spice comes in from the oak.
Palate: Savoury, with spiky black pepper and a touch of numbing clove, reminiscent of Szechuan peppers. Then notes of tobacco and tightly knit oak appear, as well as subtle Christmas-cake spices.
Finish: Lovely persistent dryness, ably supported by the spicy oak and intense fruit.
Our thanks go to Guillemette for giving up her time for this tasting, which showed those present that the world of dark spirits doesn't have to be about just whisky. The Cognac industry is in rude health at the moment, and having tried tonight's bottlings, it's easy to see why.