One of the favourite jobs at Whisky Exchange HQ is choosing whisky to become a TWE exclusive. Whether it's from our own stocks of maturing casks or someone else's stash, the opportunity to decide that a whisky is not only ready to be bottled, but also good enough to put our name on, is a rare privilege. The latest dram to pass muster is one that until the end of last year was squirreled away in Gordon & MacPhail's Aladdin's cave of a warehouse: a Caol Ila 2002.
A Caol Ila bottled by G&M for TWE is a fitting combination: Caol Ila is the biggest distillery on Islay, G&M are one of the biggest independent bottlers in the world, and we are the biggest specialist online spirits retailer – a group of big players, each within our own small pond.
We really like Caol Ila at TWE, and our bottlings of whisky from the distillery have been consistently excellent over the years. We even chose one as our last exclusive bottling from G&M – a Caol Ila 2004 from a refill sherry hogshead. This time we went for something quite different, a 12 year old from a refill American oak hogshead previously filled with bourbon.
We know that Caol Ila's spirit has a fruity side, but sherry wood can often hide that. We asked for a refill-bourbon cask to try and ferret out some fruitiness, and cask #8389 fitted the bill perfectly: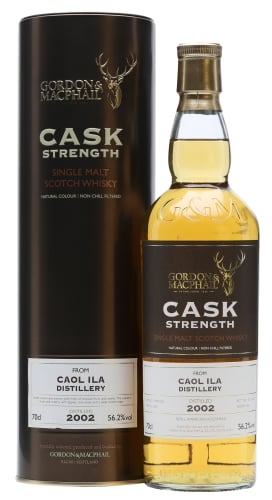 Nose: A mix of dark and light, with sweet butter, sharp apple, lime zest, sweet dried papaya and unripe mango backed up by tar, black liquorice and lots of sweet bacon smoke. It balances out to veer more towards the fresh and zingy side of things.
Palate: The fruit from the nose is up front, with apple and mango joined by juicy peach. It picks up smokier and darker notes as it develops, diving through liquorice and mineral-heavy gravel to land in earthy peat and coal smoke.
Finish: Ashy and briny, picking up sweetness, with apple, dark-chocolate digestive biscuits and black liquorice.
Comment: A game of two halves, with fruity, zesty character balanced by a darker side. The heavier elements do not overpower, giving a solid backbone to a sweet and smoky dram.
An excellent fruity dram, with enough of a smoky-bacon backbone to keep any Islay fan happy. It's available now exclusively through our website or down at The Whisky Exchange Shop at Vinopolis.