Although we're known for whisky and fine spirits, we also have a carefully chosen selection of that most celebratory of drinks, Champagne. We're always looking for new and exciting additions to our range, too, and have recently introduced one of my favourite houses: Ayala.
Founded in 1860 by Edmond de Ayala in the Vallée de la Marne town of Aÿ, Ayala had success from the early days, thanks in part to Edmond's younger brother Fernando, who lived in London. He was friends with many influential aristocrats, and introduced the Champagne to British connoisseurs, highlighting its uniquely dry style (in the late 19th century, the majority of Champagne was demi-sec, much sweeter than the style we know today). A founding member of the Syndicat des Grandes Marques de Champagne (the union of great Champagne brands) in 1882, by the 1920s it was one of the biggest brands, producing more than a million bottles a year, and supplying the royal courts in both Spain and England. After more than half a century of relative obscurity, the brand has seen a resurgence over the past decade, since its 2005 takeover by fellow grande marque Bollinger, which ensured the house remains independent and family owned.
We currently stock the three non-vintage expressions; here's a quick guide to each of them: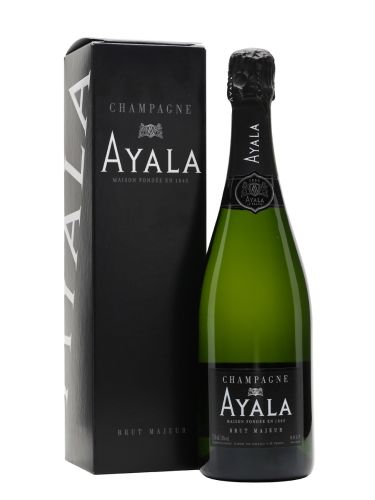 Blend: 40% Chardonnay, 40% Pinot Noir, 20% Pinot Meunier.
Style: Fresh and elegant with a refreshing minerality and a noticeable crispness due to its low dosage (the level of sugar added prior to bottling), 7g/l of sugar versus, for example, Moët & Chandon's 9g/l.
Food-match suggestion: This not only makes an excellent apéritif, it is also a great partner for shellfish, fish and chips, and even after-dinner cheese. In fact, as the Champenois do, you can serve it with every course.
Comment: Non-vintage brut is the bottling by which every Champagne house should be judged. Aged for more than three years before bottling, this will please those who like their Champagne dry and complex: a hidden gem.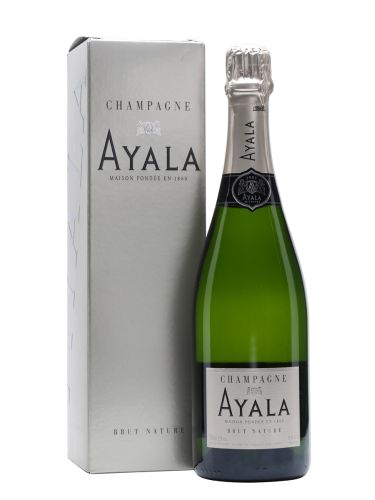 Blend: 40% Chardonnay, 40% Pinot Noir, 20% Pinot Meunier.
Style: Bone dry, with all the characteristics of the Brut Majeur – refreshing, pure and elegant with white-fruit notes in evidence.
Food-match suggestion: Bone-dry Champagnes are more suited to enjoying with food rather than as apéritifs and this is no different. It is a delicious companion for oysters, as well as Thai cuisine and a manner of fish dishes, especially sushi and sashimi.
Comment: Unusually, Ayala use the same base wine as in the Brut Majeur, but without the addition of sugar. It is aged for an extra year (four in total), adding extra complexity and concentration of mineral flavours, with grapefruit and peach notes to balance the acidity.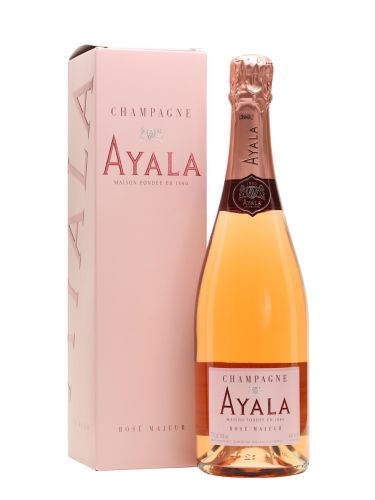 Blend: 50% Chardonnay, 40% Pinot Noir, 10% Pinot Meunier.
Style: In keeping with the range, it is elegant with a lower-than-average dosage. Fresh and full of red-fruit flavours, with a long finish.
Food match suggestion: A versatile rosé that's at home with a range of dishes, I've had this with a smoked-salmon starter, roast chicken dinner and strawberry cheesecake and it worked well with all of them.
Comment: The style of rosé I adore – dry and refreshing, full of red fruits, but with an elegance, so it's not an in-your-face punch of strawberries. Simply delightful.
The range retains the house style and the family resemblance is evident – elegant yet full of flavour. This continues through to Ayala's vintaged Blanc de Blancs and prestige cuvée Perle d'Ayala. As a regular Ayala drinker, the quality has improved greatly in the past five years, and the backing of the Bollinger family, I'm expecting even greater things in the future.