In part one of this series, Ollie looked at the golden era of Bowmore whiskies. He now turns his attention to the 1980s and beyond, beginning with a tricky period for the distillery…
1980s
For many people, the 1980s proves to be a difficult time in regards to spirit quality at Bowmore. There is a very distinctive perfume aroma and flavour to a lot of the whiskies distilled from the late 1970s through to the late 1980s. It is very difficult to pin down the exact reason for this.
It has been suggested that the change to steel washbacks caused the issue, as the problem seemed to disappear after they were replaced with Oregon pine in December 1990, but steel washbacks had been in use from 1964 and were therefore responsible for some of the greatest releases. Another theory is that the drive for higher production resulted in changes in technique such as shorter fermentation times, but production at the distillery today is as high as it has ever been and the soapy flavour does not seem to be appearing.

Nose: Rock pools by the seaside and Parma violets. At first there seems to be green banana skins but with time this develops into heavier banana bread with currents and sultanas. There is a waft of aromatic perfume oil that seems to accentuate with time in the glass.
Palate: Thick and juicy with bags of ripe fruit, bananas in particular and sweet spice. Cloves, vanilla and boiled sweets temper some of the spicy wood; with time, a clean crispness comes through. More floral notes take over the palate creating a perfumed backdrop to the soft, candied smoke.
Finish: It is all about the perfume intertwined with gentle smoke that lingers on the palate.
Comment: This is classic of its era and should be approached as such. Some people suggest that all Bowmores with that Parma violets style are of a lesser quality, but this particular bottling is clean and still gives those classic fruit and smoke flavours.
1990s
There are many examples of great Bowmores distilled in the 1990s. During a staff training of older bottlings hosted here at head office, our director Sukhinder introduced me to a Cadenhead's 1993 16 Year Old that was packed with fruit, and our very own Bowmore Masterpieces 18 Year Old which was distilled in 1993. My own experience of late has been with casks from 1994, 1995 and 1996 while working on the Elements of Islay Bw4 bottling. I am massively biased but it has been one of my greatest pleasures tasting these cask samples and working with Sukhinder to put them together and I unashamedly believe the outcome to have been something of real quality.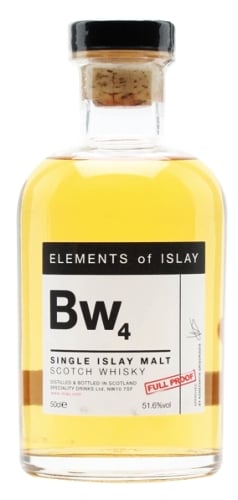 Nose: Chocolate and sea breezes. With time there is fruit, lots of sweet tropical fruit, like the tropical-fruit drink Um Bongo or Chewits fruity sweets. Kaffir lime leaves set off nicely against more of the cocoa and a big citrus note of blood orange.
Palate: The peat smoke is soft and mulchy, as if it were freshly cut. The savoury elements are all there such as salt and freshly cracked pepper and a hint of olive brine, but they fade with time, allowing more fruit and spice. There are notes of Conference pears and citrus along with rich, spicy notes of cardamom and star anise.
Finish: At first it seems to get darker with notes of baked pears but then there is some residual sugar beet and old-chocolate lime sweets.
Comment: For much of the 1990s, the distillery was run by Jim McEwan, now master distiller at Bruichladdich. I have met Jim on a few occasions and the two things that come across are his passion for whisky and his ability to enthuse that in others. The makes from this period and the quality of wood being used speak volumes of him and the distillery owner, Suntory.
2000s
During my last two visits to Islay I have had the pleasure of sharing a few drams with the current head distiller, David Turner. He is a passionate collector of old Bowmores and effuses about the history of the distillery. He always has something he wants to show and share and he seems to really understand the legacy he holds in his hands.
Prior to David, the distillery was in the very safe hands of Eddie Macaffer who took myself and my now wife around the distillery in 2012. The highlight of the tour was of course getting engaged in No.1 Vaults. Outside of the deed itself, to stand in that warehouse is a fantastic experience. It is nestled into the side of the distillery with the waves from Loch Indal crashing into it. The constant temperature and humidity a result of being made of thick stone walls and being at sea level has created one of the best environments for long term maturation and, along with the smell of the whisky, the history of the building seems to envelope you.
After I proposed, we shared a dram straight from the cask. It was a bourbon barrel distilled in 2000 and it was simply stunning. I have been on the lookout for barrels of Bowmore distilled around this vintage ever since – I currently have seven bottles and I am yet to be disappointed.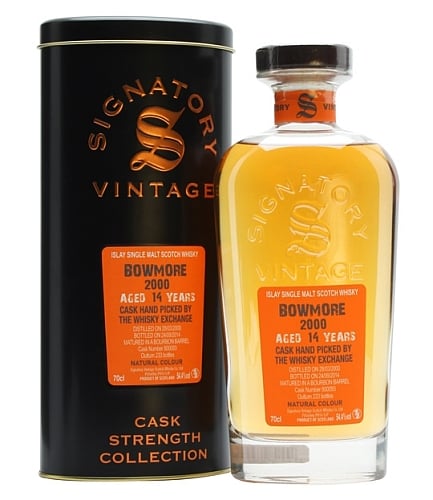 Nose: Tropical fruit juice blended with honeysuckle. There is strawberry and blood orange as well as richer notes of vanilla essence and almond cake. The smoke is in the background and is very subtle, adding depth. Overall, wonderfully balanced between rich wood sweetness and fresh fruitiness.
Palate: The fruit is very much to the fore with passion fruit and pineapple juice. There is a slight chilli spice to it and lots of sweetness from the bourbon cask with classic flavours of coconut and vanilla pods. The feel is soft and creamy with the soft peat with just a hint of the medicinal. The fruit, spice and sweetness are all well integrated.
Finish: Juicy and spicy. The wood is defiantly playing a part here with a touch of dryness that leaves you wanting a little more.
Comment: Recently, younger Bowmores such as Tempest and the massively sought-after Devil's Casks, have received very good reviews. I would not go as far as saying that Bowmore is now distilling whiskies of the same style as the 1950s and 1960s, but the balance of fruit and smoke has remained in a variety of guises throughout. The one thing I would say is that the current younger vintages coming out of Bowmore, both own bottlings and independents alike, are among some of the best new releases on the market.
Exploring Bowmore whisky is a wonderful tropical journey and one I would implore all whisky drinkers to go on. Regardless of your budget, you will always find something special from the fruity wood-driven bottlings of today to the elegant tropical kings of the 1960s.