Talisker is known for its rugged whisky. Salty, smoky and definitely coastal, mirroring the nature of the Isle of Skye and fairly uncompromising in style. However, the latest new entry into their stable looks at a different side of the distillery's character: its softer and more approachable nature. Introducing Talisker Skye.
To get some understanding of the existence of Talisker Skye, it helps to step back and look at the distillery's place in the world of whisky. Diageo, Talisker's owners, are the largest producers of whisky in Scotland – by my count, they own 29.5 distilleries (the half is North British – the Edrington Group own the other half) and are the force behind Johnnie Walker, the biggest Scotch whisky in the world. However, when you look at their single malt range, the names aren't as big. Sure, there's Port Ellen and Brora, but when you step outside of geek circles, they're not all that well known. If you turn to the Classic Malts, started by Diageo precursor DCL, then you'll find a range of more commonly seen and better-known whiskies, but none of them are at the household-name level of Glenfiddich and Glenlivet. Considering Diageo's size, this is a bit strange.
When you look through the six Classic Malts to find a potential flagship whisky, there are some good choices. But Royal Lochnagar is too small, as is Oban; Lagavulin is too expensive; and Cragganmore, Glenkinchie and Dalwhinnie are key to the company's blends. Add to that its production levels and distinctive nature, and Talisker is the obvious choice to take the stage as Diageo's focus for single malt.
Despite the justification, it's an interesting choice, in part due to Talisker not being the most approachable dram: it's got some of the smoke and seaside character of the Islay whiskies and fewer of the softer and sweeter notes you find in the big sellers.
Over the past few years, a number of new Talisker releases have hit the market, expanding the range of flavours and styles available. From 57° North, to the more recent Storm, Dark Storm and Port Ruighe, each whisky is tailored to different types of drinker. There's one important group that hasn't been served until now: a whisky for those who aren't fans of the distillery's maritime style. This is where Talisker Skye fits in.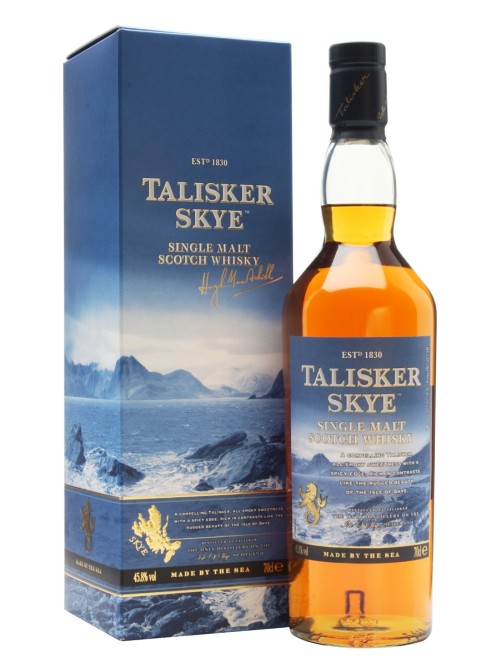 Talisker Skye, 45.8%
Nose: Lemon, Granny Smith apples and crunchy pears. There's gentle smoke and an underlying briny character, with lemon-drizzle-cake sweetness.
Palate: Sweet and rounded to start, with honey and candied lemons. Gentle peppery spice and a hint of sea air lead into a fruity centre – stewed apples with cinnamon.
Finish: Quite long, with waxy touches, sweet pears and buttery pastry softening to polished oak and gentle smoke.
This is a Talisker for those who aren't looking for a huge maritime hit. Whether you're trying to introduce someone to the delights of whiskies from beyond the borders of Speyside, or luring a peat-head down from the smoky heights of Islay, this will work as a bridge. While other whiskies have tried the same thing, with Laphroaig Select being the latest everyday drinker from a distillery with a famously difficult character, for me Skye is the most successful yet. It's not for the hardcore Talisker fans – you're already part of the gang – but it is for those who aren't indoctrinated yet. It's maritime whisky Kool-Aid.