The final addition to Highland Park's Valhalla Collection – Odin – is here, following in the footsteps of Thor, Loki and Freya . Also known as 'The Furious One', Odin, we are told, is the 'strongest of all the Norse gods', and 'with only one eye which blazes like the sun, Odin cuts an ominous figure'. So now you know.
The Valhalla Collection launched in 2012. Thor let everyone know it was hammer time with a no-holds-barred whisky that pleased fans of Highland Park's untamed style, although not everyone fell in love with the now-familiar longship-themed packaging.
Loki followed in 2013 in a similar big-hitting vein, although slightly more restrained. And last year's release, Freya ('The Fair One'), was lighter still, showing off Highland Park's softer side.
But with Odin, we're back on macho ground. This is the highest-strength expression of the Valhalla Collection yet, weighing in at 55.8% abv, and packaged in a bottle that, as Highland Park describes, 'reflects Odin's character – dark, imperfect, and slightly battle worn'.
The official tasting notes don't hold back, either, with 'pulsating explosions of smoke', and layers of peat uncovering 'thousands of years of wisdom', but what did we make of it?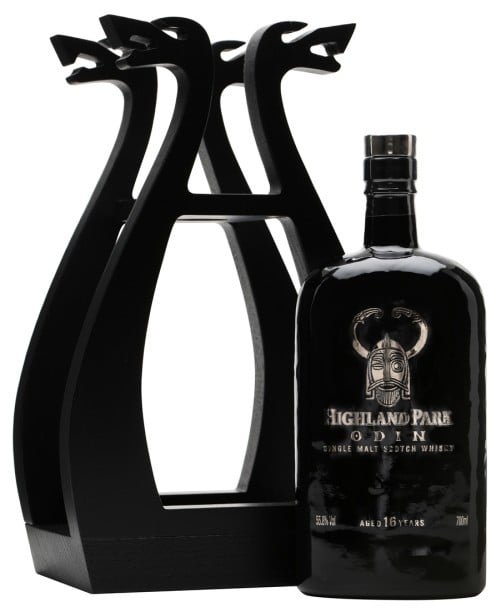 Tasting Notes by Stuart P
Nose: Almost refined, by Highland Park standards, with toasty honeycomb, marshmallows over an open fire, red-berry fruit, strawberry Fruitella sweets and pink peppercorns. The smoke is there, but lurking in the background.
Palate: Way more robust than the nose, this delivers a big, bold whack of peat and smoke initially, then starts to reveal complex, mouth-filling notes of bitter chocolate, old books, honeycomb and finally, the fruit (red-fruit compote and a hint of candied orange peel). I also get an earthy note – plenty to contemplate here.
Finish: Red-berry fruit is the dominant note, then the peat smoke takes hold. Nice that the fruit makes itself heard among all that fire and brimstone.
Tasting Notes by Billy A
Nose: Rich and leathery, with concentrated dried fruit, dark oak and hints of marzipan. As it sits, stewed apples and cinnamon develop, with the sweeter notes balanced by charred oak and a touch of fresh polished leather boot.
Palate: The leatheriness of the nose comes through at the start, with a strong savoury, umami note. Old oak, forest floors and damp earth dominate to start, with sweet fruit cake. The fruit cake doesn't stay sweet, with burnt edges and charred raisins joining with barrel char and earthy smoke to provide a savoury kick on the mid-palate, although sweetened with some liquorice and chocolate touches.
Finish: Soft and sweet, with spiced apple, honeysuckle and sponge-cake batter initially. However, the darker and spicier notes build, with barrel char and damp earth joined by lingering woody spice.
Highland Park Odin is available to buy now from The Whisky Exchange, priced at £180. The Valhalla Collection started with a bang, and now it ends with one. It will be intriguing to see Highland Park's next move, although global marketing manager Gerry Tosh kind of gives the game away: 'The first chapter in this series is complete. The Norse legends of old may still offer us future intrigues…'